New signings and new look for Di Canio's Sunderland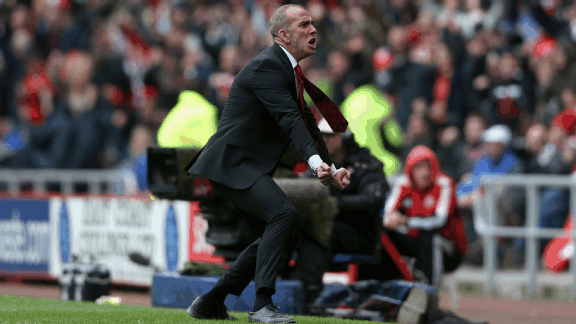 EmpicsPaolo Di Canio has begun the rebuilding process at Sunderland
In the absence of last day relegation drama, Paolo Di Canio took it upon himself to fill the void. His 24 minute rant was captured on video for all to see, as the Black Cats manager tore through his squad. The passion at the Stadium of Light had dwindled in the final hours of the Martin O'Neill era, but Di Canio brought it back in abundance.

Laying bare the problems he believed to be endemic with the club's playing staff, Di Canio was determined to be part of the solution rather than the problem. Dissenters to his new philosophy were to be promptly shown the door. It was a swift turn from the message of comforting positivity that at its height, had seen him credit Craig Gardner's passion following a reckless red card against Stoke City. He promised sweeping changes, and now just weeks after the season has ended they are plentiful on Wearside.

- Sunderland interest in Orban confirmed
- Di Canio promises attacking football

Off the field, the club's technical staff has been given a modern restructuring. New director of football, Roberto De Fanti had been working behind the scenes at the club already for some time, and is understood to have provided a significant push towards hiring Di Canio as manager.

A former agent, it is perceived De Fanti's extensive list of contacts will serve the club well in securing deals for players around the world - foreign markets being only briefly touched on by Martin O'Neill in his final transfer window.

Underneath De Fanti is chief scout Valentino Angeloni. Serving as a sharp contrast from the previous incumbent of the role, former Sunderland striker Bryan 'Pop' Robson, chief executive Margaret Byrne highlighted both men's strongest asset: "Roberto and Valentino bring with them a wealth of experience, knowledge and football contacts from across Europe and indeed the world and we are delighted to welcome them to Sunderland," she told the club's official website on Monday.

Having previously worked with De Fanti, Angeloni's pedigree at Udinese and Inter Milan is likely to have Sunderland fans salivating at the potential the club's dealmakers now have.

To date, Alexis Sanchez is considered Angeloni's most prized find, and owner Ellis Short will no doubt be hoping the Italian can draw on his four years of experience in Udine, during which time the club finished in the top four of the league. Keen to dramatically shift the club's transfer policy from premium players, to younger charges with potential to reach that level, Sunderland's first three additions already fit such a strategy.

Confirmed on Monday evening, but yet to be handed the token scarf holding ceremony, Swiss midfielder Cabral, and French defenders Valentin Roberge and Modibo Diakite all hail from mainland Europe and give a subtle indication towards the new Sunderland. Aged between 24-years-old and 26-years-old, all three will enter the perceived peak period of a player's career whilst on Wearside. Having previously spoken of the difficulty in changing the attitude of players aged over 27-years-old, expect Di Canio to lean towards youth over experience on the whole.

Arriving on free transfers, the parsimonious nature of their acquisition is also an avenue Sunderland have not always maximised. More importantly, the three also indicate the style of football Di Canio is attempting to cultivate with the Black Cats.

Although work off the field may seem progressive, Di Canio's ideology is not as congruent with modern footballing trends. In his early moves he has looked to add physicality and strength to the spine of his side. Diakite and Cabral in particular will bolster what during the early throes of Di Canio's reign looked a potentially fragile middle.

Competent technicians, Roberge is arguably the best of the trio, but even he is noted more for his strength on the ball and the physical nature of his game.

With Alfred N'Diaye citing the immense amount of organisation to Di Canio's training sessions, the Italian's meticulous nature to organisation and shape has been duly noted by all with whom he has worked with in management. A desire to play possession based football has not.

Constant derision towards what he calls 'tippy tappy' football is further backed up by his desire to go for athletes over artists in central areas. In September last year he told the Swindon Advertiser: "I am happy when they have a combination because I want to play football but my football is not one, two, three, four, five - moving the ball in a 10-yard space. My football is one, two, three and then boom - change and go through."

Those facets carried through to his seven game introductory period of last season. Averaging less than 300 passes per game, and just 38% of the possession (Opta), Di Canio will maintain the style he instilled at Swindon with minor tweaks. Thus he intends to pack the central areas with athletic players while preferring any creativity and supreme technical skill to come from wide areas.

Previously linked with Milos Krasic, this week has seen Alessandro Rosina put forth as a potential target. Noted for his desire to use inverted wingers, Matt Ritchie starred at Swindon in the same role. It is another trend he will likely continue after his deployment of Adam Johnson in such a role saw a dramatic upturn in the player's form.

Requiring an influx of new faces ahead of the new season, Sunderland's new look side will likely begin to take shape in the coming weeks and months as Di Canio continues to clear those who do not invest in his hard-work mentality.

Having vocalised the importance of his coaching staff, in affording him a fluency of operation, it now seems Sunderland are keen to extend that right through the club. The strategy has potential if it is given the time to develop and settle into the rhythm of the Premier League. While the benefit may not become apparent this season or even next, Ellis Short could in years to come be reaping the profits of the day he decided to take huge gamble.