Sturridge handed chance to shine at Liverpool
May 2006. On a warm evening at the home of Manchester City, Liverpool's Under-18 side celebrated winning the FA Youth Cup. Perhaps, as they passed the trophy around and posed happily for photographs, these young players allowed themselves a dream or two of a Premier League future; of one day following Steven Gerrard and Jamie Carragher down the path from the club's academy to Anfield stardom.

That path, though, is fraught with obstacles. To make it requires not only ability, but also commitment, the right coaching and maybe a touch of good fortune. Seven years on, only one of the players on duty in that Youth Cup final is part of Liverpool's first-team picture - and he was playing for Manchester City that night.

Indeed, Daniel Sturridge almost denied Liverpool the trophy, scoring twice for a City side who narrowly failed to close a 3-0 first-leg deficit. The best player on the pitch in that second leg, Sturridge was tipped for big things. His journey since then from promising youth-team player to England centre forward has not always been smooth. But after a few false starts, setbacks and wrong turns, he may finally be ready to announce himself as a first-choice Premier League striker over the next 12 months.

Not that it has ever been straightforward with Sturridge. Since arriving at Anfield from Chelsea for £12 million in January, the 23-year-old has seen his fortunes rise, fall, then rise again. He began with a flurry of goals, then lost his place, but came to the fore again towards the end of the season after Luis Suarez sank his teeth into Branislav Ivanovic. Sturridge, having scored as a substitute against Chelsea in April, stepped in for Suarez to hit two at Newcastle and three at Fulham; deadly finishing from a striker with a terrific goals-to-games ratio.

But then, Sturridge's ability has rarely been doubted from the moment he started to attract serious attention with his two goals in that Youth Cup final. His attitude and application, on the other hand, have raised rather more questions. Sturridge has not answered them all entirely satisfactorily; his early months at Anfield have shown that consistency is still an issue. But the fact that he has sustained a Premier League career while so many of his peers have fallen away says as much about his drive as his talent.

And though Sturridge has faced accusations of arrogance, laziness and petulance at various stages of his career, he is driven. He made that clear not long after breaking into Manchester City's side, talking about his father Michael, who was on Birmingham City's books without ever making the first team. "It's important for me to know that reserve-team football doesn't really count for anything," the young striker said at the time, determined to avoid the fate of a nearly man.

Sturridge's transition to first-team football took a while, his progress slowed by hip and hamstring injuries attributable to growing pains. Despite his undoubted promise, he had still made only five Premier League starts for City when he ran down his contract and moved to Chelsea in the summer of 2009. The noises coming out of the Etihad Stadium at the time were that the striker would only stay on if he was given a bigger wage than captain Richard Dunne.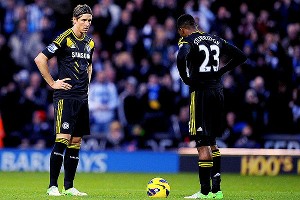 Michael Regan/Getty ImagesSturridge struggled to find game time and form at Chelsea
It was a surprising transfer, even allowing for Chelsea's need to increase the number of English players on their staff to meet UEFA and Premier League squad restrictions on overseas imports. He was given few chances at Stamford Bridge, and when they did come, he was often played on the left wing, while Didier Drogba, Nicolas Anelka or Fernando Torres took the centre forward's role. Yet it seemed that all he needed was an outlet. A loan move to Bolton in 2011 allowed him to shine as Torres proved profligate, leading many to question Carlo Ancelotti's judgement.

Since arriving at Liverpool, Sturridge has looked more at home. "I'm a lot more peaceful and I'm playing with a clear mind," he said after scoring the first Premier League hat-trick of his career in a 3-1 win at Fulham in May. As he approached journalists to be interviewed following that game, he was clutching a book called Clarity by Canadian motivational speaker Jamie Smart. The book's blurb promises 'a clear mind, better performance, bigger results'. It appears to have worked for Sturridge. "Being strong mentally is the one thing that can separate you from anyone else," he said.

Sturridge has rarely given the impression of being someone who lacks self-belief, but the difficulties of establishing himself at Chelsea must have stung. With the striker set to be fit for the start of the coming season despite ankle concerns, he is never likely to have a better chance to become one of the Premier League's leading lights - particularly given the uncertainty surrounding Suarez.

One of the reasons that Sturridge has not started regularly for Liverpool is that he and Suarez do not fit comfortably into the same team, as both are at their most effective when playing in a central attacking role. Suarez, though, may yet leave the club this summer. Even if he stays, the Uruguay international will miss the first six matches of the season as he serves out his ban for biting Ivanovic. Sturridge could yet make the centre forward's role his own. He certainly has the ability - 11 goals in 16 games for his new club bear that out - but then, any Liverpool fan who saw him come so close to wresting the FA Youth Cup from their grasp all those years ago has long known that.