Confed Cup Team Preview: Brazil
There is a fair case to be made for the view that Brazil started to lose the past two World Cups a year earlier when they won the Confederations Cup.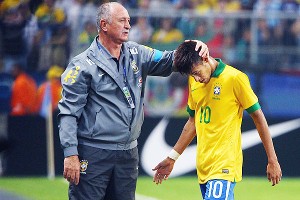 Lucas Uebel/AFP/Getty ImagesLuiz Felipe Scolari and Neymar are under heavy pressure to come out of their World Cup warm-up as winners.
The aging 2010 side might have done better had key members been rested rather than trek out to South Africa in 2009. And the top-heavy, stars-out-of–control mega-extravaganza of the 2006 World Cup started going awry a year earlier; after an uneven campaign, in the final they swept aside an Argentina side that was under strength, physically on its knees and still played into the hands of Brazil's counter-attack, unleashing wholly unrealistic expectations for the World Cup.

This time around, however, winning might do Brazil a power of good. For a start, the competition is more important to them than it is to anyone else. Some teams might be approaching the Confederations Cup as an end-of-season reconnaissance exercise, tacked on to June's World Cup qualifiers. But as 2014 hosts, Brazil have no qualifiers to whip their team into shape. This tournament gives them their only competitive matches in the three-year period leading up to the World Cup.

It is also the moment when they start to ensure that playing at home is not a disadvantage. Brazil crowds can be some of the most difficult around. Like spoilt children, they can be extraordinarily quick to turn on their team, and can do so with astonishing viciousness. Winning over the fans is one of the big tasks of the Confederations Cup -- and an encouraging start was made in the last warm-up friendly. At last, Brazil have taken the money off their back; since 2009 they had not beaten a team they consider top class. Confidence will receive a huge boost from Sunday's 3-0 win over France in Porto Alegre. The benefit of two weeks of training was clearly apparent in a team that might be starting to take shape. Luiz Felipe Scolari's side have learnt to press the opposition in their half of the field, and, if space opens up in the second half, they remain lethal on the counter–attack.

On the negative side, in terms of truly world-class players, they are caught between generations. The likes of Kaka and Ronaldinho are on the downward slope -- so much that they have been left out of the squad. Neymar, Oscar and Lucas, meanwhile, are on the way up. Neymar is seen as the key man. At the highest level, though, he still looks something of a lightweight -- despite the scoreline, he was jeered by some of Sunday's crowd when he was substituted late in the game. The question remains -- when things get difficult, who can Brazil rely on to take responsibility? And another doubt -- will all of the team (especially left back Marcelo) be able to keep their emotional balance if Brazil are close to elimination?

Tactics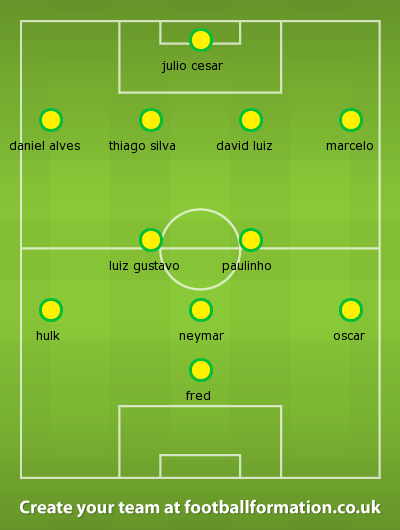 Other / footballformation.co.uk
The story of Scolari's second spell in charge has so far been based on the search for balance in his midfield. He brought back a target man centre forward -- and Fred has scored plenty of goals -- and also successfully recalled goalkeeper Julio Cesar. In between them, though, things have not been so clear.

Against England in February his central midfield pair were constantly bypassed, leading to the decision to play Luiz Gustavo in the holding role. The recent France game -- when his tackle set up the opening goal and his positional play reduced the vulnerability of the defence -- has surely ensured that he stays in the side.

Expect plenty of rotation from the line of three, with Hulk and Oscar swapping over, and Neymar often moving out to the left. The crowd will often chant for the introduction of Lucas, and they may have a point; with Daniel Alves cutting infield, Oscar not a natural wide player and Hulk left-footed, there can be absence of right-sided width to stretch packed opposing defences.

Measure of success

Winning. Anything else -- perhaps especially losing in the final -- will be seen as a disaster.