Confed Cup Team Preview: Italy
Cesare Prandelli is a mild-mannered, arm-around-the-shoulder kind of coach. The Italy Commissario Tecnico isn't usually one to raise his voice. But prior to last Friday night's World Cup qualifier against the Czech Republic, he was heard shouting at his players in training. The complaint was that their play lacked intensity.

It was understandable. The season in Serie A had finished three weeks earlier. As is only natural after a long and hard campaign, many of the players had relaxed. A friendly with San Marino in Bologna the previous week had been hard to get up for. Prandelli fielded a largely experimental team. Four of the players who started and one of the substitutes who came on in a 4-0 win were not in the squad for the qualifier against the Czech Republic and the Confederations Cup.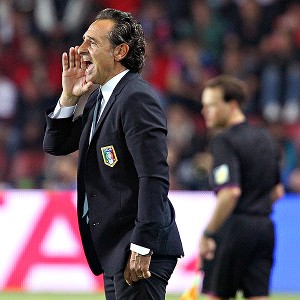 Eduard Erben/Getty ImagesCesare Prandelli had made it a priority to keep first-place Italy motivated.
Rust was likely to be an issue. So too, once again, was motivation. Top of their 2014 World Cup qualifying group with a three-point advantage on second-placed Bulgaria, not to mention a game in hand and three of their next four qualifiers at home, the players could be forgiven for feeling a sense of security and with nothing false about it either.

So Prandelli needed to remind them that the match in Prague did have significance. Win it and Italy would have a match point to make sure of qualification for the World Cup already in September. Instead they drew 0-0. As a performance it was, for the aforementioned reasons, one of the worst under Prandelli. La Gazzetta dello Sport gave it a 4.5 in their ratings.

Italy didn't manage a single shot on target. Petr Cech could have left the ground without having a shower. The same couldn't be said of his opposite number. Gigi Buffon had been required to get his elbows dirty. He made a trio of vital saves and was his country's best player on an uncomfortable night in Bohemia. Down to 10 men for the final 20 minutes or so after Mario Balotelli received a rather harsh second yellow, Italy had the frame of the goal to thank for keeping a Petr Jiracek volley out. They were lucky.

Looking on the bright side, Prandelli was pleased to leave with a point. Italy haven't won in Prague since 1937, so perhaps it wasn't such a bad result after all. Tuesday's 2-2 draw with Haiti, however, was another wake up call. Two-nil up and cruising Italy switched off, allowing their modest opponents back into the game.

What's clear is too much shouldn't be read into it ahead of the Confederations Cup. Remember, Italy lost 3-0 to Russia in their final warm-up game before the European Championship in Poland and Ukraine a year ago. It was all doom and gloom, but they'd then light up that tournament and go on to reach the final, losing to Spain.

That remains the only defeat Italy have suffered in a competitive match under Prandelli. So rest assured, there'll be no fear of the opposition they face in the Confederations Cup. Italy, lest we forget, have beaten Spain once in a friendly under Prandelli and were unlucky not to repeat that feat in the group stages of Euro 2012. Unfortunate to be 2-0 down to hosts Brazil in Geneva in March, they came back to deservedly draw 2-2.

A Balotelli screamer from outside the box brought things level in that friendly. It remains to be seen what punishment he receives for his red card in Prague and whether he is made to serve it in the Confederations Cup or in Italy's next qualifier against Bulgaria in September. It looks like the latter. And what of Prandelli's ethical code? It seems an exception to the rule will be made. Prandelli wants Balotelli at the Confederations Cup because he feels the Milan striker can help Italy win it. He sees the competition as an important dry run for next year's World Cup.

"We're approaching it as a test. There's no doubt about that," Prandelli told Guerin Sportivo.

Measure of success

The prospect of playing in Brazil has really caught Prandelli's imagination and he hopes it will inspire the players, too. "When I hear the word Maracana a switch is flipped in my head and I think back to the oratory in Orzinuovi in front of my house and the endless games on that pitch which, for us, was the Maracana. That name was my heaven. I have never been to the actual stadium ..."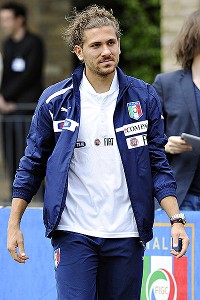 Claudio Villa/Getty ImagesItaly is relying on Alessio Cerci to disrupt opposing defenses.
On Sunday, Prandelli will finally get the chance when Italy get their Confederations Cup underway against Mexico. Better for the experience of Euro 2012, he has said that on reflection were he able to do it all again, rather than take things on a game-by-game basis, he would plan as though Italy were already in the final.

"If after [the semifinal] against Germany we had gone straight to Kiev rather than back to Poland, taking three flights more, we would have recovered energy," Prandelli claimed. "I remain convinced that beyond how good Spain were, the physical condition of the teams made the difference."

Prandelli will be planning then for Italy to open their Confederations Cup campaign at the Maracana and finish it there in the final on June 30.

Tactics

Aside for the beginning of Euro 2012 when, because of injuries and how they limited his options, Prandelli adopted the 3-5-2 Juventus were using at club level, his Italy have been more associated with a 4-3-1-2 based around a rotating midfield square, the thinking behind it is that it gives opponents no reference points.

Players within it are picked on the understanding that they're comfortable in possession and are able passers capable of taking initiative, dictating the tempo and ensuring Italy impose themselves on the game. By the end of Euro 2012, Prandelli had reverted back to it and that, for the most part, has been Italy's default system.

Since then, however, he has tried to evolve things. Italy have been experimenting with a 4-3-3, though with mixed results. "The 4-3-3 is very intriguing," Prandelli said last week, "but against compact teams it's difficult to find penetration. You need the right man in one-against-one situations, someone capable of beating his man."

In Italy's case, that someone is Torino wide-player Alessio Cerci. Used on the right of attack when Prandelli has lined his team up in a 4-3-3 [often with Balotelli in the middle and Stephan El Shaarawy on the left], he is adept at destabilising defences. It's an alternative the Italy coach would like to explore further.

"I want a team that is ready to play in two or three different ways," he said. This tactical flexibility has long been a strength of Italy's and adds another string to their bow for the Confederations Cup and beyond.