Time to roll up Cannes' famous red carpet?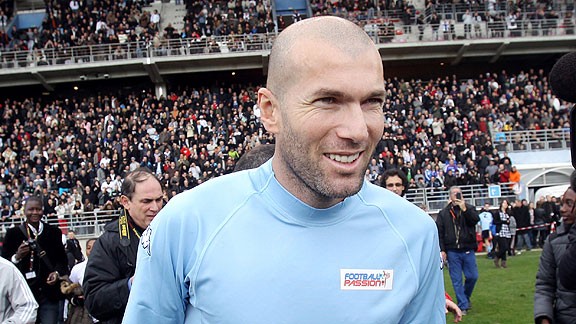 Valery Hache/AFP/Getty ImagesZinedine Zidane was a returning hero three years ago in Cannes, which is now on the verge of losing its club.
Just over a week ago, Racing Club de Strasbourg, the 1979 Ligue 1 winners and three-time Coupe de France and Coupe de la Ligue winners, were promoted from the Championnat de France Amateur after a thrilling 3-2 win over second-place Group B rivals Raon l'Etape. That victory ensured promotion to France's third tier by virtue of a better head-to-head record and marks the halfway point of the battle for one of France's most traditional clubs to regain its professional status.

Strasbourg were relegated to France's fifth tier in 2011, despite having been in Ligue 1 as recently as 2008, but not entirely because of poor performances on the pitch.

Like so many clubs in modern French football, losing their top-flight status meant financial liquidation for one of Frances oldest sides. Despite their financial hardships, the club preferred to drop into the backwaters of domestic football and to fight their way back to the top rather than lose years of history and disappear for good.

The latest club to be faced with that grisly fate are AS Cannes.

While Strasbourg are a well-decorated side historically, Les Dragons Rouges (the Red Dragons) only have one Coupe de France title to their name dating all the way back to 1932. But the Canois side have left a footballing legacy to the world that eclipses the likes of Strasbourg, who themselves have produced a number of top French players over the years, in the quality of talent that has passed through their ranks.

Cannes is the place where the legendary Zinedine Zidane launched his professional career and played for three years at senior level before moving to Bordeaux at the beginning of what would become arguably the most iconic career in French football history. If that wasn't enough, Patrick Vieira who went on to captain Arsenal's 'Invincibles' as well as Les Bleus (like Zidane) also debuted for the French Riviera-based side, becoming captain at just 19 years of age.

Zidane's former Girondins and French international team-mate Johan Micoud, who enjoyed spells at Parma and Werder Bremen before retiring back at Bordeaux, also started his career at the Stade Pierre de Coubertin.

But of the current generation and still playing, Manchester City's Gael Clichy, Genoa's Sebastien Frey and Toulouse captain and former Juventus stalwart Jonathan Zebina all came through the ranks at Cannes.

All six were, or still are, French internationals and there is a long list of other instantly recognisable talents, domestic and foreign, who were either birthed into football a short distance from La Bocca, Cannes' famous beach, or have passed through the glitzy city.

However, it seems the red carpet is about to be rolled up for good with today's incarnation of the club struggling in the amateur leagues and facing a financial solvency hearing on June 18 to decide whether or not they can continue to exist as an entity. The best-case scenario, if Cannes do survive, is that they plummet all the way to the bottom of France's footballing ladder to the Division Honneur Regionale (DHR) to replace their reserve team in what is France's seventh tier.

Zidane, now Real Madrid's Director of Football, returned to Cannes over the weekend to pay tribute to the man who spotted him at a Regional Centre for Sports and Physical Education at age 14, Jean Varraud. The 108-times capped French international chose Cannes to pay homage to the man who he described as a second father.

"It was thanks to him that I was able to join the Cannes youth academy," Zidane told those who attended the charity match. "It was he who noticed me even when you could not call me a good player. He certainly saw something that many had not seen.

"He meant a lot to me. He was like a second father because he spoke to me as his son."

Zidane also revealed that he has been helping Cannes financially, but even that has not been enough to keep the club afloat after slipping through the divisions since their last top-flight outing in 1998.

"I wish I could help the club, but I already do," Zidane added. "Cannes were like a family when I was 14, 15, 16 and it is still important today. I realise now that the people at the club then were more than just coaches, they were the first people to pay attention to us."

Now faced with a bleak future, Cannes need a miracle to survive. It is all a far cry from 1991 when the Red Dragons surprised everyone by finishing fourth in Ligue 1, qualifying for the UEFA Cup, but the club's importance in the annals of French football history cannot be denied.

As modern football takes its natural course, an important piece of the history of the national game stands to be eroded. But Cannes' mark on world football, not just French football, should not be overlooked. Spanish side Real Oviedo were saved from financial oblivion earlier this year after fighting for their lives to survive, but they had time on their side. Cannes tragically do not.

All hope is not lost yet - a last-minute saviour could still appear and preserve the club's illustrious history, but that seems unlikely for a club in the French lower leagues. Instead one of French football's most important clubs will either cease to exist, or start on the long arduous road ahead to climb back towards the summit of the domestic game from the absolute depths.

Either way, until that happens the significance of AS Cannes and their celebrated alumni should not be forgotten too quickly.

To add your name to the list of those concerned over the fate of AS Cannes, please follow @SaveASCannes on Twitter and show your support in the hope of saving the club.