U-21 flameout more evidence of English stagnation
In Germany, it was the WAGs. They were everywhere, with their shopping and their heels and their chardonnay. Against Croatia, it was the umbrella. What sort of message does an umbrella send out? That's not the right idea, an umbrella.

Then, in South Africa, there was that infernal hotel. It was too far away. There were lions and stuff nearby. That's clearly no good. At least they solved that two years later, in Poland and the Ukraine, but then they forgot that they needed to pass more. Oh, if only they had passed more.

English football, if it does anything well, produces genuinely world-class excuses.

- Pearce talks to FA about future as U-21 manager

England needs not so much a scapegoat, but a scapehotel, or a scapebrolly, or a flock of scapeWAGS. There is always one single factor that, if altered, would make everything all right. England, as an international force, resemble nothing quite so much as The Brain, forever one slight tweak from taking over the world.

So, too, in the ill-fated adventure of Stuart Pearce's Under-21 team to this month's European Championship in Israel. If only the Football Association had allowed that great umbrella-free tactician Pearce to take the very best of the country's nascent talent. How different it would have been if Jack Rodwell, Alex Oxlade-Chamberlain and Phil Jones had been there, and not in Brazil for a meaningless friendly. They would have solved everything.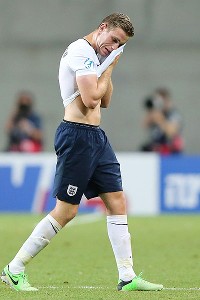 Ian Walton/Getty ImagesJordan Henderson and England were schooled by Norway at the European U21 championships.
The problem, this year, is the way we approach international youth tournaments. Sort that out, and England will be fine.

There is some merit, of course, to Pearce's frustration at seeing his squad weakened by the very organisation he is trying to help. But it is important not to confuse Jack Rodwell, the Manchester City substitute, with Diego Maradona, the diminutive Argentine playmaker. England were missing some decent players, yes. They might have done better if they had been there. But they did not travel with some sort of glittering galaxy of stars left at home.

There is a reason England secretly loves being knocked out of tournaments on penalties. It is because a narrative can then be constructed where English football has but one failing -- an ability to kick the ball accurately from 12 yards -- rather than many.

It is heartening, too: After all, it is far simpler to insist that all teams consistently practise penalties -- or declare they must stay in the centre of a city, or have sopping wet managers -- than wonder how to drag an entire country's footballing culture out of the dim and distant past to a point where it is as sophisticated and advanced as those found in Spain, Germany or, er, Norway.

But it is misleading. The reason England keep getting knocked out of these tournaments is not because of where they stay or whether they're allowed to have sex or whether they can convert a spot-kick or because the manager is foreign. It is far more complicated than that.

Indeed, it is too complicated to explain neatly here. The factors are many and varied -- lack of coaches, a kick-and-rush style, lack of players travelling abroad, an over-reliance on "heart," players earning too much too young, a magpie tendency to copy the latest fad from abroad and then drop it when something new comes along, a committee mentality that means nothing gets done, a system where the clubs have no interest in the success of the national side, a failure to learn from other countries and adopt their strengths -- but let us concentrate, briefly, on two timely ones.

The first was best expressed by Craig Bellamy -- not English, but British -- in his acclaimed autobiography "GoodFella." "There was not much enjoyment," Bellamy wrote of the training sessions he experienced under Rafael Benitez at Liverpool. "There were no small-sided games or anything like that. Everything was tactical, with timed drills and routines. It was all double sessions, tactical work, standing in position, walk-throughs of tactical play."

That may well be a fair assessment of Benitez's methods. But it does belie one of the great weaknesses of the English style: a feeling that tactics are a bit, well, boring. They probably are. It sounds a bit dull. But then this is an age where players are all, without exception, extraordinarily fit, and where technical standards are broadly evening out, too. If you can't outrun and outplay your opponents, you probably have to try to out-think them.

It is not just Bellamy; Roy Hodgson, too, has long made it plain that he feels the tendency to assign importance to tactical systems is overblown. He said while at Liverpool that most formations "looked very similar" and suggested after England drew with Ireland that his side play a 4-4-2 like Borussia Dortmund do, a statement that is only actually true if you accept that neither team play a 4-4-2. Tactics are something foreigners do. That may be why foreigners keep winning.

The second reason England struggle is even more troubling. Here, the return of Jose Mourinho to Chelsea is timely. The Portuguese strode into Stamford Bridge on Monday declaring that this time he wanted to build a dynasty, to leave a legacy. It was widely interpreted as an indication that he will give some of the club's younger players their head in the first team.

He may well do. But he will not rely on them. If he was going to, he would not be trying to sign Stevan Jovetic, Andre Schurrle and Edinson Cavani to play up front, because he would be looking to Romelu Lukaku; he would not want Sami Khedira or Nemanja Matic, because he would be intent on playing Nathan Ake. No, Mourinho will do what all managers do: He will play the youngsters occasionally, and watch them stagnate.

That is not his fault. It is not unique to Chelsea. It is the product of England's money-saturated, hyper-inflated football environment. It is impossible to trust young players in the first team, because the financial risks are too great if they fail. There is no farm system as there is in Spain, where they can gain competitive experience. And so we find these great generations of prospects marooned in the middle of nowhere, like England's senior team in a South African hotel. They have the world at their feet until they are 20 or 21, but they are never tested, so eventually they are written off and sold to Wolves.

It is not up to Mourinho to solve that. It is more than one individual can be expected to fix. It may never be completely set right. And in the meantime? Just blame the hotel. Or the WAGs. Or the penalties. There's always the penalties.

Rory Smith is a football writer for the Times in London, and a contributor to FourFourTwo, the Blizzard and a number of other publications.