Ronaldo being re-United not beyond possibility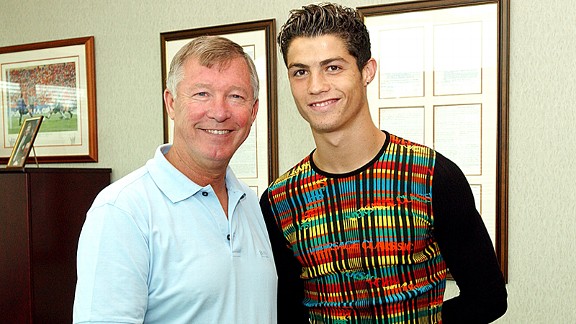 GettyImagesCristiano Ronaldo with Sir Alex Ferguson on the day he signed for Manchester United
He had wonky teeth, wore a terrible tank top and had a curly fringe of bleached hair hanging over his eyes in the style of Jim Bob from early 1990s indie favourites Carter the Unstoppable Sex Machine. When 18-year-old Cristiano Ronaldo walked around the streets of Manchester with his mum, he held her hand tightly. But this kid possessed confidence like few others. He was convinced he could be the best footballer in the world.

And so were many others, once he had made a 30-minute cameo against Bolton Wanderers on the first day of the 2003-04 Premier League season - skills, feints, a couple of excellent crosses and a swagger of unimpeachable self-assurance. It is approaching a decade since that August day, and still Manchester United fans sing Viva Ronaldo. His final three seasons for the club were perhaps the best a Red Devil has performed since George Best in his late 1960s peak.

United and Ronaldo have been apart for four years now, since he chased "my dream" at Real Madrid. It has not been held against him. In turn, he perhaps now thinks that he has never had it quite so good as he did in Manchester. Forget the rain, feel the love.

Ronaldo supplied United with genius from 2006 to 2009 - genius that Jose Mourinho recently admitted perhaps still surpassed the four seasons in which he has repeatedly broken records at Real Madrid. It was during his time in red that he achieved his aim of being the best in the world.

By the time United and Ronaldo had won the Champions League in 2008, he was just that - but Lionel Messi was already setting a course for global dominance. Somehow, a player who has scored 201 goals in 199 games has never quite been taken to hearts at the Bernabeu. He is admired rather than adored.

Ronaldo moved to what he believed was the biggest club in the world, but it has played second fiddle to Barcelona while Messi has overshadowed him. The club's tenth European Cup remains unclaimed, with two semi-final losses supplying painful reminders of a sliding sense of entitlement.

His relationship with Mourinho always seemed cordial during their time together in Madrid, but now looks a mere marriage of convenience. Back in 2007, when United were facing down Mourinho's Chelsea, the elder man said his compatriot had suffered a "difficult childhood" with "no education".

And when Mourinho departed Real, here was his kiss-off to Ronaldo: "I had only one problem with him, very simple, very basic, which was when a coach criticises a player from a tactical viewpoint, trying to improve what in my view could have been improved. And at this moment he didn't take it very well because maybe he thinks he knows everything and the coach cannot help him to develop any more."

The breakdown of that relationship, in their final season together, is believed to be at the heart of Ronaldo considering a return to United. He had always kept in touch with Sir Alex Ferguson, the two still regularly swapping text messages, but his mentor's retirement and Mourinho's removal may have swung things back towards staying in Spain. Chelsea would seem to be out as another option, anyway. PSG and Monaco - with the latter being the latest haven for his agent Jorge Mendes, but a place where Champions League football is not available - are outside but live chances.

Ferguson set up his United team to get the best from Ronaldo. They were largely happy to do so, too. Wayne Rooney, in particular, was selfless in the hard work he put in to create space for his friend. In Ronaldo's mind, it might all have been about him, but his individual talent was appreciated when it bettered the greater good.

There were times he let them down. When it was all hands to the pump at Old Trafford in the 2008 Champions League semi-final second leg with Barcelona, he was wasteful in possession and slow to track back, having missed a first-minute penalty in the first leg. The same happened in the 2009 final. He tried to win the game on his own, failed and United were soon overpowered with Ronaldo a sulky, sorrowful passenger.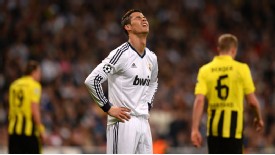 GettyImagesCristiano Ronaldo suffered Champions League semi-final heartache against this season
How and why could they have him back? Methods of paying for Ronaldo, who would become United's highest earner of course, are being worked on. Rooney, with attendant huge wages of £250,000-a-week, would be shipped out, while kit sponsors Nike have been suggested as playing a potential role in the funding. Having Ronaldo under their mark - Real Madrid's kit is made by Adidas - is a marketing dream, even if it might cost such a consortium more than £60 million.

Ronaldo would return to a very different club to the one he left. Rooney would almost certainly be gone. Paul Scholes, whose skills Ronaldo admired above all others, has retired for good, and David Moyes would be the manager. Ferguson's new role is as yet undefined, but he may be required to lure Ronaldo back to Manchester.

And Ronaldo himself is a different player, too. At United, he was perpetual motion, working as hard as those who were his regular suppliers. At Real, he flits in and out of matches, sometimes lazing on a wing, often loping with intent, only rarely playing much part in any build-up - but that is hardly to say that he has become any less deadly.

He would make for a copper-bottomed defence of United's final title under Ferguson, and his face would be on a million billboards across the world. At 28, he has years left in his legs. Despite a decade of top-level football, he has hardly suffered with injury. It almost makes too much sense. Real and Florentino Perez remain publicly confident of a new contract when they are probably no more than hopeful.

Reports in Portugual say Ronaldo might see out his current deal for a truly mega Bosman free transfer. A move for Gareth Bale might even push Real into selling. For the moment, all talk on the record bears the mark of spin and horse-trading.

Last Friday's remarks after Portugal's win against Russia suggested Ronaldo expects to stay, but his final months at United were full of pronouncements that he was going nowhere and remained happy. On a Sky TV preview of the 2009 Champions League final, a split-screen Cristiano interviewed himself about the future. "I think I will stay," he told his alter ego. He was gone from United barely two weeks later.

Ronaldo's return to the home he never realised he had is not yet beyond possibility.