Confed Cup Team Preview: Japan
Japan can't wait for the 2013 Confederations Cup. On June 4, minutes after becoming the first team to qualify for the 2014 World Cup, attacking midfielder Keisuke Honda was telling fans that the team's target was to win the eight-nation tournament.

As well as being a worthy tournament in its own right, there are huge benefits for Japan in taking part. Asian teams struggle to organise away games in Europe, and trips to South America are almost unheard of, so the chance to play Italy, Mexico and host Brazil is a fantastic opportunity. It will also show the best team in Asia how good it actually is at the moment, and what needs to be done the next 12 months in its World Cup preparations.

The Confederations Cup is another phase in the gentle evolution of the Samurai Blue. Since arriving after the 2010 tournament, in which Japan was just a penalty shootout away from reaching the quarterfinals, coach Alberto Zaccheroni has been fine-tuning a side that these days almost picks itself.

After winning the 2011 Asian Cup, Japan qualified with ease through the Asian zone. The draw with Australia that clinched the Confederations berth was a succinct showing of the strengths and weaknesses as it prepares for a fifth successive World Cup appearance.

Some of the interplay in attack was sumptuous. Honda is the man who makes the team tick when going forward. Playing just behind the striker, the blond bombshell is such a constant threat that he prevents Manchester United's Shinji Kagawa from taking the central role he covets.

If Japan is not coming through the middle with its fast passing triangles, then look to the wings. Full backs Yuto Nagatomo of Inter Milan and FC Schalke's Atsuto Uchida are hugely important and are never far behind when Honda or Kagawa pick up the ball.

Midfielder Makoto Hasebe, the cool and composed captain, and Yasuhito Endo, his cultured sidekick, were together in South Africa for the 2010 World Cup. Now 33, Endo is approaching the end of his national team career, but perhaps he has one more World Cup left in him. Perhaps. He's looked good in Asia, but any sign of struggles in the next few weeks against some of the best players in the world, and his place could be in jeopardy. Japan is blessed with dozens of technically gifted midfielders.

What they don't have is a goal scorer. Japan loves possession, likes creating chances but seems less keen in sticking the ball in the net. The likes of Ryoichi Maeda and Mike Havenaar, a Japanese citizen of Dutch descent, have never really been in this element. If Zaccheroni could find a top-class No. 9, the team really would be a contender. A goalkeeper to challenge the recently uncertain Eiji Kawashima also would be helpful.

Despite some weaknesses, the best team in Asia is surely underrated overseas, with a FIFA ranking of 32 not a fair reflection of its strength.

Japan wants to show that it can live with the best. There is a confidence about the Samurai Blue these days. At one time, this Group of Death would have been truly scary. Now the challenge is relished.

Tactics
Japan play 4-2-3-1. Zaccheroni has experimented with 3-4-3 against weaker opposition but that is not going to be an issue this month.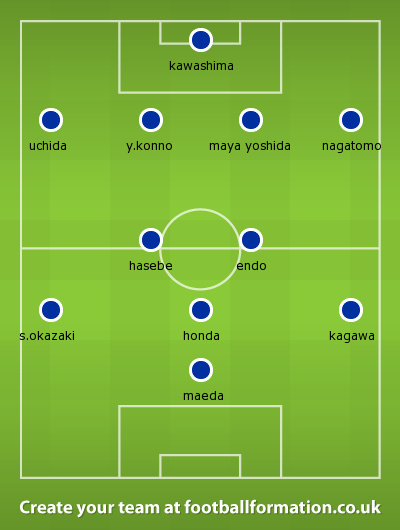 Other / footballformation.co.uk
Measure of success
Despite the proclamations of wanting to win, just getting out of the group would be hailed back home, and rightly so.