Where does Joe Allen fit into the Liverpool jigsaw?
Of all those who have tried to solve the puzzle of Joe Allen's difficult first season at Liverpool, perhaps his international manager has come closest.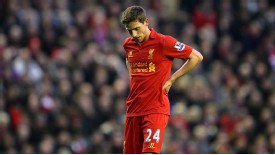 PA PhotosJoe Allen has struggled to find form since joining Liverpool from Swansea for £15 million last summer
"Joe is a terrific little player at what he does, keeping possession and retaining the ball," Chris Coleman suggested earlier this year. What Allen is not, the Wales boss argued, is the type of player who will hit 70-yard passes and score a bagful of goals. In other words, he is no Steven Gerrard.

"He will pass through the opposition's units and move them about," Coleman continued. "It's his strength. I don't know what people were expecting of him."

The common consensus is that Allen has fallen short of expectations since arriving at Anfield from Swansea for £15 million last August. That is not necessarily all his fault, as Coleman has noted. Yet that might make an upturn in fortunes more difficult to achieve. One of manager Brendan Rodgers' most significant challenges ahead of the new season is to figure out how to fit his flagship Liverpool signing into his best team.

It wasn't meant to be like this. When Allen arrived on Merseyside, he had just enjoyed an excellent debut Premier League season at Swansea under Rodgers. Soon after the deal was done, the manager declared that the midfielder was the "Welsh Xavi." With hindsight -- and perhaps foresight -- it was an unhelpful comparison.

"Xavi is a player I admire so it was very flattering, but I've got a bit of work to do to get up to his standards," said Allen a week ago, in a chat on Liverpool's Indonesian Facebook page. It was an understated, self-effacing way of summing up a tough year.

Allen started his Liverpool career brightly, faded badly, attracted heavy criticism and ended the campaign on the sideline as he recovered from a shoulder operation. The injury, which he had been carrying since October, cannot have helped his form. But while a fully-fit Allen will start next season with a greater hope of functioning to his full potential, the concerns over his suitability for Liverpool run beyond his individual performance levels.

That is because it is unclear just how Liverpool's midfield can currently accommodate a player who carried limited attacking threat even during his Swansea days, and who has struggled with the defensive side of his game since moving to Merseyside. Short passing and good ball retention were part of the Rodgers philosophy at Swansea, and Allen was central to that. Those qualities, though, will not bring success without goals. It is a lesson Rodgers has had to learn during his first season at Anfield. As the season progressed, Allen's part in that lesson mutated from participant to observer.

Rodgers has experimented with a number of different formations and personnel during his first season at Anfield, and Allen impressed early on when playing in a deep midfield role beside Lucas Leiva, with Gerrard pushed further forward. When Lucas was ruled out for three months with a thigh injury in August, Allen had to anchor the midfield, and his game ultimately suffered.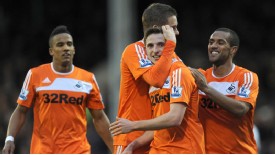 PA PhotosJoe Allen impressed in the centre of midfield during his time at Swansea
In addition, Gerrard has tended to function better this season when playing further back alongside Lucas. From there, the England captain has a licence to open defences with his accurate long-range passing and can make runs from deep -- and it is a role he is likely to take on more regularly as he approaches the final years of his career.

Allen, though, has been less successful when pushed further forward to accommodate that move, as he lacks Gerrard's goal threat and his eye for a killer through pass. The Wales international has also struggled in the deeper position when Lucas has not been around to play the holding role. When Allen and Gerrard were paired in central midfield at Southampton on March 16, Liverpool were torn apart. Rodgers, having seen his side overwhelmed by a pressing game, had no option but to take off Allen at halftime and bring on Lucas. Although Liverpool still lost 3-1, some element of midfield stability was restored.

Liverpool's manager is not afraid to change the way his team line up; switching from 4-3-3 to 3-5-2 to shore up his defence during a 2-2 draw at Everton in October, and starting with three centre backs in away games at Chelsea and Fulham during the season. His favoured setup, though, has been an attacking 4-2-3-1, with his wingers encouraged to get forward in support of the central striker. It's a setup that offers little opportunity for Allen at present.

With Lucas and Gerrard the two midfielders in front of the back four, the three places behind Luis Suarez or Daniel Sturridge were filled most often over the second half of the season by Jordan Henderson, Philippe Coutinho and Stewart Downing. Henderson's energetic performances and Coutinho's creative spark made them more suitable as attacking threats than Allen, while even Downing showed signs of improvement in his second season at Anfield, following an awful debut campaign. Allen, by and large, warmed the bench, starting three Premier League games in 2013 before his season-ending surgery. Liverpool lost two of them. They suffered only one other league defeat between January and May. The Xavi comparisons are, for now, best left alone.

"Brendan is all about giving his players confidence," Allen said last November. "I don't know if he was being serious with the comparison with Xavi, but he's always looking to make you feel good about yourself."

Allen, clearly, has not allowed Rodgers' words to go to his head. But that's only half the battle. As it stands, the midfielder will become a Liverpool regular only if the team adapt to suit him or he adapts to suit the team. For a player of undoubted talent, a big test lies ahead.