Olivier Occean's late career glory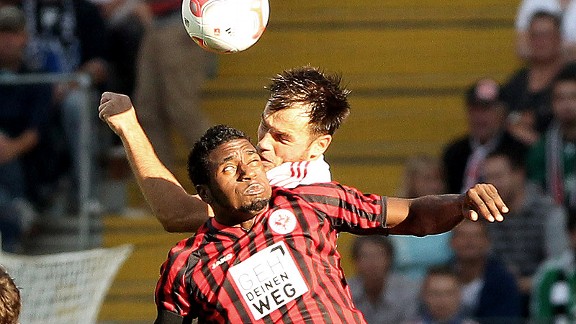 no_source / Daniel Roland/AFP/Getty ImagesOlivier Occean has just one goal in five Bundesliga appearances for Eintracht Frankfurt but has been integral to the his side's superb form.
If you haven't followed the Bundesliga this season, you're shamefully unaware of Eintracht Frankfurt. Until losing 2-0 to Borussia Monchengladbach on Sunday, the newly-promoted team from the nation's financial capital had gone six games undefeated -- a record start for a promoted side. The team itself is fearless, recently playing two-time defending champion Borussia Dortmund to a 3-3 tie. Imagine Southampton laying waste to the Premier League. It would raise some eyebrows.

And amid all of Eintracht's pyrotechnics, Canadian striker Olivier Occean has been instrumental. On September 16th, he scored his first-ever Bundesliga goal, leading Eintracht to a 3-2 victory over Hamburg SV and spoiling the debut of Hamburg's returning hero, Rafael Van der Vaart, in the process. It was just Occean's third-ever Bundesliga match.

What makes Olivier Occean special is this: he's 30 years old. Most forwards in their 30s are starting to lose a step while their agents are busy working out where their clients can go for one last paycheck before retirement. Not Occean. After a decade playing in the relative wilderness of Scandinavia and the lower-tier German leagues, Occean is finally making a name for himself. In doing so, his story has become one of the Bundesliga's most inspiring.

Occean, the child of two Haitian immigrants, grew up in Montreal, Canada and always dreamt of playing professional soccer. From an early age, he suited up alongside the refugees and immigrants in the city's Haitian community though his footballing career didn't begin until he traveled south to attend Essex County College, a community college in Newark, New Jersey -- he'd been recruited by the school's Haitian coach.

After his sophomore year Occean transferred to South Connecticut State University, an NCAA Division II school, where he managed a couple of impressive seasons -- enough for then-MetroStars coach Bob Bradley to select him in the third round of the 2004 MLS Draft.
After the draft, MLS offered him a contract for the league minimum $25,000 and though Occean played in the MetroStars' preseason, he never signed the contract.

That summer, after impressing for Bradley's side in a Spanish tournament, Norwegian club Odd Grenland stepped in and offered him a contract for $60,000 a year. He took the larger offer and signed a three-year deal. (Not long after he signed, Occean's agent at the time, Patrick McCabe, told the New York Times, "The MetroStars and Coach Bob Bradley weren't too happy with me.")

After a couple of seasons with Odd Grenland, Occean moved to Lillestrom, also in Norway, where he enjoyed several more seasons in the Tippeligaen. (A high point: scoring both goals in Lillestrom's 2007 League Cup final win.) But after spending the 2009 season struggling with a deep groin injury, Lillestrom let his contract run out, a low ebb in Occean's career.

That's when Kickers Offenbach called.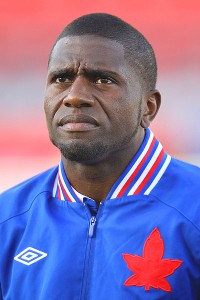 no_source / Tom Szczerbowski/Getty ImagesOccean has also represented Canada 25 times since 2004, scoring six goals.

Scouts for Kickers, a Third League team near Frankfurt, first became aware of Occean while watching YouTube videos of his goals in Norway. Kickers signed him on a free transfer before the 2010-2011 campaign. "It was a step down," Occean said. "I had some offers from Asia and stuff, but I wanted to stay in Europe, and I made a good choice." At Offenbach, Occean got off to a hot start -- four goals in his first three games -- that has yet to cool. He finished his first season in Germany with 16 league goals, and in 2011-2012 stepped up to the Second Bundesliga where he scored 17 for Greuther Furth, helping the team qualify for the First Bundesliga.

This past summer, Eintracht Frankfurt -- who also earned promotion last season -- bought Occean for a fee reported at just over 1 million euros. It might yet turn out to be the shrewdest money spent by any German club this season.

Niklas Wittkowski, a diehard Eintracht fan and expert on Bundesliga culture, told me he was impressed with his club's offseason transfer dealings; Eintracht signed ten new players and Wittkowski considers Occean a key acquisition. The team plays a kind of industrial, attacking football that relies on defending and pressure from the front -- Occean's willingness to run for 90 minutes is a fundamental part of the strategy. "One reason [the team] can play so offensively is because they know they have one striker who will work as their first defender," Wittkowski said.

While it's not surprising that Occean's work ethic has endeared him to the fans, it may come as a surprise that Occean's skin color is a point of pride for the Eintracht supporters.
Eintracht signed the club's first black player, Ghanaian striker Tony Yeboah, in 1990. At first, Yeboah played under terrible conditions -- his own supporters jeered him -- but as he scored goals, he became a poster boy for integration in the Bundesliga and Germany on a whole (an issue that remains a touchy subject today).

According to Wittkowski, who wrote his Master's thesis on supporter politics in the Bundesliga, by the time Yeboah left Eintracht in 1995, many of the club's supporters had adopted a pro-tolerance, anti-racism, anti-fascist stance. Frankfurt's Green Party even put Yeboah on its political posters in a bid to woo Eintracht fans. For the team's supporters, Occean -- another black striker -- is a welcomed reminder of the tolerance and inclusiveness some of these supporter groups stand for.

Back when Yeboah lead the Eintracht attack, the team competed in Europe and played with swagger and panache -- Occean hopes to help return the team to its former glory. When I asked him about the current team's potential, he said, "[Eintracht] is an exciting team. Now we're second place, and anything can happen in football. But our goal for the season remains to stay in first League."

When you think about what makes a sports story great, Occean's ticks all the boxes: an obscure origin, perseverance, hard work and a little luck. After Eintracht's victory over Hamburg, Van der Vaart referred to the first 20 minutes of the game as "A nightmare." Occean scored in the 18th minute and for him, it was more like a dream come true. "It was a big emotional moment for me," he said. "And doing it for Frankfurt, which is a big club, too. It's definitely one of my best moments in football."

May he have many more this season.