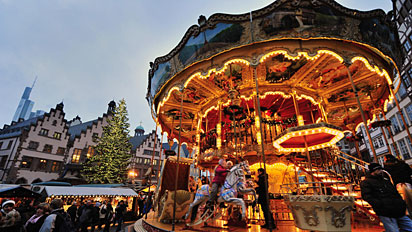 GettyImagesIt's an odd year, which means the transfer merry-go-round will be in full swing this summer
Football transfers usually follow a simple pattern.

Big club wants smaller club's player. Player wants to join bigger club. Smaller club will only let player go for a premium. Said premium is argued over. Player eventually joins bigger club after agreeing wages.

There is a flipside. Eventually, a big club might not want a player. Smaller club makes offer. Said offer is argued over. Player eventually joins smaller club after agreeing wages.

That's how footballers switch clubs. There is such a thing as a free transfer, too - but they follow a very similar pattern, except that this time it's just an argument between the player and his representatives with the prospective new club over wages.

Yet we live in an age in which the football transfer has become an utterly dominant narrative. The absence of a truly major tournament makes this a transfer summer. Odd-numbered years are those when speculation leads the agenda. Most of the big transfers of recent years have taken place in them. Cristiano Ronaldo and Kaka joined Real Madrid in 2009, the same summer that saw Barcelona pay silly money for Zlatan Ibrahimovic. Time might prove that they were a waste of time and effort, but the Cesc Fabregas and Alexis Sanchez sagas ran the length of the summer of 2011. This 'close season' will be no exception.

In English days gone by, football would shut up for the summer. Cricket would take over what few newspaper pages were assigned to sport. Wimbledon fortnight provided a moratorium, too, but there's no such luck these days for those who want to think about football only when the Community Shield comes around.

Transfers dominate right up until August 31 and even manage to overshadow the opening weeks of the season as the build-up to the all-night party that is Transfer Deadline Day intensifies. There are those who enjoy transfers even more than the football itself. An entire industry has sprung up and a series of familiar tropes has appeared.

The 'wantaway' star

Luis Suarez provides this summer's example, though of course the media is wholly to blame for his wanting to join Real Madrid and not continue to carry Liverpool's rather distant hopes of revisiting the Champions League. It usually takes quite a lot for a player to admit he wants to leave his club. He will always take care not to blame the fans, who will probably hate him for daring to desert them.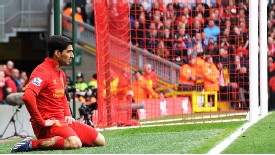 GettyImagesLuis Suarez has made his transfer intentions clear, much to the dismay of Liverpool fans
Loyalty bonuses built into contracts usually delay the putting in of transfer requests, and managers often act publicly surprised when their players finally ask to leave. Arsene Wenger is the master of this. He kept saying Cesc, Samir Nasri and Robin Van Persie would stay. Sir Alex Ferguson, famously, refused to sell Real Madrid a virus and then flogged them Ronaldo for £80 million. 'Wantaway' stars eventually get their wish.

The rolling news channel

On TV, the big news is embedded in a yellow ticker, always given the 'BREAKING NEWS' prefix before the legend of Nicky Shorey's big move is revealed. The newsreader, be they a clean-cut, squash-playing type, a greying but ever-elated veteran hype machine or a painted Amazonian beauty squeezed into a summer dress, reads out the telling information with the gravitas of Walter Cronkite on the night of November 22, 1963.

As stories grow, a reporter is dispatched to stand outside a training ground or stadium that has been shut down for the summer. They then proceed to read out statements from that club's website. On Deadline Day evening, the ladies and gentlemen in the field wear branded jackets and are surrounded by inebriated fans with nothing better to do than cheer the signing of Dean Whitehead. We then build up to a crescendo and are told that "anything can happen" - when actually all that is happening is that some footballers are changing football clubs.

The transfer specialist

While many football reporters are taking a break from a season of late-night filing and being whipped by the elements and are trying to lose the poundage gained from nine months of club hospitality, now is the time when the transfer specialist kicks into gear.

He or she - mostly he, let's be honest - has a rolodex full of numbers for agents and club insiders, and thus launches a seasonal campaign of rumour and counter-rumour. Contrary to popular perception, a high proportion of stories do have a grain of truth to them, but too often a mere grain is enough for a back-page splash. There are papers to be sold, hits to chase.

Phone a club chairman and ask them if they want to sign a Brazilian star, and be told they do not, and a story is there to be written. "XXXX last night distanced themselves..." and so on. Being a transfer expert is not for the thin-skinned. You have to prepare to be wrong over 50% of the time but, if you pull in a big one, your editor is very happy indeed.

The Twitter blowhard

Once Twitter went mainstream some time in 2010, a new seam of information was there to be mined. In the past, desperate fans used to call premium rate phonelines or pump names into news aggregator sites, but now the world of 140-character assassination is the real home of transfer talk.


Arsenal target set to remain at Manchester United?: There is drama for Manchester United fans ... bit.ly/187qy97 #transfertavern

— TransferTavern.com (@TransferTavern) June 6, 2013
Transfer-specialist sites and Twitter feeds are widespread

What a Twitter user wants most of all is followers and attention. Football transfers are the quickest route to getting Sulia to earn you a whole £2 a day. Twitter transfer 'experts' rarely use their given name, instead hiding behind alter ego and cartoon avatar. That's because, with a couple of exceptions, they are generating either second-hand news or a complete load of trumpery moonshine with absolutely no relation to the concept of truth. And then there are those who just copy their 'scoops' from a foreign TV station, website or newspaper, using bilingual skills to gain recognition, and eventually notoriety.

The agent

Who loves the transfer window even more than all of the above? Football agents, of course. Unless an agent represents a player at the very top of the game, with the attendant big wages and endorsements, the easiest way to make money from their clients is to have them regularly change clubs. Percentages of signing-on fees and loyalty bonuses can be very lucrative indeed.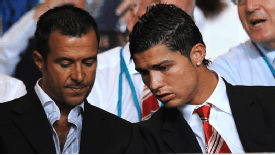 PA PhotosJorge Mendes, who represents the likes of Cristiano Ronaldo and Falcao, is arguably the most powerful agent in world football
Agents have a habit of inserting themselves where money is going to be spent. Kia Joorabchian has been agent in residence at West Ham United, Manchester City and QPR - though not at Stoke, if public pronouncements are to be believed. The glut of spending at Monaco will be lining the pockets of Jorge Mendes, who just happens to represent most of the stars heading for a tax-free life in the principality.

These days, leading players do not restrict themselves to one agent. Robert Lewandowski seems to have several, stretching across different countries. And spending cash with agents is no pathway to success either. Manchester City spent £10.54 million on them in 2012 and failed to defend their title, with Liverpool shelling out £8.6 million to finish seventh. QPR spent £6.82 million. How did that go?