The troubled and talented Pablo Daniel Osvaldo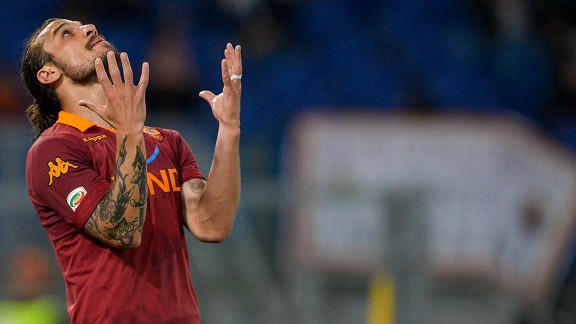 GettyImagesPablo Daniel Osvaldo: Provides goals and controversy at Roma
As the Lazio players celebrated winning the Coppa Italia, those of Roma trudged off the pitch at the Stadio Olimpico, their runners' up medals hanging from their necks like millstones. Some were in tears. Others were understandably angry. A flashpoint was perhaps to be expected.

Upset at not starting the final, late substitute Pablo Daniel Osvaldo had a few choice words to say to Roma's caretaker manager Aurelio Andreazzoli. He insulted him on his way back to the dressing room and, for good measure, punched the advertising hoarding used as a background for post-match interviews.

"Causing a scene when the TV cameras are running is nothing new for him," Andreazzoli said. "But then in private he just moans and whines. That's his problem, though, not mine. For a player who represents the national team, he should have better ethics. But again, that's his problem."

Having been accused of being a cry-baby behind closed doors, Osvaldo presumably felt moved to open up about Andreazzoli and go public with his grievance. He sent a tweet that was quite the barb. "You'd do more good if you admitted to being incompetent... Go celebrate with Lazio."

Question his competence all you like, but Andreazzoli was right about one thing. Behaviour like Osvaldo's is not that expected of an Italy international, at least not since Cesare Prandelli introduced his ethical code. Upon review, he was excluded from the Confederations Cup squad, the official reason being he "deserted" the medal ceremony at the end of the Coppa Italia final without permission.

Some considered it pathetic, but Osvaldo knows the rules. An international call-up was withdrawn in February 2012 after he received a red card against Atalanta. He didn't make the cut for the European Championship that summer either, the justification being he was "too tense", too highly strung, read: liable to get himself sent off which could cost Italy dear in Poland and Ukraine. Nine dismissals in six seasons tells its own story.

Many believe the clash with Andreazzoli to be Osvaldo's last act as a Roma player. Since signing from Espanyol for €15 million as a replacement for Mirko Vucinic in the summer of 2011, there's a sense that he has been more trouble than he's worth. That assessment is unfair, but it's not difficult to see how the media and some fans have arrived at it.

A scorer of the opening goal in his first ever Rome derby in October 2011, he lifted up his jersey to reveal a t-shirt with the slogan "I have purged you too" printed on it. It evoked those made famous by captain Francesco Totti. You'd have thought acknowledging them in this setting would have gone down well. Instead the club apparently found such grandstanding precocious and hubristic as Roma lost 2-1.

A month or so later, Osvaldo was involved in a dressing room bust-up, slapping Erik Lamela across the face after a 2-0 defeat to Udinese. He'd demanded that the ball be passed to him, only it never came. "I'm bigger than you," Osvaldo is widely reported to have told Lamela. "We're not at River here. When I talk to you, you have to respond." This time he did get a response. "Shut up, you're not Maradona," Lamela allegedly replied.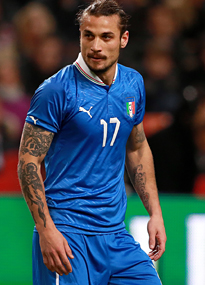 GettyImagesPablo Daniel Osvaldo was dropped from Italy''s Confederations Cup squad for disciplinary reasons
That version of events was subsequently denied. But it was too late. In the meantime many had already made up their minds about Osvaldo. Suspended for 10 days by the club, he missed the next game away to Fiorentina. Roma lost 3-0 and had Juan, Fernando Gago and Bojan sent off. It was a complete disaster unto itself, but Osvaldo was rather harshly adjudged to have contributed to it and apportioned some of the blame.

Then of course came the aforementioned red card against Atalanta. Luis Enrique had left out Roma's best player that season, Daniele De Rossi, after he was late for a team meeting. Without him, the expectation was the team would struggle. So when Osvaldo and then Marco Cassetti got sent off it exacerbated matters. Already 3-1 down, their chances of getting back into the match evaporated. Roma lost 4-1.

There were other incidents such as making a shushing gesture after scoring in the return fixture against Udinese, which, according to the local paper Il Corriere dello Sport, was supposedly aimed at general manager Franco Baldini after he'd questioned the players' character. But for the most part and certainly until the end of 2012, Osvaldo kept himself, more or less, out of bother.

Over Christmas, though, he went back to Argentina to visit his parents and returned to Italy late. He called in sick and missed winter training in the United States, home of Roma's owners. The club wasn't happy, nor was coach Zdenek Zeman. All hell broke loose, though, in February.

Roma were playing Sampdoria at Marassi. It was the first game under Andreazzoli after Zeman's dismissal and, needless to say, a delicate moment in the season. Down by a goal, Osvaldo won a penalty kick. Roma had an opportunity to equalise. Totti, the club's designated taker, stepped up, but Osvaldo made the case that he'd earned it so he should take it. Interpreted as a lack of respect for the hierarchy, the thinking was: he better not miss. But he did and Roma lost 3-1.

Osvaldo apologised, but for some it wasn't enough. There were protests at Roma's training ground. His car was pelted with stones and eggs. He was quite literally being driven out of the club. The sort of intimidation he experienced was frightening and an utter disgrace. By that stage, he could perhaps be forgiven for wanting out.

Suspended for the final league encounter with Lazio after reaching the yellow card limit, instead of watching from the stands and supporting his team-mates, he travelled to London with his girlfriend, which was quite understandable given his treatment - who wouldn't be disillusioned by it? - but the photo of them drinking and enjoying themselves hardly helped matters. Predictably, he came under fire from fans during the warm-up of their next game against Torino.

By way of making amends Osvaldo scored in a 2-1 win. A fortnight later he got a hat-trick at home to Siena and then found a 92nd minute winner against Champions League-chasing Fiorentina to take his total for the season to 16 in 29 appearances, a reminder, if one were necessary, of what a fine striker he is. All that, of course, was once again forgotten in the polemic that followed the Coppa Italia final.

Sympathy for Osvaldo is out there. Misunderstood. Misrepresented, he's a troubled soul, prone to melancholy and admits to being "lunatico" - not a lunatic, rather someone susceptible to mood swings. Though an Italian citizen by virtue of a great grandfather from the Marche region of central Italy, remember Osvaldo grew up in Argentina, a Boca fan, and left at 19-years-old to join Atalanta.

"The day of my 20th birthday, January 12, I found myself in Bergamo alone in my room in the middle of nowhere with the snow outside," he recalled to La Repubblica. "I didn't know the language. My family wasn't around, nor were my friends. I didn't hear the voices of my neighbourhood back home. I was desperate. I started to cry and couldn't stop."

A father of three children by two different mothers, he lives away from them and things certainly haven't been easy for him. He has confessed to running away when it all got too tough in the past. "I didn't want to be Che Guevara," he said. "Actually I dreamt about loving only one woman, of having one family, of living in the same place. There are days in which I feel sad. I would like to be another person. I lose myself in the world. I have nostalgia for Argentina, for Buenos Aires, for Lanus: for my adolescence. I would like to have it all again, live what I lost, go back to being a kid."

Attracted to the idea of being a pirate, it reveals a lot about why his career has been so peripatetic, going from port to port, from club to club - Atalanta, Lecce, Fiorentina, Bologna, Espanyol and then Roma, all by the age of 27. Were it not for his likeness to Johnny Depp's Jack Sparrow character and his skull and crossbones tattoos, perhaps he would be thought of as less of a pirate and more like Peter Pan, the boy who never grew up.

He's definitely had to at Roma, though. The pressure has been immense. "I try to find peace, but I have the fans under my house and if I go to a restaurant with my daughter, I can't have any privacy," Osvaldo said. "I don't feel free. Rome is fascinating. I'd like to enjoy it more."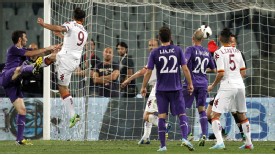 AssociatedPablo Daniel Osvaldo, pictured here scoring a late winner for Roma, has been linked with Spurs, Chelsea and Atletico Madrid.
It can be a suffocating place for a footballer, though, especially considering the many radio stations, papers and websites in the capital that talk incessantly about the club. One even went so far as to claim that Osvaldo's mother had died. "So I called home, it's four in the morning in Argentina," Osvaldo recalled. "My mum picks up and I start to cry. I asked myself: how can a site publish such a huge story without verifying it? And then they say: Osvaldo is highly strung."

Constantly under scrutiny and, in his opinion "judged too much", he understandably finds it confusing to pick up a paper and read one article arguing that he's had a poor season and another linking him with Tottenham, Chelsea, oh, and Atletico Madrid as a replacement for Radamel Falcao no less. "If they're thinking about me it means I must be doing something right, no?" They've obviously seen the bicycle kick against Catania and the rest.

It'll be interesting to see how this summer plays out. One suspects Osvaldo's future will depend very much on who Roma appoint as their new coach, something that's very up in the air at the moment after the favourites for the position - Walter Mazzarri and Max Allegri - decided to take another job and stay put respectively. Roma won't lack offers for him.

A fan of The Rolling Stones, Osvaldo's favourite song of theirs is 'Wild Horses'. "There's nothing better," Osvaldo commented. Unlike one of its most famous lyrics, however, he told Sportweek: "I'd let them drag me away." When speaking of life in general rather than specifically of his situation at Roma, he has said: "I always think happiness is to be found elsewhere."

Maybe, just maybe then that inherent wanderlust, the pirate that lies within, will stir and persuade him to set sail again for a new port ahead of next season.