Confed Cup Team Preview: Tahiti
The tournament's Cinderella team, hailing from French Polynesia, will represent not only the Oceania Football Confederation. The Tahitians carry the hopes of all of those who love the pain of rooting for the underdog.

Ranked 135th in the world, the Warriors of Steel qualified as surprise winners of the OFC Nations Cup in June 2012. After beating New Caledonia in the final, the Tahiti became the first team other than Australia and New Zealand to represent the region for the Confederations Cup. The entire squad -- except for Marama Vahirua, a 33-year-old striker who is on the books of Ligue 2 team Nancy -- is composed of amateurs and semi-professionals who play in the local league. Their ranks include laborers, schoolteachers and salesmen.

Coach Eddy Etaeta also has called on the services of four players from one family -- the Tehaus -- and hopes a number of his players will be able to find professional contracts in the wake of the tournament.

Since their Cup victory, however, the Tahitians' form in World Cup qualification has slumped. They have trained for Brazil by facing opponents such as Chile's Under-20 team and fine-tuning an overwhelmingly defensive strategy. Goalkeeper Mickael Roche expects to be a busy man. Attacker Steevy Chong Hue, whose strike earned the team its finals berth, will try and nick a goal.

Tactics
A tight, defensive 4-5-1, relying on two banks of four to push opponents out wide. As they say in French, Tahiti will seek to "garer le bus."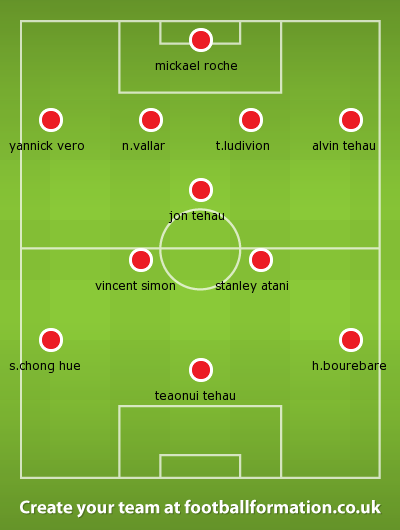 Other / footballformation.co.uk
Measure of Success
For this team representing a population of 277,000 people, success was achieved merely by qualifying. If the team can keep games close, it will leave with its dignity, and the prevailing idiom that there are "now no easy games at the international level" will remain intact.