U21 teams punished for excellence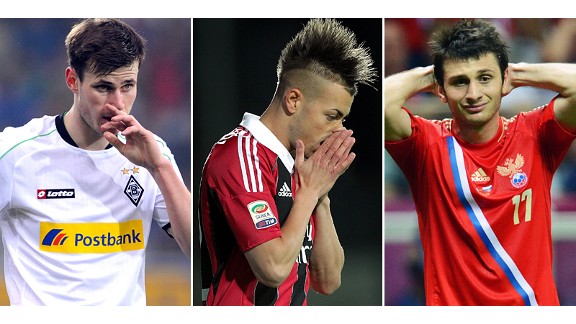 GettyImagesRussia's Alan Dzagoev and Norway's Havard Nordtveit will both miss the early stages of the U21 tournament, while Italy's Stephan El Shaarawy misses out altogether
In business management, using the 'cost-plus' pricing method is one of the worst mistakes you can make. Basically, it means calculating the production cost and then adding a certain percent to make profits. To illustrate it, if manufacturing a table costs a firm €100, and it adds 50 percent on top of that, the price for the customer will be €150, and the firm will make a €50 profit.

Why is it such a bad idea? Because if the firm finds a way to reduce the costs of producing the very same table to €90, then according to its cost-plus method the price is reduced to €135, and the profit goes down to €45. The firm actually fines itself for reducing its own production costs. Its efficiency is punished.

- Atkins: Emerging stars with chance to shine
- Yokhin: The next generation

And that is exactly what UEFA have done to Under-21 teams that qualified for the European Championship that starts in Israel on Wednesday - they have been penalized for their excellence. UEFA's showpiece youth tournament has been scheduled at the same time as some of the senior national teams play crucial World Cup qualifiers, meaning a number of young stars will be absent from the start of the U21 tournament as they are called upon to represent the full team.

UEFA's scheduling simply cannot be understood. After all, the most important goal of the U21 team is to prepare young talents to play for the real national team. Why should they be robbed of those youngsters on the eve of their biggest occasion, just because they are also ready to play ball with the big boys?

Italy, Norway and Russia will all suffer.

In the case of Norway, no less than four stars of Tor Ole Skullerud's U21 team have been called up to the senior team for the must-win game in Albania on June 7. National coach Egil Olsen can hardly do without Havard Nordtveit, who became a midfield stalwart at Borussia Monchengladbach this season. He also chose to call on AZ Alkmaar midfield star Markus Henriksen, Red Bull Salzburg wizard Valon Berisha and Blackburn striker Joshua King, who proved to be valuable as a substitute.

Not only will the foursome miss the U21 tournament opener against the hosts on June 5, they will arrive in Israel on June 8, just a few hours before Norway play their second game versus England. While Norwegian journalists had hoped at least one or two of the quartet could face the Three Lions as subs, Skullerud openly stated: "Those who were called to the national team can only play against Italy in the last group game". Thus, if Norway are eliminated after the group stage, their best four players will only participate in one game. This is a travesty.

Russia face similar problems. Fabio Capello's national squad take on Portugal in Lisbon on June 7, and Alan Dzagoev, the country's best player at Euro 2012, is naturally needed there. Striker Aleksandr Kokorin, who had a terrific season with Dinamo Moscow and became important for Russia under Capello, was also supposed to go to Portugal, before being ruled out with injury.

Both players also had to feature in the forward line of U21 coach Nikolai Pisarev in Israel and were included in the squad (before Kokorin withdrew). But the national team comes first, and Dzagoev will miss the first game in Israel, against Spain on June 6. He will probably join up with the U21's in time to face Holland on June 9, and will certainly play against Germany on June 12.

Quite a few questions come to mind. Why does Pisarev have to suffer because of Dzagoev's excellence? Why do the Spaniards, whose senior have no World Cup qualifier and no need to call on their young stars, enjoy such an unfair advantage over Germany and Netherlands? And why on Earth are Russia in a better position than the poor Norwegians just because they were drawn in Group B, as opposed to Group A, and thus play their second game a day later?

The absurd was taken to the extreme a week ago, when Capello decided to call Fyodor Smolov into his squad, following Artyom Dzyuba's injury. Smolov will not play in Portugal, and won't even make the bench, most probably, but the U21 team lost him for their game again the Spanish.

While Dzagoev's absence was known a long time ago, coach Pisarev now has to change all his plans regarding Smolov, his top scorer with 14 goals in 27 games. Russia's U21 team is built around Smolov, but now he has to go to Lisbon to sit in the stands. "I was very surprised, but Capello knows better" Pisarev said.

Italy took another route. As Cesare Prandelli's national team play the Czech Republic in Prague on June 7, AC Milan jewels Stephan El Shaarawy and Mattia De Sciglio were only called to the senior squad. The U21 team, coached by Devis Mangia, decided not to count on them at all, and the tournament in Israel lost two of its biggest stars, who were also included in the Italy squad for the FIFA Conderations Cup.

Five other participants of the U21 tournament - namely Spain, Germany, Netherlands, England and Israel, don't have to worry about such dilemmas. Their national teams don't play in the World Cup qualifiers in June, and therefore the coaches could select any player they wanted to. While some of them, especially Germany, didn't pick the biggest stars, it was their own choice and that has to be respected. The major problem is that those five teams enjoy a huge and extremely unfair advantage over Norway, Russia and Italy.

It doesn't have to be that way. There is no urgency to start the U21 Championship on Wednesday, and it could have been staged a few days later. Alternatively, there is no reason to wait until Friday for the World Cup qualifiers to take place. The league season ended in May, so the international games could easily have taken place on Wednesday.

Let the national teams play on June 5, start the U21 Championship on June 10. All the problems are solved, and nobody suffers.

The outrageous current schedule devalues and undermines the U21 tournament. UEFA make it feel less relevant because some of the best players can't take place in it. UEFA also make it feel less fair, because some of the teams get a very bizarre advantage.

Would you stage a World Cup qualifier involving Germany the day after Bayern Munich and Borussia Dortmund played in the Champions League final? Obviously not, because that final is extremely important. But why isn't the job Skullerud, Mangia and Pisarev do equally important? It should be considered as such. Teams should never be punished for their excellence.