La Liga dilemma looms for Bale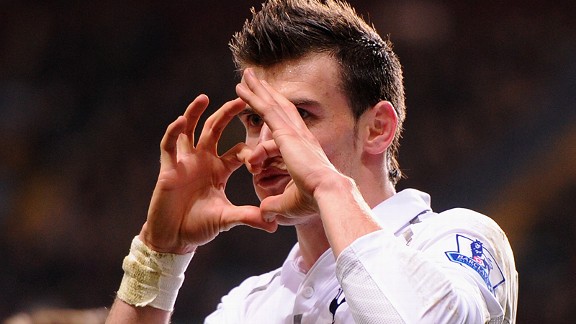 GettyImagesGareth Bale wants to make sure his logo stays his.
Even though it would be natural to conclude that the grass at Real Madrid's iconic Santiago Bernabeu arena is a little greener than the lush turf at White Hart Lane, Tottenham's Gareth Bale would be wise to remind himself that mirages have a habit of deceiving.

On face value, the fantasy of being handed a glistening white Real Madrid shirt and being asked to perform keepie-uppies in front of ecstatic Madridista's attending your grand unveiling as the club's latest star signing seems like a dream no-one could turn down, yet Bale is not your typical attention seeker.

Quiet, polite and fiercely private, this is a clean-cut sportsman who bucks the modern trend of chasing the bright lights of stardom and swaps it for the more simple life. As his former manager Harry Redknapp once stated, Bale's idea of letting his hair down involves heading back home to Wales for some home cooking with his Mum, so would life in the Spanish capital as a ready made superstar really suit him?

So while it may now be inevitable that Spain's most talked-about club will tempt Tottenham with a vast financial offer to sign their PFA and Football Writers' Player of the Year in the coming weeks, the prospect of this humble 23-year-old throwing himself into an unknown world in Spain may prove to be the breaking of him.

Lest we forget that this is a young man whose lack of confidence and self belief so nearly saw him drown amid the modest expectations he was trying to live up to following his move from Southampton to Spurs in 2007.

It was only when Redknapp found the keys to unlock his fledgling talents that the football giant who has become a worldwide hit in the last three years started to come to prominence and Bale would be wise to consider whether this is the moment to sacrifice his position as huge piranha in relatively tranquil waters at Tottenham to become one of a flock of big sharks in unknown terrain.

As Croatian midfielder Luka Modric would doubtless confirm, the dream of swapping a comfortable life at Tottenham for the bright lights of Real Madrid does not always guarantee happiness and while a move to a rival Premier League club may be impossible for Bale right now, that may be the more attractive long-term option.

Over the last three years, the constantly smiling Bale has cut the figure of a boy who can barely believe how his career has exploded, with his public image very much backed up by his demeanour when he grants occasional interviews to the media.

"All this fuss is a bit surreal to be honest," was Bale's reaction when I interviewed him shortly after his Champions League wonder show against Inter Milan three years ago.

"It's quite nice that people are saying I'm playing well and the consistency I'm showing is the most pleasing aspect of my play, but the fame that goes with this game is not something that interests me and it never will. All I know is the temptations out there will not trip me up as I'm not interested in them.

"I don't drink much alcohol as I would rather do normal things with my friends and family. Playing computer games or watching a DVD is my idea of relaxing rather than going to nightclubs or that kind of thing."

With the worldwide phenomenon that is the Premier League now starting to use Bale as one of its fresh-faced poster boys, a move to Spain would end that promotion on home soil in an instant. Then, should he to fail to start in sparkling fashion with Real Madrid, 'Brand Bale' could take a fatal hit just at a moment when it is about to take off.

So at a moment when Bale's agent Jonathan Barnett is doing all he can to talk up the biggest move of this summer transfer market with his constant briefings to media outlets, the question should be asked whether Real Madrid provides a suitable stage for Bale to take his career to the next level.

If it was Premier League champions Manchester United or even Jose Mourinho's Chelsea attempting to prize Bale away from Spurs, few would question the wisdom of the buying club or the commodity at the centre of this professional and personal dilemma for leaving a Europa League side for one of the game's genuine Champions League contenders.

Yet as Tottenham chairman Daniel Levy confirmed as he turned down Chelsea's extravagant advances for Modric in the summer of 2011, selling star assets to domestic rivals is not on his agenda and so Bale may soon be faced with a delicious dilemma.

Risk everything to become one of the world's biggest sporting stars at Real Madrid or bide your time and wait for the right moment to seal a transfer that has the potential to make or break Bale's seemingly unstoppable rise to the top.

Here's hoping one of the modern game's finest assets makes the right decision and this is one good news story that should not be allowed to end in tears.