Copa cliffhangers from CONMEBOL
We're down to the final four in South America's premier club competition. Atletico Mineiro, Newell's Old Boys, Olimpia and Independiente Santa Fe secured their places in the semifinals of the Copa Libertadores last week in circumstances that were variously nail-biting, comfortable and heart-in-mouth. Let's take a look at how the four semifinalists reached this stage.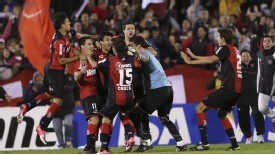 APNewell's Old Boys celebrate their penalty shootout win over Boca Juniors
Newell's Old Boys haven't had to travel outside Argentina since the group stage ended, having taken the relatively short trip down to Buenos Aires twice, to take on Velez Sarsfield and Boca Juniors. In the round of 16, Velez won 1-0 in Rosario but were dispatched 2-1 in the second leg back in BA for an away goals victory that might have looked more convincing had Newell's domination of possession not been so well marshalled by their opponents.

In the quarterfinal, there was a 0-0 aggregate draw -- two of Boca's best performances of 2013 combining with two of Newell's worst -- before Newell's saw off their 10-man opponents on penalties (Argentina left back Clemente Rodriguez had been harshly sent off for having a word with the referee after being booked). The shootout saw 26 kicks (a Copa record), with Juan Roman Riquelme scoring his second after missing first time round, and Maxi Rodríguez, back at his first club, hammering in the winner.

One coincidence about Newell's two ties was that in both cases they played their opponents in the league in the same week. A 4-0 thrashing of Boca's reserves last weekend but one means they're still well situated to potentially secure both league and Copa -- no side has managed that double since the short championships were introduced in Argentina, in 1992.

Ronaldinho's Atletico Mineiro were the best first-place team from the groups. Atletico thrashed Sao Paulo 6-2 on aggregate in the first knockout round, but had things much harder against Club Tijuana Xoloitzcuintles de Caliente, whose name -- mercifully -- can (and henceforth will) be shortened to Xolos. Atletico fell asleep in the first leg, in Mexico, and were 2-0 down before halftime, rallying in the second half to a 2-2 draw thanks to a stoppage time equaliser from Luan.

That goal was crucial in the return, as Duvier Riascos gave Xolos the lead 25 minutes in only for Rever to hit back before halftime, making it 3-3 on aggregate. Atletico were going through on away goals, but Xolos peppered the Atletico goal during the second half (Fernando Arce hit the woodwork with 10 minutes to go).

Then came the heart-in-mouth moment. Two minutes into stoppage time, Leonardo Silva took Pablo Aguilar out in the box, and Xolos had a penalty. Riascos, the man who'd put them ahead earlier in the night, stepped up to take it, Atletico goalkeeper Victor dived, saw it going past where he'd come from ... and flicked out a foot to prevent the goal. No time for anything more; that was full time. By the slimmest of margins, many people's favourites for the Copa were in the semis.

Newell's and Atletico face each other, with the other semifinal between sides from less traditionally powerful nations: Olimpia of Paraguay (who it should be said, especially after that introduction, have actually won the Libertadores on three occasions) and Independiente Santa Fe of Colombia, who are in the semis for the first time in 52 years.

Santa Fe scraped through the round of 16 on away goals over Gremio, but had a comfortable win in the quarters, 5-1 on aggregate over Real Garcilaso of Peru (who'd qualified from the same group as Santa Fe). Santa Fe's route to the semis hasn't been the hardest, but given their previous semi appearance was in only the competition's second-ever edition, it's to be applauded.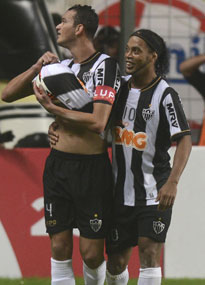 APRonaldinho's Atletico Mineiro saw off Tijuana on away goals
Olimpia -- who won the Copa in 1979, 1990 and 2002 -- beat Tigre of Argentina in a thrilling first knockout round tie; Tigre (last year's Copa Sudamericana finalists) won the first leg 2-1 in the northern Buenos Aires suburb of Victoria, only to be outplayed and go down 2-0 in the return in Asuncion. In the quarters, after a 0-0 in Rio, Olimpia fell behind early in the second leg to a goal from Fluminense midfielder Rhayner, but rallied, went in 2-1 up at halftime, and didn't let the lead slip.

After so much breathless excitement, everyone will no doubt be delighted to now have a month off before the semifinals begin. Yes, that's right; like a TV executive or a good thriller writer, CONMEBOL is giving us a cliffhanger; its putting the competition on hold until the Confederations Cup is over.

This is far from the first time. Prior to the 1990s, the Copa was played year-round, as opposed to February-July(ish) as is now the case, so the long gaps came at the end of the first phase -- effectively a preliminary round. In World Cup years more recently, though, things have got rather silly.

In 1990, the group stages ended in late April, and the knockout rounds didn't begin until early August. In 1994 (when the spectacularly named Venezuelan Stalin Rivas finished as top scorer), the first leg of the quarterfinals was played in the week of the April 4, and the second legs played around the July 24; 1998 saw a gap of just over a month between quarters and semis, 2002 brought almost two months between the same stages, 2006 saw quarterfinal first legs played in the week of May 9, and second legs in that of July 20, whilst 2010 was another with two months between quarters and semis.

Of course, this has a big effect. One example: in 2006, during the gap between the two quarterfinal legs, River Plate lost Daniel Montenegro -- the competition's top scorer at that point -- to Independiente.

Who knows what changes await the squads of this year's semifinalists? Newell's already know they'll lose manager Gerardo Martino and top goal scorer Ignacio Scocco, and though both have expressed a desire to stay until they either win or are knocked out of the Copa, whoever next employs them could easily insist they're not made to wait so long.

So, look forward to the semifinals, by all means; just don't ask me for any predictions on them based on how the competing sides have done so far.