Ecuador's crisis of defensive confidence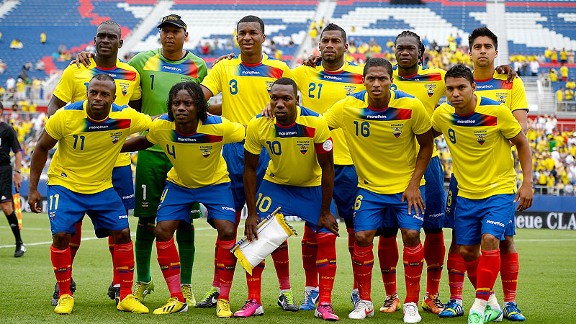 Dennis Grombkowski/Bongarts/Getty ImagesEcuador's progress has been remarkable in the hyper-competitive CONMEBOL region yet defensive flaws give cause for concern.
Once in a while, there comes along a match that changes things forever.

Think of the meeting between Tottenham and Inter Milan almost three years ago, when Maicon met Gareth Bale. Neither has been the same player since. Bale's destruction of Inter Milan's Brazilian right back lifted him into the ranks of the sport's global stars while Maicon's air of athletic invincibility was punctured for good.

That clash came in the UEFA Champions League, where these days the best soccer is played and where the big names win each other's respect. One would not expect that a match of similar consequences might be played in Boca Raton, Fla., featuring a greatly understrength Germany side on an end-of-season tour.

Indeed, Ecuador will surely hope that last Wednesday's 4-2 defeat was a mere blip. But deep down inside they may well fear that it was something more significant -- a humiliating exposure of their defensive defects.

Ecuador were at full strength, parading the team that is just a couple of wins from sealing a place in next year's World Cup. Germany, meanwhile, without all of their Bayern Munich and Borussia Dortmund players, fielded an unfamiliar and experimental side. Ecuador kicked off as strong favourites but just 10 seconds later, the match was already taking a different direction.

The Germans were ahead with one of the quickest goals scored in the history of the international game. And, astonishingly, they were four goals up after just 23 minutes. The second-place side in South America's ultra-competitive World Cup qualification campaign were being massacred by a scratch, second-string, end-of-season German team.

Ecuador fought back, turning the screw as the Germans wilted in the heat. The second half was mostly one-way traffic. Ecuador scored two, and could easily have had a few more. But that is not really the point. The team's attacking prowess is well known in South America.

Out right or in a more central role, Manchester United's Luis Antonio Valencia is built like a boxer with an attacking punch to match. Jefferson Montero offers a more sinuous, but no less talented, threat dribbling in from the left. Felipe Caicedo seems at last to have matured into a dangerous international centre forward, well backed up by the versatile Cristian Benitez. Rapid right wing Renato Ibarra is making pleasing progress.

At home, boosted by the altitude of Quito, this collection of attacking resources can really make the opposition suffer. In the current campaign Ecuador have a 100 percent record in front of their fans.

Defensively, though, they are not so clever. The problem is both individual and collective. The price for picking two wide attacking midfielders plus two strikers is that the team can leave itself very open --and the current crop of defenders inspires little confidence. Fullbacks Juan Carlos Paredes and Walter Ayovi are happier pushing forward -- they play much of their club football in midfield. And at centre back Ecuador have been unable to replace Ivan Hurtado, a defender of such class that he used to steal the ball away from rival strikers with the imperious air of an old-time schoolmaster correcting an errant student.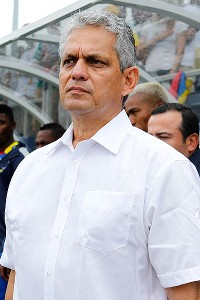 Joel Auerbach/Getty ImagesEcuador manager Reinaldo Rueda has a potent attack but one that frequently leaves his defense exposed, something he must fix quickly.

The current pairing is of Gabriel Achilier -- physically strong but crude -- and Fricson Erazo, who can look elegant on his left foot but who seems to have his centre of gravity in his neck. Jairo Campos, the best of the contemporary crop, is injured while the first reserve, Jorge Guagua, is slow and vulnerable.

Behind them, keeper Maximo Banguera had a very unhappy time against the Germans, making the gangling Alexander Dominguez the clear favourite to return for this week's World Cup qualifiers.

The key question is this -- when Ecuador take the field against Peru this Friday in Lima, how much of a hangover will the Germany game have left behind? The team's defensive deficiencies were cruelly exposed in Buenos Aires a year ago when they lost 4-0 to Argentina. Since then, coach Reinaldo Rueda has managed to tighten them up.

Ecuador picked up their first points away from home with draws against Uruguay and Venezuela. There was even a morale-boosting away win in a friendly against Portugal. But the effects of that will surely have worn off and there is a strong possibility that Ecuador will go into Friday's game full of doubts about their own capacity to defend.

Meanwhile, Peru will be desperate to take advantage. As coach Sergio Markarian makes clear, this is a life-or-death clash for them as three points would take Peru within distance of the playoff spot and a chance to make their first World Cup since 1982. They have some promising strikers coming through -- youngsters Yordi Reyna and Cristian Benavente were both on target in Saturday's 2-1 win over Panama.

When fit and sharp, the trio of Paolo Guerrero, Claudio Pizarro and Jefferson Farfan offer a stiff test for any defence --- let alone one whose confidence may well have been torn to shreds in Boca Raton by Germany's reserves.