Selecao's duck continues to quack
RIO DE JANEIRO -- Well, it certainly wasn't another Maracanazo -- a word coined after Brazil's infamous World Cup final loss to Uruguay in 1950 -- but Sunday's 2-2 draw with England in the reopening of a stadium so intertwined with Brazilian football history was no leap for the Selecao.

Once again, Brazil failed to beat one of the "big boys", a duck now almost four years old. Although Neymar and Co. certainly played much better than in February against England at Wembley, it doesn't take a pessimist to imagine this drought might not be a funny thing for the players to have in the back of their minds.

-Brazil rally to tie England in Maracana re-opener
-Brewin: Brazil, England both lack World Cup fear factor

Ever since reporting for national duty last week, Brazil's players had talked about the importance of putting up a good show against Roy Hodgson's boys. The main reason, they argued, was a winning performance would bring confidence not only to the squad but to the fans, especially the ones attending matches and prone to booing -- demanding as Brazilian supporters are, the jeers in the previous home matches against Bolivia and Chile were especially angry.

What made the draw worse was that England was there for the taking. Depleted by injuries that prevented Hodgson from pairing Steven Gerrard and Jack Wilshere -- a duo so influential at the 2-1 win in London four months ago -- and lacking an in-form goal scorer, the team was also knackered at the end of another season without a winter break.

Not that Brazil can be accused of not trying. The first half was so one-sided that Julio Cesar actually could have taken a nap while Joe Hart was busy parrying shots and sprinting off his line to deny more than a couple of good chances at the other end.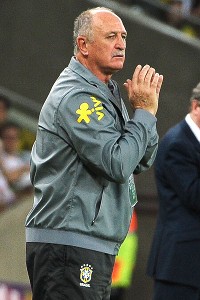 Yasuyoshi Chiba/AFP/Getty ImagesBrazil coach Luis Felipe Scolari has a lot of people looking over his shoulder.
The Selecao ended the match with 32 shots, four times that of the Three Lions. Yet they still didn't win, the crowd booed at several points and all the upbeat quotes in the Maracana mixed zone won't disguise the fact that the players are annoyed by another missed chance to break a duck.

Big Phil Scolari knows how difficult it is to spur on players who might be doubting themselves. (Just ask Chelsea.) All of a sudden, the friendly against France next Sunday in Porto Alegre, the last game before Brazil opens its Confederations Cup campaign June 15, becomes a tougher ordeal.

It will pit the Selecao against a national side that has bogeyman qualities (Brazil last beat the French in 1992) and will test the resolve of Scolari's emerging side. Things don't get more tense than having one of the nation's youngest teams ever trying to beat nerves, Franck Ribery, and the stats showing that no Brazilian has scored against the French in their past three encounters. It will be a five-course dinner for nail-biters.

Unlike most of the teams they will be facing this summer, Brazil are still a work in progress three long years after the 2010 World Cup. While there has been no massive changes in personnel since Scolari was virtually carried on shoulders to the headquarters of the Brazilian Football Federation to replace Mano Menezes, the Selecao adopted new tactics and style while the clock ticked. Already being held hostage by club and international calendars, Big Phil doesn't have the luxury to meet players as often as needed.

"I could only train with all the players once here in Rio, because there were players arriving until Friday," he moaned after the draw at the new Maracana.

The iconic stadium, now reduced to 78,000 seats but reborn as a beautiful world-class stadium, will feature prominently at both the Confederations Cup and next year's World Cup. Yet in a fit of hubris, tournament schedulers determined that Brazil could have only one game there in both competitions -- the final.

Unless another friendly comes up before June 2014, Brazil now have to work hard to make sure Sunday's visit wasn't the last one in the Second Coming of Scolari.

Fernando Duarte is a U.K.-based Brazilian football expert who has followed the Selecao for 10 years and regularly features as a pundit for media outlets in Europe, South America and Asia. He's a Flamengo fan and can be found on Twitter @Fernando_Duarte.