Why are so many black ex-pros unable to land managerial jobs?
What's worse than being an unemployed black coach? Being an unemployed black coach who employers believe has a chip on his shoulder when it comes to race.

The above became pretty obvious to me when I reached out to black ex-pros who have since gone -- or tried to go -- into coaching. If I wanted honesty, I couldn't get on-the-record quotes. If you seek the answer to an age-old question -- Why are black coaches so underrepresented in the English game? -- and want straightforward views from certain people, you need to go on background.

A brief detour. I focused on England because that's where the issue has come to the fore. Later this month, League 2 clubs will decide whether to adopt a proposal called "Coaching Fair Play" whereby they will pledge to interview (with, obviously, no commitment to hire) a candidate from a "ready list" of qualified black and ethnic minority coaches. The proposal was inspired by the NFL's "Rooney Rule," a voluntary measure whereby teams pledge to interview a minority candidate when there is a head-coaching vacancy. Opinion is divided over whether the "Rooney Rule" has had any real effect in the U.S., and opinions also differ as to whether the "Coaching Fair Play" proposal will have an effect in League 2.

Yet at least it's an attempt at addressing the issue. A scan of multiracial nations shows a very clear dearth of black managers even in places such as France -- where there have been two black topflight managers, Antoine Kombouare and Jean Tigana, ever -- and the Netherlands, countries in which the first generation of black players retired a decade or two ago.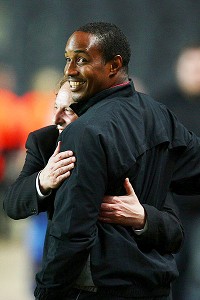 Richard Heathcote/Getty ImagesPaul Ince won League 2 and the Football League trophy in 2007-08 yet was not named manager of the year in his division. However, every other league-winning manager received the honor.

We're now at the stage when the topflight black footballers from that first generation are in their early 50s. Yet they're woefully underrepresented in the coaching ranks.

Although we'll get to why that might be in a moment, first it's worth looking at why it matters. Forget issues of prejudice for a minute. Just look at it this way. If a whole chunk of former players aren't getting into the pipeline to become coaches, the overall pool of potential managers shrinks. And as the percentage of black players increases, it means the pool shrinks even more. And that, in turn, is bad for the game because the more good coaches there are, the more good players you have and the better the game is.

Yes, it's that simple.

So the question becomes why so many black former pros don't get into coaching. Unless you believe that, as a group, they're less competent or less interested in coaching than white players -- hey, opinions are like you know whats, everybody's got one -- there has to be another explanation.

What surprised me is that all the coaches I spoke to said, to varying degrees, that it was partly down to racial prejudice.

I was told that there can be no other explanation when you send out a bunch of résumés and you don't get a single interview, not even an informal chat.

I was asked whether I really thought it was a coincidence that, in 2007-08, Paul Ince's Milton Keynes Dons did the Double (winning League 2 and the Football League Trophy) and Ince was not named manager of the year in his division despite the fact that every other league manager who had won the league did receive the honor. (Steve Kutner, Ince's agent, said it was "sinister.")

Then, I was reminded of the fact that only five black men have managed in the Premier League and that two of them -- Tigana and Ruud Gullit -- were foreign.

Now to consider the three others, two English and one Irish. Terry Connor was asked to step up from his role as an assistant and take over Wolves -- a team in the relegation zone -- on an interim basis with 13 games to go. Ince was fired by Blackburn after 17 games in charge. That was in 2008. Nobody since has taken over a club in the summer and been sacked as quickly.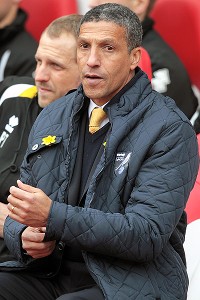 Lindsey Parnayby/AFP/Getty Images Chris Hughton stands out as the success story among black EPL managers, but he endured quite a patch to get there.

Finally, Chris Hughton spent 16 years as an assistant coach, working under no fewer than 19 managers, before he got his shot. And when he finally did, with Newcastle in 2009, it was because owner Mike Ashley had put the club up for sale and didn't want to commit funds to appointing a "permanent manager," which is why he gave Hughton only the title of "coach."

Hughton is obviously the success story of the three. He guided Newcastle to promotion, was finally given business cards with the word "manager" on them, then was sacked the next December with the team in 12th place. The club said it needed someone with "more experience as a manager." Newcastle appointed Alan Pardew; he also finished 12th. Still, Hughton bounced back. After leading Birmingham City to a creditable fourth in the Championship, he got another crack at the big time, with Norwich, which he helped avoid relegation last year.

Can it be a coincidence that one was handed a sinking ship, another was booted faster than any new appointment in the Premier League in the past five years and the third had to wait 16 years for his chance while also suffering the humiliation of not even being allowed to call himself "manager" until he won the league with a whopping 102 points, as he did in 2009-10?

Is it normal, too, that two of the three were given their jobs because they were around as assistants when the boss was fired?

The folks I talked to don't think so, but others feel differently.

"I don't really think it's racism," says Lauren, a former Arsenal, Mallorca and Portsmouth fullback. "I mean, maybe in some cases some people are prejudiced. But I think it's mostly preparation and contacts. If you know people who know people and they like you and trust you, you can get a chance. It's like any other job. It's about accessing the right networks of people."

This view was echoed by an executive at a Championship club. "Come on, do you really think you get a job by emailing out your CV [résumé] and waiting for an interview?" he said. "Clubs are proactive. They seek people out. People don't come to them. If these guys aren't getting jobs, it's because they don't know the right people."

Or maybe the "right people" don't know them. Or don't want to know them.


---


More on racism in football
• Issue demands sport's attention
• Racist tag weighs heavy on Zenit
• Roundtable: The front lines of racism
• Level playing field for managers in the Prem?
• Behind the alleged discrimination at Chivas USA
• An American perspective
• Not-so-beautiful side of Brazilian football
• Video: Racism in football
• Video: Managers and the issue of race
• Video: Altidore copes
• Chivas cling to national identity


---
Yet there probably is some merit to the "networks" argument. Unless you were a superstar, first jobs in football tend to come as a result of relationships you formed as a player. Folks tend to gravitate -- and form closer relationships -- with those with whom they have a cultural affinity, and race and ethnicity do play a part in that, although not as much as they once did. One ex-pro told me that, in his playing days, black and white players would not often socialize outside of the dressing room. But today, he said, English players tend to listen to the same music, wear the same clothes and patronize the same bars, restaurants and nightclubs, regardless of ethnicity.

If he's right, the "networks" part of the problem will go away by itself in a generation or two. But what of the other part? Will certain assumptions continue to exist? And is it more complex than we make it out to be?

I remember talking to an official from the Cote d'Ivoire FA in Johannesburg before his country's game against Brazil at the 2010 World Cup. I asked him why so many sub-Saharan nations -- the Cote d'Ivoire (Ivory Coast) in particular -- hired European coaches (it had brought in Sven-Goran Eriksson just before the tournament and had not had a black coach in years).

"Two reasons, I'd say," he told me. "First, if we chose an Ivorian, it becomes harder to shift all the blame on him if we lose."

He boomed out a big belly laugh. "That was a joke. Seriously, Europeans are more credible managers. Our players listen to them more because they look like what they think a football manager should look like. Put an African in charge of us and the players will question him at every turn."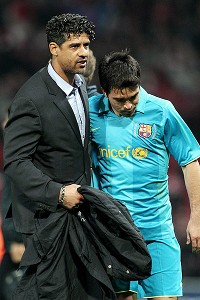 Laurence Griffiths/Getty ImagesFrank Rijkaard's CV at Barcelona is indicative of a manager who acts the part, regardless of race.

Those words are as chilling to me now nearly three years later as they were when I heard them at the time. I'll leave it to sociologists to ponder the implications of colonialism and slavery, but there might be some merit to the "role model" argument, as well. To some, black coaches don't "look" the part. And it might be that it will take a black coach excelling in a top job for mindsets to change.

(Then again, Frank Rijkaard won two league titles and a Champions League at Barcelona. As the Dutch manager, he lost a Euro semifinal on penalty kicks, yet he remains the last black manager to feature in the Champions League. Even that was five years ago.)

If you're of a Darwinist bent, you'll argue that the cream will rise to the top. That it's in a club's interest to choose the best possible man for the job, regardless of race, and so, thanks to the magic of competition and free markets, that's ultimately what happens. Any mistakes are made in good faith. After all, clubs aren't racially prejudiced against black players, are they?

The problem with that logic is that it's much easier to assess the quality of a footballer than it is the contribution of a manager, let alone an assistant coach (which is where most managers start out). Regardless of whether his team wins or loses, you can tell whether a player has technique, athleticism and tactical understanding. With a manager or coach, it's a lot trickier because there are so many factors -- resources, chance, quality of competition, injuries, to name just four -- beyond his control.

Undeniably, the underrepresentation of black coaches is an anomaly. And when you have an anomaly, at the very least, you need to figure out why it's there. Maybe prejudice does play a part, maybe it doesn't. Either way, the game is poorer for the fact that so many black ex-pros are unable to contribute their expertise once their playing days come to an end.