Klinsmann orchestrates win over depleted Germany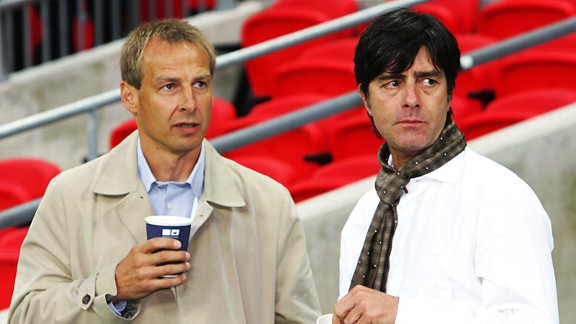 Martin Rose/Bongarts/Getty Images
It was highly appropriate, perhaps even symbolic, that German football's most successful season in more than 15 years should end with a game between our national team and the United States.

The main reason, of course, is Jurgen Klinsmann. His reputation as a coach may have suffered since his brief and unfortunate stint at Bayern Munich or during the 22 months he's now been at the helm of the U.S. national team.

But we shouldn't forget that only seven years ago, after the World Cup on home soil, Klinsmann was the most popular man in the country and so respected that he received the Cross of the Order of Merit of the Federal Republic of Germany.

And quite rightly so, I should add, as few people have been more instrumental in restoring faith in our game. Of course Klinsmann didn't revolutionise our youth set-up; that had already been done a few years earlier. Of course he was no master tactician, leaving most of the fine-tuning to his assistant -- and successor -- Joachim Low.

But Klinsmann was the face of change. It took great courage to accept a job nobody else wanted as it appeared to be a suicide mission. It took even greater courage to call up younger, largely untried players and teach them a fearless attacking game. And it took tremendous confidence to repeatedly tell a doubting nation that all would turn out well in the end.

He was eventually proven right, but it's worth remembering that another game between Germany and the United States, played in Dortmund in March 2006, could have been his last. If his team had lost this match, Klinsmann would have been fired, 11 weeks before the World Cup!

Germany, you will recall, won that game 4-1. The visitors' consolation goal came only five minutes from time. It was scored by right-back Steve Cherundolo, of all people, who had never found the target for his country before.

Cherundolo -- known as "Dolo," though some Hannover 96 fans like to call him "USA," should have been another reason why the game in Washington was a near-perfect end to our season. (Our senior season, that is. The Under-21s have a big tournament coming up, more about which in a minute.)

Almost exactly one month ago, on May 4, Cherundolo wrote his name into the history books when he made his 299th Bundesliga appearance for Hannover 96, setting a club record. He has been playing for the team since 1999 and also captains the side.

There have been only e11 non-German players in the history of the Bundesliga who have made more appearances than Cherundolo and just two of them -- Claudio Pizarro and Levan Kobiashvili -- can still add to their tally. One more game and Cherundolo will have caught Zvonimir Soldo, eight more and he draws level with the legendary Cha Bum-Kun, 10 more and he ties Pablo Thiam.

But Cherundolo is not only a stalwart, durable and plain good, he also seems to be one of the most pleasant men in the Bundesliga. At least I have yet to see an interview in which doesn't come across as smart, articulate and congenial.

It was a pity, then, that Cherundolo couldn't be part of Sunday's game on account of a serious knee injury he's only just come back from. And not just because he might have stopped some of Marcell Jansen's runs down the left wing, for instance the one that led to Per Mertesacker's glorious scoring opportunity in the 11th minute. (Though, truth be told, Dolo also rarely sends in crosses like the one Graham Zusi delivered for the opening goal.)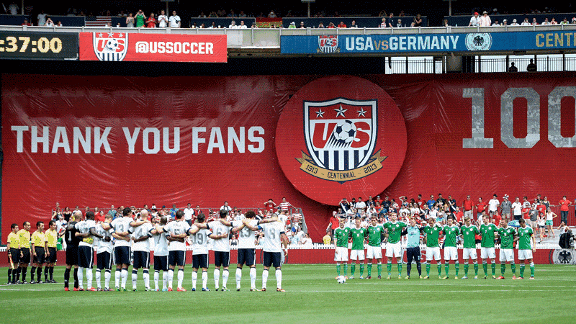 GettyImagesThe Unites States Soccer Federation celebrated it's centenary with an impressive victory over Germany
No, it's because the game was also a momentous occasion for the hosts. It was meant to celebrate "100 Years of U.S. Soccer," as a huge banner at the RFK Stadium proclaimed, because the United States Soccer Federation was formed during a meeting in New York City's Astor House Hotel on April 5, 1913.

That is why it's also a pity that Germany went to Washington missing no less than 17 players who can normally expect to be in the squad or on the fringes of the team. We have heard a few excuses for this subpar preplanning over the past weeks. The usual explanation was that the German FA agreed to this game back in November when it had no way of foreseeing that two Bundesliga clubs were going to reach the Champions League final.

That is certainly so. But the German FA did know that the domestic cup final would be played 24 hours before the game in Washington and it was always likely that either Bayern or Dortmund, quite possibly both, would be involved in it.

And the German FA also knew that the Under-21 European Championships would start on June 5 in Israel, robbing Low of the chance to try out up-and-coming youngsters such as Patrick Herrmann or Tony Jantschke (Monchengladbach), Lewis Holtby (Tottenham), Sebastian Jung or Sebastian Rode (both from Frankfurt).

You could say that those personnel issues resulted in an entertaining goalfest (and a deserved win for the birthday boys). Still, having heard countless praises in the past weeks for how strong German football has become, it seemed somewhat strange to see players -- let's not mention names -- represent Germany who only do so -- let's not mince words -- because someone had to.

The best example for how unfortunate this whole American trip has been is that Stefan Kiessling, the Bundesliga's best goal scorer and a player whom Low could have -- maybe should have -- called up dozens of times in the past, let it be known very early that he would not be available for it. The message was clear: Kiessling feels he should be a part of the team on merit and thus refused to join what is essentially a group of stopgaps.

When the German FA (DFB) celebrated its own centennial, in April 2000, the visitors were Switzerland -- Germany's first-ever opponents and also the first after both wars -- and of course they came with their first team. I'm sure we wouldn't have been happy if they had sent third-stringers.