Brazil and England both lack World Cup fear factor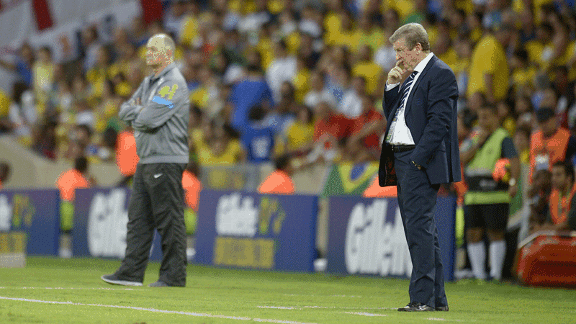 GettyImagesLuis Felipe Scolari and Roy Hodgson's sides have done little to convince that they will be World Cup contenders next summer
An aging coach who talks far more than he should, an outdated system, stars unable to translate club form into international achievement, hopes fading of former glories being emulated.

For Roy Hodgson read Luiz Felipe Scolari, a similarly avuncular uncle who does not have the confidence of his countrymen. At least Brazil are guaranteed to be at the World Cup in 2014, but should they fail to perform, then they might be wishing they were not. England's participation next year is very much endangered by a propensity to draw too many matches.

Brazil and England have much in common these days. Even though they could hardly play football in a more different fashion, they share wastefulness as a primary source of frustration.
In the 2-2 draw at the Maracana on Sunday, Brazil wasted their dominance of possession, England looked wasteful whenever in possession. Alex Oxlade-Chamberlain's goal was the first time an England player had made a decent connection in a telling position. Wayne Rooney followed that lead with England's second, but this was to be no repeat of the success of Bobby Robson's boys, who won in Rio de Janeiro back in 1984. Paulinho's deflected equaliser was the type of goal a Hodgson side too readily concedes.

Hard to beat, finding it hard to win, this is England 2013. They still win more than Brazil, however. Next year's hosts have now won just one match in eight, a torrid period which includes Luiz Felipe Scolari's reappointment in succession of Mano Menezes, sacked for his failure to land Olympic gold in London. If this type of form continues during the Confederations Cup, then rest assured Scolari will not be in charge for much longer either. Brazil is the home of the 'dance of the coaches.'


GettyImagesLong gone are the days when Brazil could call on their holy trinity of Ronaldinho, Rivaldo and Ronaldo
He is clearly struggling to work with the tools he has been supplied. Scolari's World Cup winners of 2002 featured some of the greats of the past 20 years. Ronaldo, Rivaldo and Ronaldinho once succeeded each other as the best players in the world, while Cafu reinvented the full-back's role. For all Dani Alves' class, he is no equal to his predecessor. Neymar has a chance to emulate his predecessors, Barcelona graduates all, but beyond him, the conveyor belt has faltered. Oscar's promise in a different role to that at Chelsea continued, and the crowd thought so too, booing his substitution for Lucas Moura.

At last, an English audience had a view of the real Neymar, already one of South America's most famous faces at just 21. Barca's intended has never quite done it on European soil, and that he played well on home ground may even support that view. There seems little doubt that once he feels comfortable in Spain, then the Catalans have a precious gem. And he was hardly familiar with the Maracana either, such has been its disuse in the face of its as yet unfinished renovation.

If Neymar is Pele's heir, Joe Hart had to conjure the spirit of Gordon Banks in Guadalajara at Mexico '70. Frequently unguarded by a defence made torpid by humidity, Hart made saves in the first half from Neymar, then Oscar, then Hulk and then Paulinho. Glen Johnson was loose in both anticipating a long Alves ball and similarly lax when Neymar skipped the ball past him. At least Hart stayed awake behind a sleepy defence.

By half-time, he had saved shots from nine different Brazilians, with Julio Cesar stopping just one. Walcott perhaps had the best chance of the entire half when Johnson's reverse pass found him in space. The finish was predictably excitable. Cesar saved easily.

After the twit-storm and mass debate among tactical twiddlers that followed his likening of England's 4-4-2 to that of Borussia Dortmund, old dog Roy went for 4-3-3 in Rio. This, though, was no new trick. He had employed the same formation in beating Brazil at Wembley in March. The personnel was rather different, however, and this was no tactical triumph.

The youthful drive of Jack Wilshere and Tom Cleverley and the anticipatory anchoring of Steven Gerrard were all absent. Michael Carrick was at the base, with Frank Lampard chugging along to his left. Phil Jones, his red face perhaps the result of his Lancastrian skin being over-exposed to Copacabana sunshine, played as some form of right half. Perhaps Hodgson was hailing back to the popular formations of the 1960s and 1970s but his selection was borne of their being just 16 fit Englishmen available to him.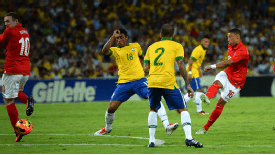 GettyImagesSubstitute Alex Oxlade-Chamberlain scored for England from Wayne Rooney's knockdown
At Wembley, England had the impetus. At the Maracana, possession with menace was Brazil's. From early on, any semblance of an English attack too soon found its way back into Brazilian hands. When Rooney and Theo Walcott got the ball, it was rarely for more than seconds. Lack of options soon led to the concession of possession. Here was an achingly familiar scenario for whenever England play a team better at passing. They just cannot hold onto it for long enough. And when an ascendancy is gained, then it is not retained for long enough either.

One school of thought is that if they had a better striker than Fred, Minas Gerais' answer to Grant Holt, then Brazil might be really dangerous. Like with the English, striking talent would appear to be in short supply, but the big man with the prosaic name has a clear eye for goal. He is no Careca, but he knows a chance when he sees it. Hart was offered as little chance as protection when Hernanes rattled the bar. Fred's finish of the rebound showed calm, but it was the sole piece of true striking class on offer from the hosts.

A famous victory was eyed once Rooney's goal had flown in, but Brazil took advantage of fortune to save blushes when Paulinho's deflected strike flew past the blameless and vindicated Hart.
The hosts have a further month to bed in during this summer but at present, few of the other favourites would fear facing Brazil at the World Cup. They have not yet offered enough. England simply do not keep the ball enough to be credible either.