At last, issue of racism demands sport's attention
In 10 years, we'll remember the 2012-13 season as much more than another iteration of the same cups, championships and goals. We'll see it as the moment in which global match fixing stepped out of the shadows and racism in soccer became a serious issue -- or rather, an issue finally taken seriously by the game's governing bodies. To this last point, we owe a debt to Kevin-Prince Boateng. In January, during a midseason friendly for his team, AC Milan, he walked off the field, protesting the racist abuse he had received from the opposing fans. In doing so, he might have changed the game forever.

In the months after the incident, FIFA and UEFA have taken action, outlining tougher anti-racism sanctions: fines and stadium closures, points deductions, even possible relegation. Racism in soccer, long a problem, is not one the game's authorities have ever really taken seriously, as evidenced by the inconsistent approach traditionally employed to "combat racism." (See timeline at bottom.) Time will tell how well the new measures will work, but the fact that the governing bodies are improving anti-racism legislation and standardizing consequences is a good sign.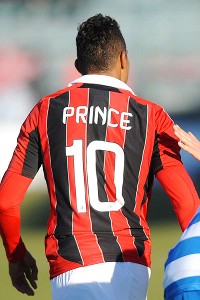 Alberto Lingria/AFP/Getty ImagesPrince-Kevin Boateng's actions in a friendly may have forever altered the way soccer's governing bodies handle racism on the pitch.
Fans outside Europe are often dismayed that racism is such a visible issue in soccer, and to fully appreciate just why Boateng's actions were so powerful, we need a little context. To begin with, and at the risk of oversimplifying things, racist speech is not as taboo in Europe as it is in the United States and political correctness is not as big of a concern.

"America had to go through the civil rights movement, and we went through a national crash-course in race relations and racial sensitivity -- to the point in public culture that we're painfully correct," Duke University anthropologist Orin Starn told the Associated Press last month. "It's really different in Europe. Europe has not gone through the same kind of process of public debate and painful reckoning with questions of race and difference."

The result is that on a European soccer field, racist speech is often seen as nothing more than a harmless windup, a way to gain a competitive advantage.

Furthermore, people tend to make excuses for bad behavior when it occurs during competition. "Sport has always claimed that it is a separate realm in which its own regulations and procedures should suffice. There is plenty in football -- tackles, collisions and physical conflicts -- that might constitute a criminal assault in another context," said John Williams, a senior lecturer in sociology at the University of Leicester who studies soccer and fan culture.

And so racism, like a hard tackle, is often given a pass. (Although Williams notes that this is starting to change as "black players have begun to define racism as being outside what they have agreed to accept as part of the sporting contract.")

A final consideration has to do with the business of soccer: Historically, the owners have had little incentive to properly counter racism. Sure, the monkey chants and bananas are embarrassing for "the brand," but if fans continue to fill stadiums and TV rights are sold for ever-increasing amounts, the business is not broken.

What Boateng did was establish a credible consequence for inaction that is frightening to both the business of soccer and the fans: If the game's authorities can't provide a racism-free workplace -- something that in a perfect world wouldn't even merit a discussion -- and if the fans (customers) don't demand one, then the players will take it upon themselves to make sure there isn't a game at all.

For weeks after Boateng's walk-off, the incident remained world news, and, for the most part, support for his stance was wide-ranging. The United Nations' annual International Day for the Elimination of Racial Discrimination took on a "racism in sport" subtheme at which Boateng was invited to speak. When he did, he was unequivocal, saying, "I think it's not important in which game, at what moment, in which situation. I think we must stand up against [racism] every time, if it's a Champions League final, World Cup final or just a friendly game."

After the panel in March, I found myself wondering: Had it come to civil disobedience? Is this was what had to be done for the game's governing bodies to take the issue seriously? I wasn't alone. In the weeks after the panel, I received numerous messages from readers who seemed to answer "Yes" to both questions and who hoped more players would walk off so as to create the necessary change. If Boateng got this much attention in a friendly match, the thinking went, just imagine how much heat UEFA and FIFA would take when a player refused to play a competitive match. Which, in turn, raised the following questions: Why hasn't that happened already? And why don't players walk off more often?

It wasn't long before Boateng himself had an opportunity to take that next step. In an end-of-the-season match between AC Milan and Roma, Boateng, Mario Balotelli and other black players were again the subjects of racist chanting. The ref halted the match momentarily, but it was not abandoned. (Balotelli later vowed to walk off should such a thing take place again.)


---


More on racism in football
• Issue demands sport's attention
• Racist tag weighs heavy on Zenit
• Roundtable: The front lines of racism
• Level playing field for managers in the Prem?
• Behind the alleged discrimination at Chivas USA
• An American perspective
• Not-so-beautiful side of Brazilian football
• Video: Racism in football
• Managers and the issue of race
• Video: Altidore copes
• Chivas cling to national identity


---
Given his statements at the UN panel, it might have surprised some that Boateng stayed on the field during the Roma match, but it shouldn't have. The decision to walk off is deceptively complex, made all the more difficult if a player isn't confident that his club and the public will support his decision. Boateng had such support when he walked off in January, but that was also a friendly match. If a player were to walk off at the end of a competitive game his team was losing, for example, things would be different; the sharks would circle.

"Unfortunately [the likelihood of a backlash against a player] makes any such gesture a potentially risky and isolating one for the individuals involved, and arguably limits its capacity to influence social change," said Dr. Daniel Burdsey, a sociologist at the University of Brighton and an expert on racism and soccer.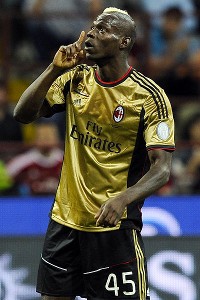 Claudio Villa/Getty ImagesIt shouldn't have to be Mario Balotelli's responsibility to take action against racist abuse.
It will be interesting to see what Balotelli does in the future, as he often is singled out by opposing fans, but the more I think about it, the more I hope he doesn't walk off. Would it be a powerful gesture? Sure. But I don't want to see him take the risk. It shouldn't be his responsibility. To sit back and hope a player "has the courage" to take action in the face of racist abuse is effectively asking the victim of abuse to solve the problem. It's misguided.

"Why no debate about white players deciding that this abuse of their teammates by other white people is unacceptable?" Williams asked.

It's a fair question, I think, and it speaks to a wider problem within the ongoing discussion of racism in soccer: We're all missing the point. We can talk about fines and monkey chants and walk-offs until our lips turn blue, but every person I spoke with about soccer's racism problem pointed out that these are all symptoms of a larger issue. And until we address the lack of inclusivity that exists at all levels of the sport -- in management, governance, coaching, punditry and, yes, even journalism -- these issues are likely to persist.

But before we have more minorities in staff and administrative positions in soccer, before we can properly address racist exclusion at every level, the sport must acknowledge racism as a serious issue. And although UEFA's fines of 50,000 euros (about $65,400) represent pocket change to the big European clubs, when they're combined with stadium closures and FIFA-imposed points deductions, I'm optimistic the new measures will prove an effective deterrent. Just the fact that FIFA and UEFA are listening is a big step forward.

We can thank Boateng for that.

Recent UEFA action concerning racism:
Euro 2012:
- Russian Federation fined 30,000 euros ($39,000) for racist abuse from fans.
- Spanish Federation fined 20,000 euros ($26,000) for similar abuse.
October 2012
- Lazio fined 50,000 euros ($65,000) for fan abuse after Tottenham match and ordered to play its next match behind closed doors.
April 2012
- Porto fined 20,000 euros ($26,000) for abusing Balotelli in a Champions League match.

For comparison:
Euro 2012:
- Nicklas Bendtner fined 100,000 euros ($130,000) and banned for one match for an underwear advertisement promoting a sponsor not approved by UEFA.

Brian Blickenstaff is a writer and sometime contributor to ESPNFC. He lives in Germany. Follow him on Twitter: @BKBlick.