Back to the Bridge: Mourinho returns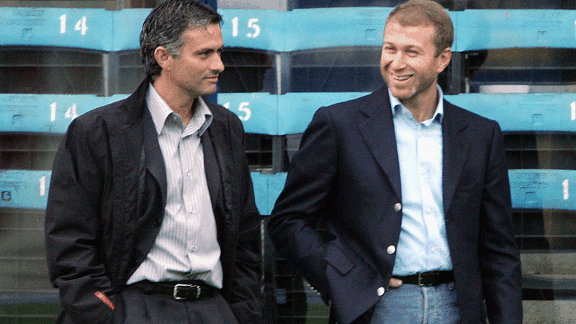 GettyImagesThe odd couple: Jose Mourinho and Roman Abramovich didn't see eye-to-eye toward the end of the Portuguese's first spell at Chelsea.
When a good relationship goes bad, the happy times might one day be savoured in the memory. This is the point that Roman Abramovich and Jose Mourinho have reached. Once Roman pulled the trigger, Jose set off without any backward glances, making a couple of other suitors happy before those relationships fizzled, too.

While Mourinho was continuing his monstrous collation of silverware in Milan and Madrid, even someone as self-possessed as Abramovich might have had his regrets. In the six years since the breakup was confirmed after a series of flounces and cold shoulders, the Russian has enjoyed the lesser of the separate lives.

- Lythell: Jose motivated by Prem Lge title
- Palmer: Understanding Roman Abramovich
- Gallery: Mourinho in Madrid
- Jose Mourinho: Manager profile
- Rigg: No tearful farewell for Mourinho

Abramovich achieved his heart's desire, the Champions League, but that was won with Roberto Di Matteo, who was never really his choice. "I won it," Di Matteo bellowed in Abramovich's face in May 2012 in Munich. The billionaire's face said it all. It is not the coach who wins things at Chelsea. They are given the chance to do so by him.

The exception was Mourinho. When he was in charge, it was Jose Mourinho's Chelsea and not Roman Abramovich's. That Chelsea were built in the coach's image -- relentless, organised, unbending in the pursuit of victory by any means necessary. The club that came after was Chelsea as the Russian presided -- entitled, still successful but prone to moments of self-destructive self-doubt built of too much self-interest.


PA PhotosMany Chelsea fans have been calling for Jose Mourinho to return; their wish was granted
Mourinho's era was the first flush of oligarchic control in English football. For the first two years, Abramovich was happy to sit back and count trophies. Twinned Premier League titles were collected with ease, the competition strangled by the Mourinho machine working at its apex. Then, in summer 2006, Abramovich took tighter hold.

Andriy Shevchenko arrived. The Ukrainian was the Russian's friend. He sits in Abramovich's Stamford Bridge box to this day. But he wasn't in Mourinho's plans. Didier Drogba was, and Shevchenko was no longer good enough a player to be made room for. Similarly, Michael Ballack arrived. There looked sense in signing Germany's coveted captain, but Mourinho already had Frank Lampard to play the Ballack role. When Chelsea faltered and failed to make the 2006-07 Premier League title their third in a row, the fault lines began to gape.

Despite winning both that season's League Cup and FA Cup, Chelsea were unfulfilled. Liverpool, again, had ended their Champions League campaign at the semifinal stage. Mourinho, the quotes collector's dream, became insolent, uncommunicative and sour. When the break came the night after a tawdry draw in September 2007 with Rosenborg, there was a waft of relief, and that included at Chelsea. Even the on-field lieutenants that Mourinho had taken to the heights were briefing against him.

Mourinho was banished to exile, and eventually to Inter, where he is probably more loved even than at Chelsea. He rejoins Chelsea with a blotted copybook. The self-proclaimed best coach in the world failed in Real terms in Madrid. A 10th European Cup never arrived, and a vulnerable Barcelona wrested back the Spanish league title. Mourinho's behaviour and pronouncements dragged the aristocratic club down to a level it is not comfortable with; his vulgarity is better suited to the nouveau riche. At 50, there is no sign of him calming down his act.

Revisionism dictates that Mourinho is still celebrated loudest of all at Stamford Bridge. There is logic to that; the club have won just one championship without him, he still has won half of the Abramovich trophy haul. Carlo Ancelotti came closest to emulating him, and with more grace, too, but was similarly derailed by Abramovich's tinkering.

Andre Villas-Boas and Di Matteo were victims of a club culture that a power vacuum in the frequent absences of Abramovich has created. Rafa Benitez was a pretty successful patsy, but never accepted by an often churlish support.

They have only ever wanted one man in charge, but this time, the terms are different. Chelsea are no longer the blank canvas with a blank cheque. The factions are established. Mystery man Michael Emenalo holds significant power. Abramovich recently stopped the Nigerian from stepping away to grant Mourinho more room. The parameters are now firmly governed by the owner.

Mourinho can settle scores, he has an instant chance to prove Real wrong. Manchester United's rejection can also be thrown in their face. There are red flags, however. His late-period demeanour in Madrid created significant grounds for concern. Wild-eyed and truculent, he began to look exhausted. His post-Chelsea career's greatest triumph with Inter came after the refreshment of a long break from football. He has looked like he needs another of late.

The makeup of the Chelsea he takes over does not fit his usual systems, and then there are those Abramovich pretensions of beautiful football that he retains, even if it is a power game that has won his club silverware. The Fernando Torres conundrum remains unsolved. Football's unhappy returns -- Kevin Keegan and Marcello Lippi, to pluck just two from recent history -- are being ignored. Jose is special, after all.

For now, the smiles and the sound bites will be full of the happiness of reunion. Chelsea never had it so good as they once did under Jose Mourinho. Living up to the good times and remembering the lessons of the bad are the aims of the new man in his old job.