Moyes must emerge from Fergie's shadow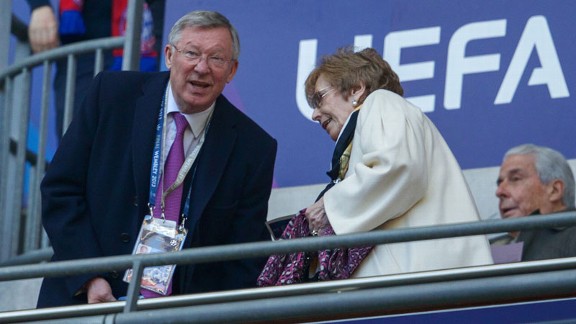 GettyImagesSir Alex Ferguson found himself in the spotlight at the Champions League final at Wembley
Even in the moments that followed the Champions League final, Sir Alex Ferguson cast a shadow. When Arjen Robben received his man-of-the-match trophy from Ferguson, the Bayern Munich winger paid tribute to a manager he once turned down the chance to play under. Even while the man whose last-minute goal had buried an infamous ghost was talking, some members of the press were trying to attract Ferguson's attention rather than listening to the hero of the hour.

- Brewin: Rooney at a crossroads

Ferguson gave them short shrift, but also gave the impression that he is not planning to retreat into exile just yet. "Your job now is to stand by our new manager," he had told fans as he took his final bow at Old Trafford. The possessive pronoun was telling: Ferguson still considers himself fully part of the club David Moyes will be taking over.

That in itself might serve as partial explanation for a managerial appointment that some still struggle to understand. Moyes had been seen as a continuity choice, prepared to work within the system honed by Ferguson, but recent machinations have suggested otherwise.

The four men who sat alongside Ferguson in the dugout for his final years in charge are leaving.

Kit man Albert Morgan, who served as chauffeur for Moyes and Ferguson on the new man's recent visit to the Carrington training complex, is set to retire. Assistant manager Mike Phelan will be taking his propensity to wear shorts on the coldest of afternoons elsewhere.

A more surprising departure was Eric Steele, the goalkeeping coach who has been David de Gea's mentor and spent two seasons scouting the Spaniard even before his signing. Chris Woods, England's goalkeeper at Euro '92, will replace Steele, coming in from Everton, but there are concerns that De Gea might now be tempted back to Spain, with Barcelona reportedly on the lookout.

First-team coach Rene Meulensteen's exit has been viewed most suspiciously but, unlike those of Phelan and Steele, this was the Dutchman's decision -- he had been offered a revised position.

He is the technocrat who rewrote the club's training syllabus at Carrington. His use of collated personal data input by players themselves has improved individual training regimes to augment an overall collective vision. United now lead the way in the use of training technology. Cristiano Ronaldo and Robin van Persie are confirmed admirers, and beneficiaries, of Meulensteen's techniques, but he faced the prospect of a diminishing influence.

Moyes is a tracksuit manager who almost always leads training sessions. Ferguson has rarely taken training since the late 1990s, when Steve McClaren was brought in to replace Brian Kidd, and Meulensteen has organised the regime since his return to the club in 2007. Moyes' arrival would significantly have reduced his hands-on involvement.

One of the secrets of Ferguson's longevity was an ability to delegate to trusted coves. Moyes, until he is established, will be assuming a far fuller control of minutiae. Meulensteen's methods will be his legacy at United as he seeks a management role.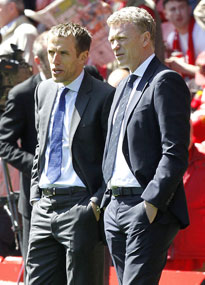 PA PhotosPhil Neville could provide a United link in David Moyes' coaching staff
Phelan, best known for the postmatch interviews that mastered the art of saying nothing at all, was a Kidd-like member of staff -- a confidante for both players and manager -- but without Kidd's gift for coaching. Jimmy Lumsden, an intimate of Moyes since the manager's days as a Celtic youth player, is expected to fulfill a function despite being of retirement age. Phil Neville, a "Fergie Fledgling" who became a proud Evertonian, is also mooted for involvement.

With those four wise men departing, Neville would be the continuity appointment -- and he left Old Trafford in 2005. United, where success is built on stability, have an almost completely new first-team staff. Edward Woodward, the incoming CEO to replace David Gill, interviewed Moyes for his job.

When competitive football returns in August, United's front of house will be entirely new for the first time in nearly 27 years. In bringing in his own men, Moyes has shown he is his own man. His contract begins July 1, but his three-week holiday is bound to be interrupted by transfer business and continuing affairs of state.

Unlike Ferguson, who siloed himself and his family on the Cote d'Azur for almost a month every year, Moyes spent summers doing media and scouting work at the 2010 World Cup and Euro 2012. In contrast to his predecessor, he remains cordial with press. Postmatch conferences can be playful, though never when his team has lost. Ferguson's meetings with the media -- those he could not contractually avoid -- were only ever playful in the way a cat plays with a mortally wounded mouse.

"Big place this, big place" were the words of a 45-year-old Ferguson to players when he joined United. He has made that place far, far bigger. The fears are that Moyes, despite managing Everton for 11 years, is not big enough for Manchester United. In addition, he will be facing down the man many felt was the obvious choice.

Jose Mourinho is back at Chelsea, but might feel he has more to prove to United. There was never any doubt about his interest in succeeding Ferguson. That a call from Ferguson told him of United's decision suggested his friend felt the need to let him down gently.

Gill is believed to have been a supporter of Mourinho's candidacy, though this was a minority board view. The Mourinho effect's collateral damage was feared: He offers trophies but short-termism. He will become Chelsea's eighth manager since he last departed. Porto took six managers to find Andre Villas-Boas. Inter Milan have made it six successors with the appointment of Walter Mazzari.

Pep Guardiola's New York meetings with Ferguson came just prior to the Catalan's move to Bayern Munich being announced. Though details of their private conversation have never escaped, that Ferguson was the eventual kingmaker is without doubt. Both Guardiola and Mourinho would be costly, too, bringing with them the expectation of a significant transfer budget. Moyes, less expectant, more used to managing within means, was more available and likely to be more thankful for the opportunity, too.

He once put himself up for consideration for vacancies at Tottenham and Chelsea only to be swiftly passed over for both; now he has the job the game's most ambitious managers all wanted.

Moyes is a trophyless manager, a label that must be addressed at the first season of asking. He also has a negligible record against the Premier League's elite. That, too, must be overturned. The new arrival's confidence has rarely been in doubt, though it will be sorely tested. His first Manchester United defeat will splash on front pages.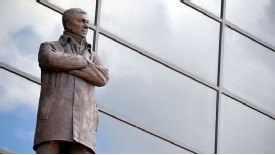 GettyImagesSir Alex Ferguson's statue stands as a permanent reminder of his success at Old Trafford
United have decided to follow their own historic path. Coaching's galacticos have been passed over for Moyes, who becomes the club's sixth manager -- from 19 in all -- to hail from the Glasgow area. Sir Matt Busby and Ferguson, whose shadows loom large, both also arrived with much to prove. United's previous importations of big reputations -- Tommy Docherty, Dave Sexton and Ron Atkinson -- all ended badly. Had United chimed with the tabloid chorus of 1986, then Terry Venables, not Ferguson, would have become manager. The landscape of English football would look very different if that had come to pass.

The departure of Ferguson's henchmen is something of a red herring -- during his 26 years as manager, many came and went. Some of those departures were depicted as the moment United would come apart at the seams, but Ferguson outlasted them all and delivered success to the last.

Now United must do without Ferguson himself. Moyes is the man tasked with taking United from out of the Ferguson shadow. The strongest suit Moyes possesses is that he has his predecessor's support to do so.