Juventus earn (and prove) a point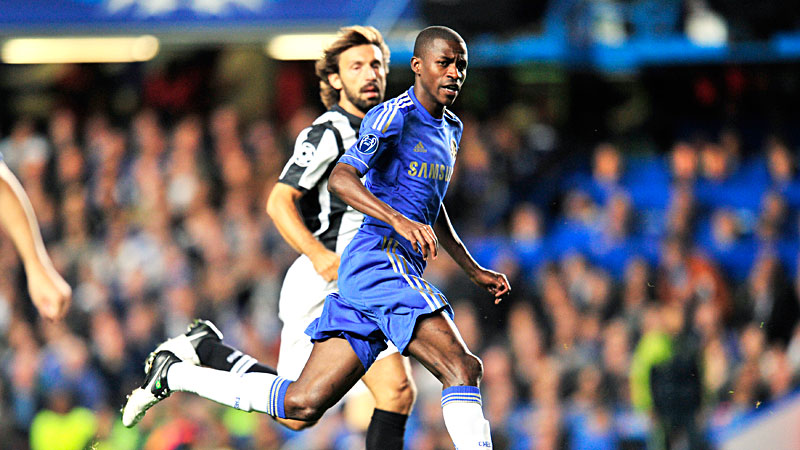 no_source / Glyn Kirk/AFP/GettyImages
They had been made to wait and were determined to enjoy it. Six long years after an away trip to the Stadio Romeo Neri, home to lowly Rimini, Juventus returned to European football's elite competition as Italian champions. They did so in style, coming from two goals down to snatch a draw away to trophy holders Chelsea.
Of course, they have played in the Champions League since then, even enjoying a memorable win at the Santiago Bernabeu that saw Alessandro Del Piero given a standing ovation by an appreciative Real Madrid crowd, but from the outset this felt very different. Those previous returns proved to be little other than false dawns, accompanied by a sense of entitlement as a squad filled with ageing and angered veterans dragged Turin's Old Lady 'back where she belongs' after their enforced relegation to Serie B.
Gigi Buffon, the only first-team regular remaining from the pre-Calciopoli era, now captains a young and hungry side, one who - rather than believing Juventus have a right to be there - treated this fixture as a reward for years of hard work. Accepting the club must once more earn their place as one of the truly great sides, the goalkeeper himself, humbled by the journey he has taken, spoke for almost everyone connected with the club after the match when he told reporters: "We do sense the enthusiasm of the fans. I am one of the few left who went through the past successes and the six years of decline. I can assure you, six years is a lot. Throughout that time we dreamed of winning a Scudetto and winning back the respect of teams in Europe.
"That doesn't necessarily mean lifting the trophy, but having our say on this stage again. It is certainly difficult, if not impossible, to win the Champions League this season. It would also be a very arrogant thing to consider in September."
What has happened at Juventus in those six years has been well documented, their trials - at times an all too literal term - and tribulations written about in countless columns and discussed in endless hours of television. But many are aggrieved, feeling there is so much misinformation printed that the reputation of the Bianconeri has been tainted even more than it should ever have been.
Yet here is a club doing so much to alter that perception in every conceivable way. A brand new stadium stands as a shining beacon that the rest of Serie A must follow if the league is to once more be regarded as one of Europe's best. Undefeated since moving there, the team on the field play a brand of football that fans across the continent can only admire. The visit to Chelsea drew many quizzical looks from those who have not followed them closely as Juve did not even appear to settle at 2-2, pressing on in search of a winner as the match drew to a close.
Juventus are working harder than many of their domestic rivals to lower costs and to match their recent on-field success with equally positive business decisions. Of course there is much work still to do as the club still recorded losses in its most recent accounts, and even on the field they do still occasionally look naïve - a point proven countless times at Stamford Bridge - but they are undoubtedly heading in the right direction.
The fans played their part too, no longer endlessly chanting 'animals' at the first sight of English opposition, and the visit to West London highlighted just how determined to enjoy themselves the Juventus tifosi truly are. Just over 3,000 supporters crammed into Chelsea's Shed End, constantly making themselves heard despite being heavily outnumbered; they too were glad to once again feast at European football's top table.
Arriving on the District Line and walking to the stadium from Fulham Broadway, the top of the stands came into view just as fans learned the club's Under-19 side had beaten Paris Saint-Germain in the Next Gen Series, immediately putting them in good spirits and even better voice. Home supporters were met with handshakes and scarves were swapped; no longer does the post-Heysel ill will toward anything English colour these supporters, humbled by recent events. The latest news regarding Hillsborough dominated conversation for long spells.
They cheered all through the first half despite Juventus struggling to find the cohesion that has become a hallmark of Antonio Conte's side and they sang during half-time, briefly pausing to berate a fan in the Chelsea section who had taken the unfortunate decision to attend wearing an AC Milan shirt - 3,000 fans booing in unison as though it was Silvio Berlusconi himself sat watching. That unwavering and unyielding support was rewarded when a poor pass from John Obi Mikel was compounded by John Terry's failure to react, Fabio Quagliarella ghosting in to slot an equaliser between the legs of Petr Cech.
The striker almost stole all three points with a vicious shot that left Cech stranded only to skim the crossbar, but a draw was ultimately a fair result. They may indeed have the motto 'Winning is not important, it is the only thing that matters' emblazoned inside the collar of their shirts but here, for one night only, a point was certainly proven. Juventus, and her fans, are back.