Napoli bets on Benitez to make it a contender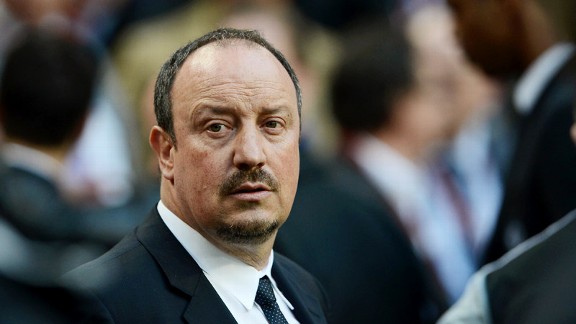 Franck Fife/AFP/Getty ImagesRafael Benitez's arrival in Napoli was an open secret, but Walter Mazzarri's exit provides a peek at the incoming manager's challenges.
There was no cruise liner, no lion's mask, no impromptu hitchhiking on the back of a scooter, no hoax news conference. For Napoli president Aurelio De Laurentiis, the announcement of the appointment of Rafael Benitez was, if we're completely honest, relatively low key.

He'd promised to broadcast the identity of the club's new coach via his Twitter account, a novel approach it must be said for a Serie A owner, one he'd taken supposedly to show how in touch and media savvy he is.

And yet while he teased his followers for a week before the big reveal, laying a false trail by telling one supporter the name of Napoli's new coach began with an "M," which led La Gazzetta dello Sport to wonder whether he meant Roberto Mancini, Vincenzo Montella, Rolando Maran or Roberto Martinez. As a showpiece, this lacked the bombast of previous stunts. One hundred and six characters accompanied by a photograph of De Laurentiis in a smiling handshake with Benitez. That was it.

Maybe it felt like an anticlimax because it had been a fairly open secret. To give De Laurentiis his due, there has been no presentation yet. Fireworks might be planned for that. But he could be forgiven for thinking that the hire was in and of itself quite the coup, which it is.

MORE SERIE A:
- Team of the year
- Season in review

Napoli were forced to look for a new coach after Walter Mazzarri revealed his intention to leave on the final day of the season. It was a marriage De Laurentiis didn't want to end. In three and a half years, his partner on the bench, so to speak, had made the team a title contender, qualified for the Champions League twice and won the Coppa Italia, the club's first piece of major silverware since 1990. It was the most successful era since the days of Maradona.

Alas, Mazzarri wanted a new challenge. De Laurentiis put a contract on the table worth €4m a season, but Mazzarri's mind was made up. "You can make a wife stay with money," the Napoli owner said, sighing, "but if she's decided to sleep with someone else, she'll sleep with someone else."

And that someone else was Inter.

According to La Gazzetta dello Sport, Mazzarri's heart had been set on the bench there since the spring of 2012 when Claudio Ranieri was fired and Andrea Stramaccioni promoted to replace him. The pink paper said that from time to time, he apparently would with great discretion call a journalist to understand what was going on at Inter and "test the ground," without ever allowing such exploration of his options to distract him from his work at Napoli.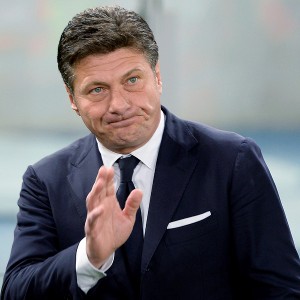 Andreas Solaro/AFP/Getty ImagesReports indicate Walter Mazzarri, who revived Napoli then turned down a contract to return, had eyed Inter since the spring of 2012.
The writing appeared to be on the wall, however, at the beginning of this season when Mazzarri declared he would be allowing his contract, which expired at the end of it, to run down. He wanted to take stock, maybe even go on a sabbatical like Pep Guardiola had done. Besides, making his players think the end was nigh was conceived as a motivational ploy: "This could be our last year together. It's now or never. Let's give it everything and go for the Scudetto." That would be the perfect way to say goodbye.

Napoli had a great season, but it wasn't the fairy-tale ending Mazzarri had perhaps envisioned. A subscriber to the view espoused by the great former Benfica coach Bela Guttmann that after three years in a job, players become bored, complacent, less responsive to a manager's methods, added to which opponents might figure out how your team plays, he left in the belief that it was the end of a cycle and that he had taken Napoli as far as they could go, a view that might have been reinforced if he had gotten the impression Edinson Cavani would leave in the summer.

Mazzarri's reasons for leaving offer an insight into the challenge awaiting Benitez. For instance, are this particular Napoli team's best days already behind it? Is that what Mazzarri perceived from the inside? Are they a spent force on the way down rather than the way up? And why, if all that were to reveal itself to be true, would Benitez take the job? That's a question we've asked prior to his accepting positions at Inter and Chelsea, although for different reasons.

Realistically speaking, you get the impression Benitez was only an outside bet and never a favourite for the Real Madrid and Paris Saint-Germain jobs. Carlo Ancelotti was and remains Florentino Perez's first choice to replace Jose Mourinho. Likewise Nasser Al-Khelaifi and Leonardo want him to stay at the Parc des Princes. Were Benitez to have waited to see how that played out and not received an offer from either -- his agent, for instance, apparently contacted PSG, not the other way around -- he might have been made to look a little foolish.

As it turns out, La Gazzetta dello Sport understands Benitez wasn't at the top of Napoli's short list, either. De Laurentiis apparently sought out Cesare Prandelli first, promising to triple what he earns from the FIGC, only for the Italy coach to turn it down and reaffirm his commitment to finish what he started with the Azzurri and see out his contract, which comes up for renewal on the conclusion of the 2014 World Cup. That's the nature of the game, and, were it to be true, Benitez would understand.

De Laurentiis has paid him a big compliment, though, because it's clear he sees him as the one to take Napoli to the next level.

Their trajectory over the past six years looks a little something like this: Edy Reja got the club promoted and back where they belong in 2007. He consolidated their place in Serie A. Roberto Donadoni was brought in to build on that but disappointed De Laurentiis and was dismissed. Mazzarri then turned Napoli into a top-five and podium finisher, a pretender for the Scudetto, a Coppa Italia winner and a Champions League qualifier.

Benitez, it's thought, has been brought in not to maintain the status quo but to make Napoli a definite title contender, not a maybe, and to add to their cachet in Europe. After winning the Europa League with Chelsea in Amsterdam, Benitez became only the third coach after Giovanni Trapattoni and Udo Lattek to win European trophies with three clubs. In many respects, he represents the logical next step for Napoli as they further their own ambition.

On the surface at least, it looks like a good fit, much better than his previous experience at Inter, at least, certainly in timing and in terms of where the club is at. Specifically, Napoli have something -- actually a great deal -- rather than nothing left to achieve and an owner prepared to loosen instead of tighten the purse strings, as Massimo Moratti did after Mourinho left.

There are also many comparisons, for instance, to be made between Naples and Liverpool, how the cities and their people are perceived within their respective countries, the passion of the supporters, the loyalty they show to those who stand up in their name to defend and promote their interests.

Prior to making the appointment, De Laurentiis said the new manager would have to show "a profound love for Napoletanita -- or Neapolitan-ness" and "learn dialect." Benitez has already made the right noises in this respect, writing on his official website: "I understand the history of the city and how the club forms a fundamental part of the culture and traditions of Naples ... I'm happy to become a member of that great family of Naples and thus we can share the triumphs together."

He inherits a squad that is competitive, although one that's also system-specific. Since their return to Serie A, Napoli have with few exceptions played three-at-the-back under Reja and Mazzarri. Wing-backs such as Christian Maggio for instance are not suited to playing in a back-four, and, considering this is supposedly Benitez's intention, that might prove problematic and need addressing in the transfer market.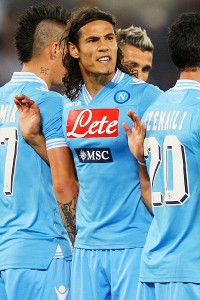 Paolo Bruno/Getty ImagesNapoli would be hard pressed to replace Edinson Cavini if he leaves, but a hefty buyout clause would be a good place to start.
The legacy Mazzarri leaves his successor, though, is a group of players who are used to and don't mind working for hours on team shape and tactical discipline, which, as you can imagine, for a coach such as Benitez who places a strong emphasis on that kind of thing, will be of benefit and ease the integration of his ideas.

Even so, not all players will be conducive to them, and you'd expect him to want to put his own stamp on the team or perhaps go so far as to break with Mazzarri's. There will, you suspect, be plenty of opportunities to do so. Napoli have run at a profit in each of the past six seasons and are a model of financial health in Italy. Revenue from qualifying for the group stages of the Champions League also flushes the coffers, and then of course there's what to do with Cavani.

On the one hand, if Napoli were to keep him, that would be great. Benitez would get to work with one of the best strikers in the world. On the other, if they were to sell, then, sure, Cavani would be hard to replace, but the buyer would have to pay his €63m buyout clause, some of which Napoli, you'd expect, would reinvest in, say, someone such as Leandro Damiao, not to mention other areas of the team that need improving. Alternatively the interested party -- let's use Manchester City to illustrate a point -- would maybe look to structure a deal offering cash and a player in collateral, such as Edin Dzeko for example.

What's interesting is that the arrival of Benitez, the ambition Napoli have shown by appointing him, the prospect of Champions League football, and De Laurentiis' supposed preparedness to offer Cavani another new and improved contract worth €7m a season might just be enough to convince the player to stay. If it isn't, at least Benitez will have resources and room to manoeuvre.

Finally, while for many Rafa restored his reputation by guiding Chelsea to the Europa League and a third-place finish in the Premier League, one of the motivations he might have had in taking the Napoli job is simply to redeem himself in Italy, a country he has huge respect for as a tactician. Sacked by Inter after six months, his short spell there was adjudged a failure. His claims that, on the contrary, it was a success on account of winning the Italian Super Cup and the Club World Cup don't wash at all. And so here's a chance to show those people who are still sceptical of him and critical -- in particular Marco Materazzi -- that he's a better manager than they give him credit for.

Leading Napoli to their first Scudetto in 24 years would not only add another famous feat to his CV, it would render him immortal in that part of the world. Superstitious types have pointed out the club's two league titles were won by coaches with surnames beginning with B: Ottavio Bianchi in 1987 and Alberto Bigon in 1990. The question is: Will Benitez be the next one?