Stuttgart's chances resting with 'Alexander the Great'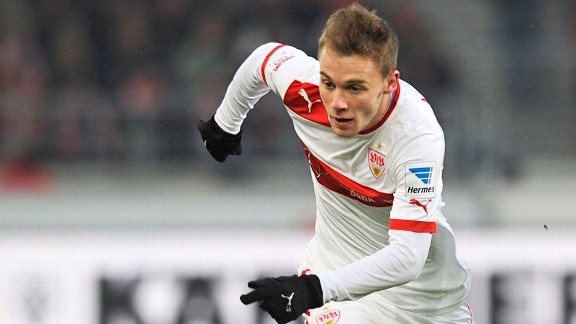 Daniel Kopatsch/Bongarts/Getty ImagesRomanian star Alexandru Maxim hopes to lead Stuttgart to an upset win over Bayern Munich in the DFB Pokal final.
Alexander The Great predicted a forthcoming miracle and conquered many in ancient Greece across his grand military rule. But even he might be wary of hopes of a miraculous win for VfB Stuttgart in Saturday's DFB Pokal final against FC Bayern Munich.

Stuttgart fans are hoping their own Alexander, in this case Alexandru Maxim, can fire the Reds to glory in Berlin after adding his name to this season's cup folklore for his audacious efforts in the closing stages of the semifinal. His technique likened in Germany to former Eintracht Frankfurt and Bolton Wanderers midfielder Jay-Jay Okocha, Maxim showcased his skills by emulating a move from the classic movie "Escape to Victory," with a rainbow flick that took out two opposing defenders, albeit eventually steering out of play. Still, the Romanian ace was lauded by the boisterous Cannstatter Kurve as he left the field in the final seconds of the game.

- Stuttgart: Bayern's UCL win will help us
- Schaaf: Just a bit of Samba in Berlin
- Uersfeld: Understanding the Lewandowski saga
- Delaney: Bayern's place among the greats

More than 40,000 Stuttgart fans will descend on the German capital this weekend for one of the most anticipated "one-sided" showcase finals. Bayern's Bavarian storm has wiped out everything in its path; a league record 25-point lead over Dortmund; the DFL Super Cup (or "glorified friendly"); and last weekend in London clinching its fifth Champions League title.

FC Bayern's passage to the DFB Pokal final looked effortless with a 6-1 thrashing of VfL Wolfsburg in the semifinals, but for Stuttgart, it was a little more complex against rival SC Freiburg. The Black Forest side were building momentum toward their late push for fourth place and turned over Stuttgart 3-0 in the reverse league fixture.

Stuttgart matched Freiburg's high-intensity, sprightly pressing strategy in the semifinal and steamed ahead through Arthur Boka, and although pegged back by Jan Rosenthal, the reliable Martin Harnik delivered the final blow in a 2-1 win. It was Stuttgart's first strenuous test in its run to the Pokal final after comfortable wins over Falkensee-Finkenkrug, St. Pauli, Koln and Bochum. Now with the final upcoming, Maxim knows anything can happen in a winner-take-all contest.

"We are happy to be in the final and it will be a very hard match against the Bayern," Maxim told ESPN FC. "But it's a final and anything is possible. We hope to perform well and have a good day, and obviously, win the cup. It doesn't matter who we're up against, we just focus on doing well and doing the job.

"That was very good from us in the semis. We concentrated on the game against Freiburg and they are a good side. It's a very important game for everyone. It's a special moment in Berlin and I just hope we can get the win.

"It's a big difference from Romania and Germany. The stadiums are full, maybe 50,000 every week and you feel like a top football player. When you come to the pitch and here the fans chanting, it's a good feeling."

Often compared to the legendary Romanian Gheorghe Hagi, Maxim has turned around Stuttgart's fortunes since the January transfer window. Fredi Bobic, the club's sporting director, moved quickly in the winter break to fly Maxim on a private jet from his holiday in Salamanca to Germany and secure a 4 1/2-year contract.

Stuttgart have lost just a handful of the 11 league games in which Maxim has been involved. He is filling a role that is crucial to Bruno Labbadia's 4-2-3-1 setup with his offensive craft, wide range of passing and nimble-footed style. Like Hagi, the 22-year-old has the same appreciation of space and a dribbling posture akin to the former Galatasaray ace.

His move to the Bundesliga has attracted huge media attention in his home country, and the seven-time international is adapting to his new surroundings in the southwest of Germany. "Things happen very quickly," Maxim said. "It was fast for me to come here. I'm very happy here and I intend to work very hard and enjoy the experience in the Bundesliga. The trainer helps me a lot and he knows I'm new here and adapting to the country. Our relationship with the coaches is important and it is really strong. If I need anything, they will help."

Aside from regional media, FC Bayern have been the centre story to the 70th German Cup final. The Rekordmeister are embroiled in controversy with FIFA and the Brazilian FA, who decided that defender Dante and midfielder Luiz Gustavo are required for international duty as part of the Confederations Cup preparations in Rio and will miss the German Cup final.

Some British bookmakers are offering 16-to-1 odds for Stuttgart to come out with their fourth Pokal triumph (the other wins being in 1954, 1958 and 1997). However, FC Bayern have proven to be an intimidating beast this season; they have conceded the fewest goals (18) in Bundesliga history, tied for the fewest number of matches lost (one), garnered the most points (91) and sat on the summit of the top flight for every match day in 2012-13.

Just like Alexander the Great, Stuttgart will need something particularly extravagant to defeat perhaps the strongest FC Bayern squad of all time.