European monarchs showcase reality of super clubs
One of the problems with attempting to draw deeper conclusions from the current state of play in European football is that today's truths can be rendered irrelevant by tomorrow's new realities.

One of the pleasures of this season's continental competitions, however, was that they were so exhilarating they barely allowed anyone to draw breath.

Since the turn of the year, both the Champions League and Europa League have offered a series of thrilling turns themselves, from Borussia Dortmund's late desperation at Malaga to the chaos of Benfica's victory over Fenerbahce. Almost every knock-out round has seen at least one scintillating tie; almost every tie has seen one entertaining twist.

In fact, while all of the major domestic league titles were decided long before the end of the season, the two continental cups built up to brilliantly tense finishes. It was hugely refreshing and something to really relish for the future. For all the obvious differences between the competitions, too, those endings were strikingly similar. Both the Champions League and Europa League campaigns went right to the edge, and were settled by dramatic late goals.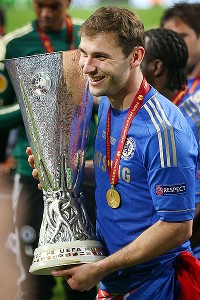 Ian MacNicol/Getty ImagesChelsea's Europa League victory marked the first time a club of such resources had won the old UEFA Cup at all since the initial 1999-2000 restructuring of the tournaments.
There was one other significant similarity between the two finals, though. As close as Benfica and Borussia Dortmund made those games, they were both ultimately beaten by one of the elite super clubs who have made winning at that level a way of life rather than something to wonder at. It was something Jurgen Klopp referenced on the eve of the Champions League final. The Dortmund manager argued victory would have been "more emotional" for teams like his own and Benfica, "compared with a situation where success is pretty normal."

This is not to take away from the clear jubilation Bayern and Arjen Robben felt from finally ending their 12-year wait for the European Cup. There was also the very anomaly that Chelsea actually claimed the Europa League. Whatever about a side never winning the lesser competition in the season immediately after lifting the Champions League, it marked the first time a club of such immense resources had won the old UEFA Cup at all since the initial 1999-2000 restructuring of the tournaments.

Even if it is a while until that happens again, it did signal a broader truth. As Jonathan Wilson argued in the Guardian last week, this isn't really the era of La Liga or Bundesliga; it is the era of the super club.

While the recent infrastructural changes in Spanish and German football have undeniably given much greater depth and innate talent to their top sides, all of Bayern, Real Madrid and Barcelona are only part of an incredibly well-positioned cabal that also includes Manchester United, Chelsea, Manchester City and, to a slightly lesser degree, Milan, Internazionale, Juventus and now Paris Saint-Germain.

It is one of the reasons that European football only saw four trebles in the first 53 years of continental competition but is now on the verge of a third in five years. Should Bayern beat Stuttgart in the German Cup final this weekend, they join an exclusive club that includes Celtic 1967, Ajax 1972, PSV Eindhoven 1988, Manchester United 1999, Barcelona 2009 and Inter 2010. The only problem is that three of those clubs will probably never be afforded that prospect again, at least not under the current circumstances of European football.

There has never been so much finance and fine quality concentrated in so few clubs. If the admirable youth approaches of Spain and Germany that have served their national teams so well had helped fully offset the oppressive power of their biggest clubs, we would have seen greater domination of the Europa League latter stages. That has so far not been the case.

Nationalities of quarterfinalists in Champions League:
2012-13: 3 Spain, 2 Germany, 1 Italy, 1 France, 1 Turkey
2011-12: 2 Spain, 1 Germany, 1 England, 1 Italy, 1 France, 1 Portugal, 1 Cyprus
2010-11: 3 England, 2 Spain, 1 Germany, 1 Italy, 1 Ukraine
2009-10: 2 France, 2 England, 1 Italy, 1 Germany, 1 Spain, 1 Russia
2008-09: 4 England, 2 Spain, 1 Germany, 1 Portugal

Nationalities of quarterfinalists in Europa League:
2012-13: 3 England, 1 Portugal, 1 Switzerland, 1 Turkey, 1 Italy, 1 Russia
2011-12: 3 Spain, 2 Germany, 1 Portugal, 1 Ukraine, 1 Netherlands
2010-11: 3 Portugal, 2 Netherlands, 1 Spain, 1 Russia, 1 Ukraine
2009-10: 2 Spain, 2 England, 2 Germany, 1 Portugal, 1 Belgium
2008-09: 2 France, 2 Ukraine, 2 Germany, 1 England, 1 Italy

What the figures above do illustrate, and as this season's games only emphasise, the Europa League has developed into a hugely democratic tournament with an awful lot of vigour, vitality and variety. The 2012-13 campaign may even have marked the start of a turning point in its perception. Clubs like Basel captured attention while its last six winners have come from Spain (twice), Russia, Ukraine, Portugal and now England.

The Champions League has not seen the same diversity but it has been so much more dynamic than during the 2004-09 period. In that, it almost fully reflects and encapsulates the compromised effectiveness of Financial Fair Play so far.

Although UEFA's new rules on economic governance have clearly had enough influence to ensure the likes of APOEL and Galatasaray can now reach the quarterfinals, they are not far-reaching enough to prevent only the top sides prevailing. Instead, much of the drama comes from how close the super clubs are in terms of quality. It is one of the reasons the trophy has not been retained, as it is exceptionally difficult for any one team to win so many knock-out rounds in a row when all of that ability starts to bottleneck.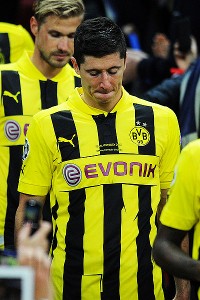 Chris Brunskill Ltd/Getty ImagesA Champions League trophy might have meant more emotionally to Robert Lewandowski and Dortmund, but they were no match for Bayern's depth and talent.
This is where the infrastructures of Spanish and German football are truly important and where there might be the possibility of split among the super clubs too. Because of the superior quality of the base coaching in both countries, as well as the manner some of the top teams have developed distinct playing philosophies from that platform, it means they have much greater potential to be so much better. Without that level of depth, the Premier League and Serie A clubs -- as well as maybe Real Madrid -- can never reach that level of integration and therefore intensity.

Bayern have illustrated this with the manner they adopted Barcelona's approach, built the team around a core of superbly coached graduates such as Bastien Schweinsteiger and then enhanced all of that with the scale of their resources. As this season went on, they only became more cohesive and commanding. It seemed a level beyond those super clubs who lack such a clear sense of identity.

Consider the Premier League sides. Virtually all of them involve disparate expensive elements fitted together -- however excellently -- rather than a defined approached derived from a clear ideal. Manchester City were widely mocked for their use of the word 'holistic' in their sacking of Roberto Mancini but, once you get over the associations of the term, there is a degree of truth to it. What, exactly, would you describe as City's football philosophy under the Italian? Similarly, while Alex Ferguson is likely the greatest coach of all time, the key to his longevity has been adapting. In terms of tactical approaches, he has never truly led the way. When he finally did, with the interchanging attacking trio of 2006-09, they were immediately overtaken by a Barcelona team that United couldn't get near to.

At that stage, of course, it was difficult to imagine Pep Guardiola requiring a break or such an all-conquering team going so stale. That is the point about tomorrow's new realities. Those integrated sides only have greater potential. They are not immune to the problems of everyone else. A philosophy can still be undercut by all manner of problems.

So, as overwhelming as Bayern may appear now, only one thing is certain: If they slip, it will be another super club ready and waiting to immediately step into the breach.

The hope, though, is that the excitement remains as brilliant as this season.