Season review: Relegation fodder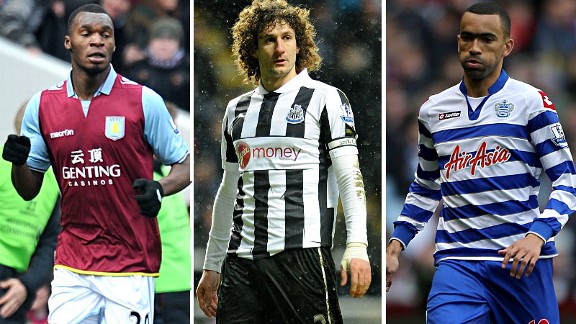 PA Photos
The race has been run. The winners are quaffing champagne with their WAGs in the penthouse suite, the losers tapping at smartphones to familiarize themselves with places like Yeovil, and the rest ... well there's always next season to meet those expectations.

- Part 1 - Premier League top guns
- Part 2 - Mid-table wilderness

But what was the story of how they got there? Who were the heroes, the villains, the masterminds and dunces, the memorable moments and those hellish happenings that are better forgotten? Below, ESPN's army of club experts assess the 2012/13 season.

14. Southampton - Chris Rann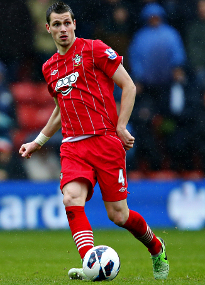 PA PhotosSouthampton's Morgan Schneiderlin
Hero and villain
The hero for Southampton has certainly been Morgan Schneiderlin. The French midfielder has been through relegation from the Championship, administration and stuck with Saints. In that time he has learned a lot and developed into a superb, top-flight footballer. Mixing it with the best this season and usually winning (statistically he was the best tackling and intercepting midfielder in Europe), Schneiderlin has been at his best world class and at his worst outstanding this season.

If I were harsh I could pick out any one of Kelvin Davis, Danny Fox or Jos Hooiveld as the villain due to their early season mistakes, but it would be the wrong word, and at Saints we support our squad, so I will go direct with good old Arry Redknapp. He took Saints down due to his tactical ineptitude and terrible signings and has now repeated that feat with QPR from a similar situation. And he would have gotten away with it again, if it weren't for those pesky kids ...

Defining moment/turning point of the season
I can pick out two. One on and one off the pitch. On the pitch it would be Jason Puncheon's wonder-strike at Chelsea to level the scores and earn Saints a great point having been 2-0 down. It felt like Saints really started to believe they were good enough that day. Off the pitch, the signing of Artur Boruc has to be a defining moment. Despite a difficult start, once the Pole was back to full fitness he was worth his weight in gold, three points at relegation-rivals Villa and one at Norwich were pretty much down to him.

Was the club's potential fulfilled this term?
Almost. Saints struggled at the beginning of the season, perhaps due to their lack of experience, but set themselves up for a decent finish in the end. Potentially, the club has a top-10 squad, and for a while it looked like they might achieve it. They tailed off in their last six games, which might be down to fatigue having run themselves into the ground under manager Mauricio Pochettino, but all the signs are there that this might be an ever-improving side.

Managerial masterstroke/fail
The masterstroke for me comes in the shape of Pochettino's relentless pressing game. Man City, Liverpool and Chelsea all succumbed to it, and victory over those sides is nice enough, but the manner in which they were totally dominated by Saints in those games made it all the more impressive. Three of the best defenses in the league, and none of them could handle Saints at full pace. In fact, all can be thankful they lost by such small margins.

Goal of the season
The aforementioned strike by Jason Puncheon at Stamford Bridge has to take it. The combination of Luke Shaw's fantastic bursting run down the left, Puncheon's deft little touch before smashing it home and the importance and timing of the goal made it very special. Schneiderlin's goal against Liverpool was a great team example, and an honorable mention has to go for Gareth Barry at St. Mary's.

What needs to change?
Southampton need more strength in depth, particularly given the style of play. The first-choice players looked jaded toward the end of the season, but those that come in to replace were often found wanting. Given some investment in the summer and finding a stronger resistance to those teams who don't like to play nice football, then Saints can look for a better finishing position next season. Also, another goal scorer needs to come in, relying on Rickie Lambert (as fantastic as he has been) will only wash for so long!


---
15. Aston Villa - Kevin Hughes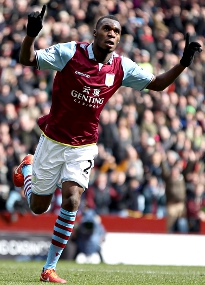 PA PhotosAston Villa's Christian Benteke
Hero and villain
Heroes don't come any bigger than Christian Benteke, the man-mountain of a striker who scored 19 league goals in his debut Premier League season; 15 of those came in 2013 as Villa got their act together to pull away from relegation. His impact was phenomenal. Villa's villain? I'd have to look at Stephen Ireland's underwhelming contribution. His third season in a Villa shirt, and the club has seen only sporadic glimpses of his talent in that time. What's all the more frustrating is that he had plenty of chances during the first half of the season too. Having failed to impress, Ireland was rarely seen from January onwards and I can't see him staying at Villa much longer.

Defining moment/turning point of the season
The successive victories over Reading and QPR in March were massive. Not only did it show the team had the stomach for the fight -- Villa trailed in both games, conceding the opening goal in each -- the points created a healthy gap at the foot of the table. Villa gained momentum and belief, whereas for Reading and QPR, it was the beginning of the end. Winning both, in the face of significant pressure, was evidence that Villa's young squad were growing up.

Was the club's potential fulfilled this term?
Difficult to answer. As the club embraced a fourth manager in as many seasons and with a significant squad overhaul on the agenda, it was hard to predict what the team would actually achieve. Villa fans would certainly have hoped, if not expected, better than the previous season's struggles under Alex McLeish but expectations were reasonably grounded; mid-table at best. At the halfway stage of the campaign, Villa had plumbed to new lows, in the bottom three and on the wrong side of an 8-0 defeat. That meant the end game aim was revised, simply to avoid relegation. The fact that was achieved felt like a success. From Villa's point of view, the season was distinctly one of two halves -- poor in the first, promising in the second.

Managerial masterstroke/fail
Lambert's big call was making Benteke the focal point of his forward line, rather than record signing Darren Bent. A brave shout that made for an easy line for criticism during the first half of the campaign, and until Benteke's form went through the roof. But had the Belgian not been afforded the chance to settle, Villa may never have seen the best of him later in the season. On a similar note, handing Brad Guzan the goalkeeping duties, ahead of Shay Given, was a major decision that paid off.

Lambert's main misjudgement was his reading of the defensive situation at the club. Richard Dunne's continuing injury problems, which ruled him out for the entire season, meant Villa had to rely on Ron Vlaar, in his first season in the Premier League, and the relatively inexperienced pair of Ciaran Clark and Nathan Baker. If he can be excused for not signing another center-back last summer, his failure to bring in some help in the January transfer window was harder to grasp. It was a gamble which almost cost Villa dearly.

Goal of the season
For not only the faultless technique it required -- chest control of a skied clearance, followed by a right-foot volley -- but also the importance of the goal, Matthew Lowton's strike in the 3-1 win at Stoke takes the honors. A thunderous goal to win a crucial game. Other strong contenders would be Vlaar's volley at Wigan on the last day of the season, Charles N'Zogbia's free-kick in the 2-1 home win against West Ham in February, Benteke's second against Liverpool at Anfield -- a clinical, incisive breakaway goal -- and Andreas Weimann's first against Manchester United in the 3-2 home defeat.

What needs to change?
Villa have to rediscover the art of defending. The team failed to keep a clean sheet in 2013, which meant scoring once in a game was never enough. There's surely room in the squad for a central defender to improve what is -- Vlaar apart - a young back four. The squad will be pruned over the summer, with five or six senior players clearly not a part of Lambert's plans and therefore likely to move on, but while the manager will continue to recruit from outside the Premier League, he also needs one or two more streetwise types. A touch more nous could see Villa aiming for a top half finish next season.


---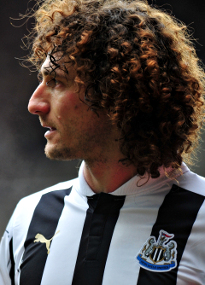 PA PhotosNewcastle United's Fabricio Coloccini
16. Newcastle United - Marc Duffy

Hero and villain
There have been no heroes in this woeful season for Newcastle. The closest thing we saw to heroism was Fabricio Coloccini's incredible performance away at Sunderland. There have been plenty of villains though: Demba Ba and his disruptive sulking, Mike Ashley and his penny pinching until it was almost too late, but most of all, manager Alan Pardew and his constant negativity on and off the pitch.

Defining moment/turning point of the season
The defining moment of Newcastle's season was when the August transfer window closed with so few players in through the door. Supporters and pundits alike knew that the squad was too thin and this boardroom failure was a major contributing factor to a terrible season.

Was the club's potential fulfilled this term?
Absolutely nowhere near. Not many people expected a replication of last season's top-five finish, but no one at all expected Newcastle to be battling relegation right up until the end of the 37th game.

Managerial masterstroke/fail
In terms of his own PR, Pardew's dive into the crowd after Papiss Cisse's last-gap winner against Fulham was a masterstroke for him. It temporarily papered over some huge, gaping cracks. His failures are too numerous to mention in such a small space.

Goal of the season
Yohan Cabaye at Aston Villa. Not only was it a great strike but it also clinched Newcastle's first away win of the season (at the 12th attempt!) and helped trigger a run of nine points from four games, which turned out to be absolutely vital.

What needs to change?
The manager. Unfortunately this won't happen, so a backroom shake-up and full investigation of why Newcastle accumulated over 70 injuries throughout the season is a must. Pardew needs to look at his awful long-ball tactics, change his habit of playing great players in ridiculous positions and cut out the tedious, lame excuses that the supporters are served up after almost every single game.


---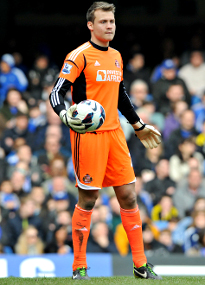 PA PhotosSunderland's Simon Mignolet
17. Sunderland - Colin Randall

Hero and villain
Sunderland would, beyond reasonable doubt, be contemplating life in the Championship but for Simon Mignolet's stream of world-class saves game after game. Whatever the Belgian international's immediate future, he can be proud of his heroic role -- even more important than Steven Fletcher's early goal-scoring form -- in a grim season. Among several villains, James McClean had a shocking season on the field and a foolish one, with his incautious tweets, off it.

Defining moment/turning point of the season
The late dismissal of Martin O'Neill. He was the manager most Sunderland fans wanted and they longed for him to succeed. Sadly, he was leading the club to relegation, the spark of his initial appointment having completely worn off. Paolo Di Canio was emphatically not everyone's choice and the contentious aspect of his arrival was poorly handled, but he deserves great credit for his part in the club's survival.

Was the club's potential fulfilled this term?
Absolutely not, unless we are a bunch of delusional fools who finally ought to accept that Sunderland's natural habitat is the lower reaches of the Premier League and promotion-chasing slots of the division below.

Managerial masterstroke/fail
Martin O'Neill excited supporters with his acquisitions of Steven Fletcher and Adam Johnson but failed to build on the former's goals or inspire the latter to perform at anywhere near his best. Worse still was his inability to get his team to play football that was not nervous, tactically naive and painful to watch.

Goal of the season
Stephane Sessegnon's touch and shot for the opener of three morale-boosting, season-saving goals against Newcastle United presented a model of technique and execution. David Vaughan's later strike was more stunning, but Sessegnon's goal stands out for its impeccable timing.

What needs to change?
The permanent signing of Danny Rose is a must, provided Spurs will let him go, but PDC has to make a major clear-out -- subject to contractual and therefore financial implications -- with Craig Gardner, Carlos Cuellar, Titus Bramble, Danny Graham, Phil Bardsley, Seb Larsson, Vaughan (despite that goal) and McClean among those departing to be replaced with players of real quality. He also has the formidable task of persuading Mignolet, Sessegnon and Fletcher to stay.


---
Wigan - Ned Brown and Tony Brown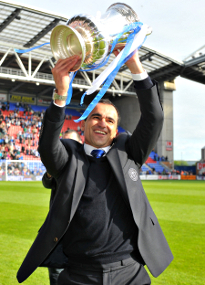 PA PhotosRoberto Martinez with the FA Cup
Hero and villain
Managers come and go. Roberto Martinez has done a wonderful job against the odds. So did Steve Bruce and Paul Jewell before him.
The common thread is the backing they have had from Dave Whelan. The owner is a rarity in English football -- a chairman who played in the top flight. Wiganers can be direct and blunt at times -- Whelan is no exception. But then again, some of the things he has said needed saying.

Dave Whelan is the hero. Despite relegation he is already saying that the aim he has left in life is to get Wigan Athletic back in the Premier League. He is the inspiration behind the club.

The villain is pure bad luck. Wigan Athletic have played some terrific football this year but have had no luck. The injuries they had would have put any club under threat. They prevented Martinez putting out any kind of settled side all season. They say luck averages out, but it didn't for Wigan this season.

Defining moment/turning point of the season
The home loss to Swansea was a devastating blow. Once again injuries forced Martinez to put in a stop-gap defense and it resulted in giving three goals away. It was sandwiched between a hard-fought win at West Bromwich and the FA Cup Final.

Having to play at Arsenal three days after an FA Cup Final would be too much for most teams. That a stretched Wigan squad put up a great show for 60 minutes or so against a rested Gunners team was remarkable, but the odds were loaded against them. The result put them out of the elite league.

Was the club's potential fulfilled this term?
The season started with optimism following a wonderful run at the end of the previous season. After all, when you can beat Manchester United, Arsenal and Liverpool in a short space of time, then you should surely be looking at more than survival in the coming season.

It was not to be. The season was punctuated with horrendous defensive errors, which so often meant Wigan snatched defeat from the jaws of victory. The lack of mutual understanding in the forever-changing defensive line was certainly a factor, but some of the errors were fundamental and led the club to be relegated.

Managerial masterstroke/fail
Roberto Martinez continued to be positive throughout a season in which the results were just not coming. That was his greatest strength -- enough to inspire his club into an FA Cup Final victory.

It is easy to criticize a manager whose club have been relegated. Critics will cite awful defending and a lack of penetration in attack. Too many passes that went sideways or backwards. Martinez fans - the majority - would admit that was the case, but would point to the classy football the team produced, even in the darkest moments. The quality of their football in the cup final matched that of Manchester City, a remarkable achievement that raised global awareness of a small club.

Goal of the season
The importance of Ben Watson's last-minute cup-final winner dwarfs anything that preceded it. My fellow Wigan writer, Ned Brown, described it in graphic detail: "When you watch it again on television, it is hard to tell that Ben Watson's FA Cup winning header actually happened in slow motion. But from my bright red Wembley seat about 15 yards away, I can assure you that the world stopped for a magical 10 seconds as the ball sat up, suspended in mid-air, spinning. Then the world moved forward again, in freeze-frame snapshots. Joe Hart's acrobatic leap and disbelieving eyes. Arouna Kone's realization."

What needs to change?
Dave Whelan announced this week that Roberto Martinez had been given permission to discuss a vacant managerial position. Strangely enough, winning the FA Cup might well have been influential in him making the decision. What more of note could he ever achieve at the club?

There will be a mass exodus of players. However, there is no need to panic. Martinez has put in infrastructure and the club has started to look long-term. The development of a strong youth academy remains paramount to the club's continuity in top level football.

Wigan Athletic have spent eight years in the Premier League, have reached the League Cup final, have won the FA Cup. They are a club to be reckoned with.



---
Reading - Jon Keen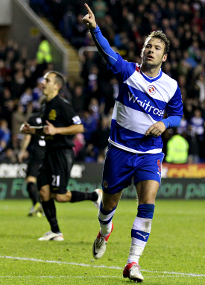 PA PhotosReading's Adam Le Fondre
19. Hero and villain
Only two real heroes - Alex McCarthy for forcing his way into the full England squad with a string of outstanding performances between the posts, and Adam Le Fondre for his 12 Premier League goals, two-thirds of them after coming on as substitute, and giving us a brief period of hope in January.

The villain - Danny Guthrie, for opting out and refusing to travel to Sunderland because "his head wasn't in the right place" during the nadir of a very low season when he was needed most of all.

Defining moment/turning point of the season
The club's gutless and abject surrender at home to Wigan at the end of February. Although the writing was on the wall long before then, the attitude and the manner of this defeat in a crucial, must-win match proved there was no hope and relegation was inevitable.

Was the club's potential fulfilled this term?
Yes, sadly. The squad just wasn't good enough and got everything their performances deserved. With a few extra players things might have been different, but that wasn't to be, and this squad proved you can't stay in the Premier League on effort and running around alone - you need some quality, some creativity and some guile.

Managerial masterstroke/fail
Brian McDermott's persistence in clinging to 4-4-2 in the Premier League for months after it was clear to all observers that this system just wasn't working at this level.

Goal of the season
Adam Le Fondre's cushioned finish to equalize with Chelsea in injury-time at the MadStad in January. Not only was it the exquisite finish of a natural-born striker of real quality, it was one of the few things this season that gave us something to cheer about.

What needs to change?
The biggest change has already happened -- in that Nigel Adkins has replaced McDermott as manager. Already there are signs that the midfield is passing better and quicker, but the defense really needs sorting out. It looks okay for the Championship, but we've seen vividly how it's just not up to the demands of the Premier League.


---
20. Queens Park Rangers - Sean Smith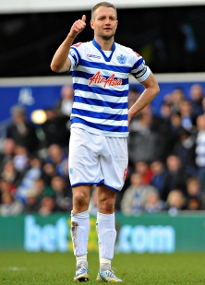 PA PhotosQPR's Clint Hill
Hero and villain
Can there be heroes at QPR over such an appallingly disastrous season? If any, it would have to be Clint "Snowball" Hill who, among the old guard, kept his place throughout the season, worked hard and kept his council amid the chaos until relegation. Then he let rip. As far as villains are concerned, you can take your pick. Jose Bosingwa will not be high on any QPR fan's Christmas card list this year, but for the bald fact that his tenure not only cost the club its Premier League status, but also put it back half a decade -- step forward Mark Hughes.

Defining moment/turning point of the season
Many, many defining moments, although the season was perhaps defined by the lack of a much needed turning point. Many will see the heartbreaking defeat by Aston Villa as the day QPR were relegated, but for me that was the 3-0 defeat to Liverpool not long after Harry Redknapp took charge. It put the club eight points from safety and highlighted the fact that a miracle would not be nearly enough.

Was the club's potential fulfilled this term?
Er, no. Definitely not. Quite the opposite. The club looked Europa League on paper, League One on the pitch. Still a mystery -- even professional footballers just in it for the pay packet should have managed a much better return than this lot did. I mean, Sunderland managed it.

Managerial masterstroke/fail
Although Mark Hughes was undoubtedly the villain of the piece this season, Harry was not short of a brain freeze or two. His decision to play Loic Remy on the wing at Fulham to accommodate Adel Taarabt resulted in a dearth of chances against an average club and a 3-1 deficit at halftime. It is no surprise that Remy's return to the middle resulted in a goal and a penalty in the first 10 minutes of the second half. That first half marked the end of the straw-clutching phase for the optimists

Goal of the season
Probably Taarabt's pile driver at home to West Ham, but I am loathe to give it to him after his appallingly self-centered season and subsequent diva-like attitude to training.

What needs to change?
Get rid of the bloated leeches masquerading as footballers who have bled the club dry this season, keep the best of a bad bunch (Chris Samba, Andros Townsend perhaps), play the promising kids, get back to basics, convince the world QPR are still that little punk rock club that cocks a snook at their rich, stuck up London neighbours.