Sink-or-swim time for Neymar
In recent times, Brazilian club soccer has been selling its stars rather than selling its spectacle. Santos and Neymar bucked the trend for a while. Bid after bid came in for the boy prince of the Brazilian game. They were all swatted away -- until now. On Friday night, the club made it clear that they were prepared to accept a number of offers. Neymar was left to choose and has opted for a five-year deal with Barcelona.

Right up to the last, the player was stressing that he was happy to stay another year and see out his contract with Santos, and there is no reason to doubt his sincerity. A case could certainly be made for staying put for another 12 months. One of his main objectives is to shine on home soil in next year's World Cup -- winning the tournament in front of his own fans would bestow on Neymar a place in Brazil's pantheon. The risk now is that a difficult adaptation to life on and off the field in Spain might take the edge off his game at exactly the wrong time.

In an ideal world, then, Neymar might have stayed until 2014, and Santos were not desperate to sell. True, they receive an injection of cash, but without the biggest star in the Brazilian game, other revenues -- especially from sponsorship -- will surely plummet. The club did not have sole say in the matter, though. They owned only 55 percent of the player's registration. The rest belonged to investors -- 40 percent to a fund linked to a supermarket, and the remaining 5 percent to a group of illustrious Santos fans. If Neymar had waited another year, he would have gone as a free agent, leaving the investors empty-handed. This was clearly an important factor in the timing of the move.

But if economic forces are now driving Neymar across the Atlantic, for the past few years those same forces have enabled him to stay at home. A decade ago, there would have been no argument -- a youngster of such promise would have been snapped up by a European club after no more than a handful of first-team appearances. However, Brazil has since been enjoying a consumer-based boom and, with millions of supporters, the soccer clubs were perfectly placed to take advantage. In the course of Neymar's four-year professional career, the country's top clubs have seen their revenues double. This is the money that has kept Neymar at home, both in the form of wages paid by Santos and countless advertising campaigns in which the player has featured. Neymar is Brazil's boom made flesh.

But however dazzling the boom -- and there are signs that it is running out of steam -- it was clear that sooner or later Neymar would be heading for the exit. Players are motivated not only by financial considerations but also by a desire to earn each other's respect, and nowadays that takes place in Europe's Champions League. Neymar may have become the fifth-highest paid player in the world, but serious doubts remain.

Bayern Munich ambassador and former great Paul Breitner was last seen in medieval armour representing the club at Wembley on Saturday in the ceremony that preceded the Champions League final; he was in a similar gladiatorial mood on a much-publicised recent visit to Brazil. "Nobody knows how good Neymar really is," he said on a TV show. "Not even he knows. He has to demonstrate his quality where world-class football is played -- in Europe. He has to play every day against great players like Ribery, Cristiano Ronaldo, Rooney and all the other top players in Europe. Then we will get an idea of whether or not he is really a star."

There is little doubt that Neymar's permanence in Brazil has been good for Santos. For a start, the club have attracted a generation of new supporters. But it is not so clear that it has been as good for Neymar.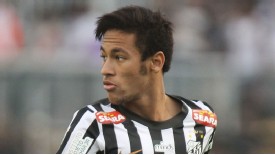 GettyImagesNeymar's talent is without question, but he has yet to prove himself at the top level
The talent of the 21-year-old is unquestionable. As flexible as a young George Best, he has the capacity to improvise at pace, to glide past his marker on either side, to see and seize on situations with such speed that it can appear he is working in a different time frame than his opponents. More than just a dribbler, he can pass, as well -- his right-footed crosses that curl in from the left toward the far post set up reams of chances -- and, crucially, he is a natural finisher, calm, precise and direct in front of goal.

But he has yet to tip the balance against top-class defences. Time after time, when he has come up against compact opponents who know how to reduce his space, he has struggled to make an impact. And it is not clear that he has made much progress over the past two years. There is a danger that he has been allowed to spend too long in a comfort zone -- shining in a style in which deep-lying defences leave plenty of space on the field and referees are quick to give fouls for the slightest physical contact.

How he will fare in his new surroundings promises to be one of soccer's most fascinating narratives in the next few years. He joins an illustrious line of recent Brazilian Barcelona success stories -- Romario, Ronaldo, Rivaldo, Ronaldinho down to today's Daniel Alves. Significantly, though, all of them found their feet in Europe with a smaller club before shining for the Catalan giants. In contrast, Neymar is diving straight in at the deep end. Sink or swim, he is bound to make a few splashes.

Tim Vickery is an English football journalist who has lived in Brazil since 1994 and specializes in South American football.