Bayern revel in cathartic conquest
A wait has ended, a weight is lifted and Bayern Munich thereby rise well above the rest of Europe.

Of that, there can be no argument. If the Champions League knock-out format only occasionally rewards the most rightful winner by accident rather than design, Bayern brutally eliminated any element of chance at Wembley. By the end of this ground-shaking showdown with Borussia Dortmund, their utter dominance reflected their undisputed status as the continent's best team. The 2-1 final score confirmed it.

- Tyler: A game we won't forget in a hurry
- Brewin: Dortmund lose, but gain friends
- Klopp: We tired late in the game

Jupp Heynckes has now won two Champions League trophies as a manager, while Bayern have lifted five as a club.
The key question now is whether this is the first of many for this squad.

Because, as much as this victory proved the culmination of one period, it may prove the start of something else.
That is the potential effect of a cathartic moment like this. The relief was evident. The release, for everyone else, may be ominous.

Make no mistake. Had Bayern managed to lose this match, and to such a close rival, it could have created an even more neurotic complex about this competition for the club.

Consider the amount of anxieties and troubling experiences that led up to Arjen Robben's eventual winner.

At that exact point in the previous year's final, Didier Drogba had scored the goal that sent Bayern's match into a tailspin. That strike had been preceded by a series of misses which had been repeated in this game, not least from Robben himself.

As Neven Subotic desperately cleared Thomas Muller's 71st-minute shot off the line just as the Dutch forward was ready to point, there seemed to be an element of destiny about it all; that Bayern would again be bound to punishing failure.
Instead, Robben made his own destiny by discarding so many difficult moments and memories and even having the poise to second-guess Roman Weidenfeller.

It illustrated remarkable mental fortitude, particularly after Ilkay Gundogan's penalty had almost immediately cancelled out Mario Mandzukic's scrambled opener.

"We didn't resign ourselves to our fate," Heynckes said afterwards. "We upped the ante and tried even harder. You've seen the result."

We've also seen the numbers. The chastening experiences of previous campaigns were offset by the champion-making excess of this one. Bayern have broken virtually every record going in the Bundesliga to arrive at this point. In that, it marks a true completion. They were hardened by the harsh lessons of 2010 and 2012, but also lifted by the luscious excellence of 2012-13.

"I think in the whole history of the Bundesliga there has been no team that has played at such consistency, such a high level, 25 points clearing and winning the championship, breaking almost all the records in the Bundesliga. Today, we saw that my team was determined to win that match," Heynckes said.

That was the other impressive aspect. Bayern did not just overcome the endings of their last two Champions League finals, but also the beginning of this one. For the first half hour, it seemed like an excellently intense Dortmund were going to blow them away. Instead, Heynckes's side held their nerve and gradually took hold of the game.

"To begin with, we didn't quite find our feet and I have to pay a compliment to Dortmund," Heynckes said. "They pressed forward, we didn't find our rhythm and it was a difficult match for us but, before the breakthrough with Robben, we had two opportunities and after the break we took command of the game. I think it's because of the second half we really deserved to win."

It also defined the differences between the two sides. As Bayern increasingly came together, Dortmund started to come apart. The gaps in their make-up grew even larger, allowing the likes of Robben more and more space.

That also reflects the chasm that has developed between the two squads as a whole this season, and that is no accident. It has come about for two reasons.

One, it must be admitted, is Bayern's immense work-rate. They did not just display drive, but also application.

"From the outset of the season, we have been changing things, improving things, adapting things. We have a team spirit and ability to work together which I have never experienced in a championship.

"We've worked tremendously hard for it, especially in the training sessions, but also on psychology, on communication."

There was also, however, the platform and power they enjoyed. Heynckes himself referenced the two key signings that effectively completed the team as a unit.

"[Javi] Martinez and Dante, players that have been bulls-eye successes."

And, as respectful as the entire post-match atmosphere had been between both teams and the two managers, Heynckes couldn't resist one big punch.

"We know [Mario] Goetze will be joining us and I don't think [Robert] Lewandowski will be hanging about too much either."

This, perhaps, is the real significance of this final. Had Dortmund won, it would have proven such a blow to Bayern that a true rivalry might have been fostered. Instead, they have only consolidated their singular dominance.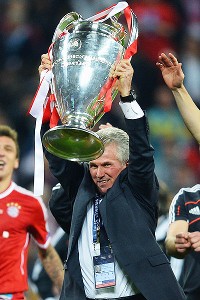 Laurence Griffiths/Getty ImagesJupp Heynckes won his second Champions League trophy as a manager.
They don't just have the resources; they don't just have all the most important signings; they don't just now have one of the best managers in Pep Guardiola.

They also have the belief and cathartic conquest that completes all of that.

Even Goetze will add another dimension to that attack.

It is frightening and may well see the Champions League retained for the first time since 1990. Now Bayern have finally banished their recent history, the rest of Europe suddenly has a lot of catching up to do -- even Barcelona, who they so humbled en route to this final.

As a consequence, Robben's goal represented the perfect ascension: an emotional last-minute winner to complete a commanding season that actually lifts the club above the Catalans in terms of European Cups won.

"I think of course FC Bayern next year will have to prove that can continue to do these things," Heynckes said. "But I think it possible that a new era in Europe might have begun under the aegis of FC Bayern."

It certainly felt like it on the night. Bayern themselves, meanwhile, finally felt like European champions.