Season review: Mid-table wilderness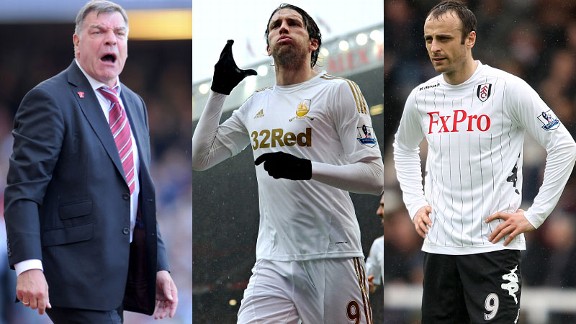 PA Photos
The race has been run. The winners are quaffing Champagne with their WAGs in the penthouse suite, the losers tapping at smartphones to familiarize themselves with places like Yeovil, and the rest ... well there's always next season to meet those expectations.

- Part 1 - Premier League top guns
- Part 2 - Mid-table wilderness
- Part 3 - Relegation fodder

But what was the story of how they got there? Who were the heroes, the villains, the masterminds and dunces, the memorable moments and those hellish happenings that are better forgotten? Below, ESPN's army of club experts assess the 2012-13 season.

8. West Bromwich Albion - Matthew Evans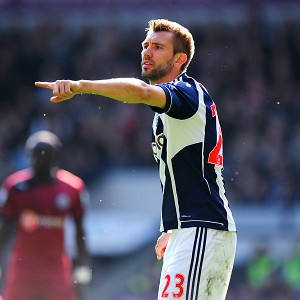 Stu Forster/Getty ImagesWest Brom's unassuming Gareth McAuley was one of the Premier League's most consistent performers last season and improved this year.
Hero and Villain
Hero of the season is Gareth McAuley. He was up there for player of the season at West Brom last year but he has got even better this term. McAuley has been streets ahead of any other defender at West Brom and must be one of the most consistent performers in the Premier League. He has also contributed some vital goals, none more so than the first goal in a smash and grab 2-0 win at Liverpool earlier in the season. McAuley doesn't do anything fancy, he's a defender in every sense of the word. He goes about his business quietly but effectively, which is a bit different compared to the villain of the season, Peter Odemwingie. Probably the easiest of the choices to make in this end of the season review. It's a shame that Odemwingie's relationship with the club and fans is going to end like this, but the whole QPR affair and subsequent fallout has left a bitter taste in the mouth.

Defining moment/turning point of the season
There hasn't really been a turning point of the season at West Brom, so for defining moment I will choose the opening day win over Liverpool. There was a lot of doubt concerning the appointment of Steve Clarke, so it was vital he got off to a good start and he certainly did with the 3-0 win over his former employers, which also gave Baggies fans their first look at the potential of Romelu Lukaku.

Was the club's potential fulfilled this term?
Yes. For a side like Albion to have stayed in the top nine for the whole season is an outstanding achievement, particularly when based on the wage bill they should be more like 15th. However, it is disappointing that West Brom haven't really kicked on from their outstanding start of the season.

Managerial masterstroke/fail
Steve Clarke's contacts at Chelsea seemed to play a large helping hand in securing a loan deal for Romelu Lukaku this season and the Belgian forward has not let Clarke down, excelling as the campaign has developed. Clarke has made some mistakes too, but the biggest was probably the rotation he used in the games with Swansea and Stoke in November. He picked the right teams but for the wrong games, meaning Albion lost both.

Goal of the season
Back to the opening day for this one (that seems a long time ago!) and it was Zoltan Gera's volley against Liverpool to give Albion a 1-0 lead at halftime. After his struggles with injury the previous season, it must have been a sweet moment for Gera to smash in a goal like that on his return.

What needs to change?
West Brom need to add some wingers to their squad. It is clear that Clarke favors a 4-5-1/4-3-3 formation, with the two wide men pushed high up the pitch. Peter Odemwingie and Zoltan Gera did this well in the first half of the season, but for different reasons, neither have really been viable options for Clarke since January and this is probably the main reason for the slump in form.


---
9. Swansea City - Max Hicks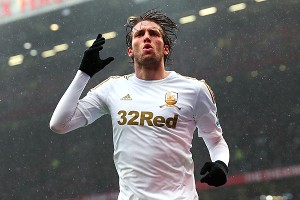 Alex Livesey/Getty ImagesMichu was clearly Swansea's hero this season, but was anyone else close?
Hero and villain
Swansea's hero this season might most obviously be Michu, the Premier League's signing of the season. Next in line might well be Michael Laudrup, the man who brought Michu to South Wales, and whose tactical savvy transformed the previously one-dimensional Swans into a more dynamic side. However, perhaps the Swans' rightful hero is Huw Jenkins and the rest of the board -- the men who brought Laudrup in to replace Brendan Rodgers in the first place. The Swans' success this season has all been a result of Jenkins's perfect managerial appointment.

It is harder to pick a villain. Possible candidates might be Scott Sinclair, for wanting away to Manchester City, or Brendan Rodgers, for poaching Joe Allen. However, neither player has been missed, and the money from those deals has paid for half a team of superior players, so who's complaining? Perhaps the real villains this term have been the referees. Swansea have not been given a penalty all season long, which must be some kind of record. It's just not believable that any side can play 37 games and not be fouled once in the box. Matija Nastasic's blatant poleaxing of Michu in front of a home crowd at the Liberty Stadium is perhaps the most obvious example yet of a penalty that should have been given and wasn't.

Defining moment/turning point of the season
Clearly, Swansea's winning the club's first major silverware in team history was the defining moment of this season. Although the 5-0 final victory over League Two Bradford was somewhat one-sided, the Swans' masterful elimination of Chelsea over two legs in the semifinals was a real achievement. The Cup win means European football next season, which is perhaps the biggest part of the reward for the players, staff and fans. It also means the club can now use European football as a lure for fresh talent in the summer transfer window, which could be significant.

Was the club's potential fulfilled this term?
Swansea have certainly fulfilled their aims this season. A better finish than last term's 11th place and a Cup win show real progress, and at the top level of British club football. Swansea had the chance to finish in eighth on the final day of the season, and might have secured it before that were it not for Roland Lamah's incorrectly disallowed goal in the 2-1 defeat to West Brom on March 9. Had the goal stood, the sides would have drawn and Swansea would be ahead of their mid-table rivals, rather than behind. However, a top-10 finish has to represent a successful season.

Managerial masterstroke/fail
Michael Laudrup's influence on the Swans is difficult to understate. He has brought tactical evolution, got the best out of Wayne Routledge, taught the team to park the bus when necessary, and improved team scoring and chance creation significantly. His transfers in to the side have nearly all been excellent, with Michu and Chico representing unmatched value at £4 million for the pair. Laudrup's occasional use of fullback Angel Rangel as a defensive winger has also paid dividends and given the Swans' small squad new flexibility.

If there is a criticism of Laudrup's first season in charge, then it might be the side's woeful set-piece performance both in attack and defense. Off the field, Laudrup's inability to replace Danny Graham after he sold the striker late in the winter window put a cramp on the side's attacking output. Michu scored 13 of his goals before the transfer, when he was played in the hole more often than not. Used predominantly as a striker since Graham's departure, Michu has only netted six times. Given a frontman to play behind for the whole season, who knows what heights the Spaniard might have reached? Maybe next season will tell.

Goal of the season
The Swans have a knack for constructing beautiful team goals, multi-pass masterpieces rather than the kind of individually spectacular 30-yard volleys that usually win goal of the week/month/season awards. However, that said, Ben Davies' magnificent individual effort against Stoke is, for me, the most memorable goal of Swansea's season. The 19-year-old left back, filling in all season for the injured Neil Taylor, has gone from raw, mistake-prone youngster to well-rounded,capable Premier League wingback, with even more potential in his locker. His goal, when the slight defender surged forward, received a layoff, skinned three of Stoke's biggest and burliest (Jon Walters, Ryan Shawcross and Robert Huth) and finished with a striker's touch, is his only career goal to date at this level, and it was a beauty.

What needs to change?
Swansea's set pieces have to improve. The side sit dead last in goals scored from set pieces and are somewhere near the bottom in goals conceded from set pieces too. If the Swans can reverse that trend for next season, it might be worth 10 points in the standings. It seems baffling that a creative football mind like Laudrup's has not developed a more imaginative approach to this part of the game; he certainly has the talent at his disposal to do something unexpected. A different tack is certainly needed, since the Swans lack enough collective height to capitalize on the classic approach.

In defense, many of the set-piece goals conceded have been the result of poor marking (I'd like to see strict man over zone at set pieces) and again, that height issue. If the Swans can improve their set pieces at both ends of the park, their most obvious weakness might even be turned into a strength. Oh, and the side who scored most from set pieces this season? Champions Manchester United, who put two set-piece goals past the Swans in their recent 2-1 victory, but couldn't score any in open play. Surely that says it all.


---
10. West Ham United - Peter Thorne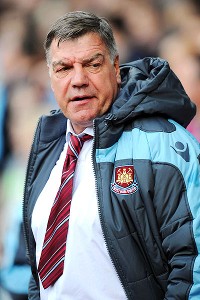 OLLY GREENWOOD/AFP/Getty ImagesSam Allardyce followed his own path this season, to the detriment and benefit of West Ham.
Hero and villain
Like the closing episode of "Twin Peaks" -- sorry if you haven't seen it, but you really should make the effort -- it seems Sam Allardyce is our own BOB, being both hero and villain in equal measure over the season. Castigated in some quarters for dull football, lack of imagination and the selling of the soul of the West Ham academy, Big Sam has -- as you'd expect -- done his own thing all season, shrugging off criticism to ensure the results were all that mattered.

Dark mutterings reached a peak just after Christmas when West Ham had their (some say customary) slump, with some even suggesting the Hammers were going to be late players in the relegation scrap. That was never really likely though -- it's just that the second half of the Premier League will often, as this season, be spanned by seven or eight points. As West Ham started to pick up points in the spring, there was a discernible change of attitude, with even the most vociferous critic conceding that not renewing Sam's contract would be the ultimate in face disfigurement.

Nevertheless, Sam is only ever a result or two away from abuse and the promotion of former Hammers' darling Paolo Di Canio to Sunderland was touted as a move that West Ham could have made had they been "braver." Actually, I think the brave thing is to stick with a man who doesn't necessarily eschew the old West Ham traditions -- after all, they haven't really brought much success in the last 30 years have they? -- but who has an uncanny knack of getting results ... even if not many of them are away from home!

Defining moment/turning point of the season
Beating Chelsea 3-1 at home in the first week of December. West Ham had been largely outplayed during the first half, but Sam Allardyce introduced the "resting" Mo Diame after the interval and the ex-Wigan man put in one of the season's most defining 45 minutes as the Hammers tore the Blues apart in the second half. It proved the manager could spot where things were going wrong and change things and, almost as importantly, West Ham had players who could hurt the opposition regardless of the opponent's quality. With a number of good results already under their belts, I would say that West Ham were safe from relegation from this game on.

Was the club's potential fulfilled this term?
Fully. A top-half-of-the-table finish was probably more that the club could have asked for.

Managerial masterstroke/fail
The aforementioned introduction of Diame against Chelsea and the signing of Andy Carroll -- although injured for part of the campaign and probably not being the productive goal-scorer it was hoped he might be -- ensured that West Ham were prepared to go big to ensure their safety and the psychological impact on squad and fans was worth any loan outlay alone.

The final six weeks of the season and the settling into the mid-table/top half have helped some of the fans come to terms with what has sometimes been a difficult season for Allardyce. Claims that West Ham are a long-ball team have been hard to dispel, even though there really isn't anything to prove that is the case. Despite claims that it's the Hammers' inability to play attractive football and a more expansive game that would be viewed as a failing, I feel Sam's major issue this term has been the ability to get the best out of his team away from home. West Ham have one of the worst records in all four divisions in terms of goal scored and this needs to be sorted out as a matter of urgency.

Goal of the season
Mo Diame's curling strike from just outside the area against Manchester United that put them 2-1 up on the night, was voted as the club's goal of the season but I preferred Andy Carroll's ability against West Bromwich Albion in a 3-1 home win. In the 80th minute, a lofted free kick from James Collins was seized on by Carroll, who allowed the ball to drop over his shoulder before volleying in. It was sheer class and the type of goal that deflates the opposition.

What needs to change?
There's a strong need for a more clinical finisher and someone able to dictate play in the middle. Too often West Ham get bogged down and seeing the aerial prowess of Carroll meant it was too easy to play the ball up safe in the knowledge that the Geordie would probably win it. West Ham's successful pass rate was beaten in too many games, and this needs to be addressed if the Hammers want to pick up more points away from home.


---
11. Norwich City - Paddy Davitt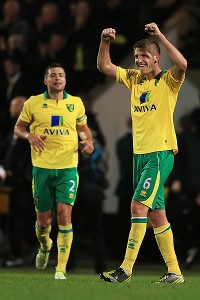 Richard Heathcote/Getty ImagesMichael Turner overcame a shaky start at Norwich and won his teammates' appreciation.
Hero and villain
Michael Turner fulfilled both roles in a truly memorable debut season for the club. The simple fact he was awarded the players' player of the year was a triumph over early-season adversity. Turner's first game in Norwich colors ended with a humiliating 5-0 opening day defeat to Fulham. By the time Luis Suarez had mesmerized him at Carrow Road in a 5-2 win for the Reds the following month, Turner had to be pulled out of the firing line by Chris Hughton to spare him any more punishment. Not only did he return to the ranks, he became an indispensible cog in the machinery until a groin injury prematurely ended his campaign.

Defining moment/turning point of the season
Victory over West Brom in the club's final Premier League home game ultimately secured a third consecutive season of top flight football. But Hughton himself always points to the landmark 1-0 win over Arsenal in late October as a key staging post. City's first Carrow Road league win of his tenure was a watershed moment. It underpinned a club-record unbeaten 10-match run-up until Christmas that formed the backbone of Norwich's successful survival bid.

Was the club's potential fulfilled this term?
Chris Hughton's only remit after succeeding Paul Lambert was to maintain Norwich's Premier League status. To finish 11th massively exceeded expectations and was even an improvement on their comfortable mid-table finish in Lambert's solitary campaign at this level -- their first in the top flight since 2005.

Managerial masterstroke/fail
The purchase of Sebastien Bassong from Tottenham. Bassong was crowned the supporters' player-of-the-year after a superbly consistent season at the heart of the Canaries' backline. Hughton has since labeled his acquisition one of the best pieces of business he has done in his managerial career. Bassong not only shored up a leaky defence, but also exuded a calm authority that made those around him in the backline appear even better players. On the downside, Hughton's cautious approach at times and defensive outlook led to a series of drab, drawn affairs against Reading, Fulham, Newcastle and Southampton, which could have ensured a smoother passage to safety.

Goal of the season
Jonny Howson cornered this market with two sublime goals in the final two games of the Premier League season. His rocket from the edge of the area sealed a 4-0 win over West Brom that guaranteed survival, before a solo effort that took him beyond four Manchester City players prior to a cool rolled finish past Joe Hart for a classy match-winner on the final day. Given the surroundings and the significance of the goal in propelling Norwich further up the final Premier League table, Howson's solo strike at the Etihad probably shades it.

What needs to change?
Ricky van Wolfswinkel's club-record purchase from Sporting Lisbon is a major signal of intent. Hughton has spoken candidly about the search for goals to embellish the Canaries' defensive resolution. A proven striker who can operate in his preferred lone frontman system is a must to turn Norwich from serial survival scrappers to Premier League mainstays. Norwich supporters would expect further attempts at attracting fresh firepower over the summer recess.


---
12. Fulham - Phil Mison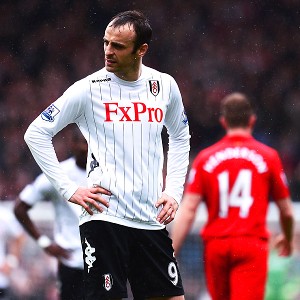 Mike Hewitt/Getty ImagesIt could be argued Dimitar Berbatov's 15 goals saved Fulham from relegation.
Hero and villain
Luring Dimitar Berbatov to Fulham proved a master stroke. On his day, Dimi still looked the real deal. Some feat when not surrounded by a side of megastars wearing red. His 15 goals eased the pain of losing Clint "the Deuce" Dempsey and ultimately saved the club from relegation. Whoever would have thought little old Fulham could beat a host of Europe's top clubs to his signature? He was even seen to track back at times and defend the odd corner -- remarkable!

As for the villain, it's Dimitar Berbatov again. How come? Being clearly Jol's "untouchable" in the side, the Bulgarian's team ethic was nonexistent, his petulance on the park and intolerance of other's shortcomings was unprofessional and insulting. Running the Bulgarian close, however, was the enigma of our season, Bryan Ruiz. Fulham's most expensive signing looked too often a bit-part player. Lackadaisical, limp and infuriating. I remain unconvinced Fulham can accommodate the Costa Rican and Berbatov in the same 11. Bryan continues to polarize opinions at the Cottage like no other.

Defining moment/turning point of the season
What should have been a routine three-pointer at home to a Sunderland side on the skids started the rot in November -- always a notoriously poor month for Fulham. Captain Brede Hangeland draws a red card from Lee Probert after 30 minutes for a rash challenge on Lee Cattermole. Sensing this might be their night, the Black Cats score first after the interval, but Fulham level and are right in the game. Scorer Mladen Petric unfortunately takes a gash to his leg hitting the equalizer. While off the pitch, and with Fulham now down to nine, Sunderland go back in front with a very soft headed goal from a corner. Stephane Sessegnon pulls a blinder out of nowhere on the run and the Whites go down 1-3. An early signal that Craven Cottage was no more "fortress Fulham."

Was the club's potential fulfilled this term?
Undeniably not. The rug got pulled back in the transfer window when both Dempsey and Mousa Dembele were lured over to Spurs. Alongside other summer departures the club had prepared poorly for reshaping a slow and aging squad. January brought little relief as the board tightened the purse strings and Jol was left scavenging for bit-part players where he could find them. Although Fulham never quite got sucked into relegation peril, the club went backwards in Jol's second season -- three places lower in 12th and nine points fewer. Although the away record stood comparison with WBA and Everton, the side conceded 60 goals. Relegation form!

Managerial masterstroke/fail
With Fulham experiencing two long barren runs, losing more home games than fans expect to see, and the side playing pedestrian and unimaginative football where not one single effort on goal occurred in some games, the jury is still out on the manager and his future remains uncertain as I type. While Jol was himself no doubt frustrated, and deprived of two key individuals for the run-in (Steve Sidwell and Ashkan Dejagah), his tactics were muddled and his ability to motivate the side seems questionable. May ultimately be damned for some indifferent signings too. The defeat at the worst club in the league, QPR, was truly shocking, and Jol could find no words to explain it.

Capturing Berbatov was a coup, however, without question. The gaffer also takes credit for bringing Sascha Riether to the club -- Fulham's standout player of the season.

Goal of the season
Berbatov's volley against Stoke that proved the match-winner. The scuffed winner at Spurs was special too, depriving Tottenham of the Champions League after nicking the club's two best players. Sweet!

What needs to change?
Fulham have considerable rebuilding to do with strengthening required all across the pitch. Early signs, however, are encouraging that the board have realized this and already moved early in the market. More pace and power is urgently needed to transform the slowest and oldest squad in the Premier League. And, above all else, the side must find a new midfield general in the mold of Danny Murphy.


---
13. Stoke City - James Whittaker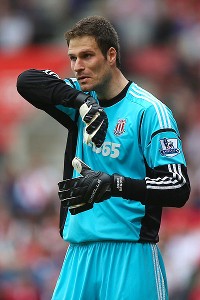 Bryn Lennon/Getty Images Asmir Begovic has stayed focus in what has been a difficult Stoke season.
Hero and villain
The hero would be Asmir Begovic; the one positive Stoke are able to take from this season. Asmir is widely expected to be named player of the season at the annual awards and rightly so. Having seen his name in the papers linked with Chelsea, Arsenal, Manchester United and even Barcelona, he has stayed focused on what has been a very difficult campaign for the team and this week pledged his immediate future to the Potters.

Villain? That would have to be the manager, Tony Pulis. Always a divisive figure since his return to Stoke, he has continued to frustrate and annoy. Many who had previously backed him are now starting to tire of the same mistakes being made season after season. With Stoke narrowly avoiding relegation, those frustrations have reached a peak and the focus of the fans is very much on what will happen at management/boardroom level in the close season.

Defining moment/turning point of the season
The Boxing Day victory over Liverpool when Pulis returned to the formula, in which his team get to an FA Cup Final and Europe, playing two wingers and Kenwyne Jones/Jon Walters up front. I say this was defining as it illustrated just how far away Stoke have been from that winning approach since those heady days. With that team not being selected before that match, or indeed again that season, despite everyone holding that game up as Stoke's best performance, including the manager, speaks volumes.

Stoke have been on a downward spiral in respect of their league performances for the best part of two seasons and the manager's insistence on using Crouch would have seen that continue were it not for Coloccini's elbow. Following Crouch's injury, Jones came back into the side and kick-started the season, helping to amass 13 points in a nine-game period, without those points, quite simply, the Potters would be down.

Was the club's potential fulfilled this term?
Absolutely not. With the amount of money spent, the signing of playmaker Charlie Adam and not having Europe as an excuse, the stage was set to finally push on, but what followed was a continuation of the form and manager idiosyncrasies that saw Stoke bottom, or thereabouts, of every offensive table you could find.

Managerial masterstroke/fail
Charlie Adam. It was a managerial fail to bring him in with little idea of how he would be used, shoehorning him into his archaic and rigid system and expecting the 20-goal return he had at Blackpool. The "masterstroke" would be bringing him back into the side when Stoke were truly up against it and entirely devoid of inspiration and creativity on the pitch. Adam has been a revelation over the last month or so and was key in those two games won against QPR and Norwich. I put masterstroke in quotes as the very fact the club needed to bring him back into the side was in no small part due to his being poorly managed for the majority of the campaign beforehand.

Goal of the season
That would be Cameron Jerome's strike against Southampton. An absolute belter that nearly took the roof out of the net, such was the venom it was hit with. You could tell there was a lot of frustration behind that shot due to his continued exclusion, despite his impressive cameos, so I'm glad that he has since been given a chance to play more of a role these last few weeks -- putting firmly to bed the myth that he is solely an impact player.

What needs to change?
The manager. Whether that would be my preferred option of removing him in favor of someone who would attempt to win games as opposed to not lose them OR if he has to stay, the current manager changing many of his frustrating ways. Either way, change is critical this summer to address a number of areas on and off the pitch and there is a lot of work to be done, whoever it is that oversees that.