Anticipation builds upon London arrival
This is Stephan Uersfeld's second entry to his Champions League final diary.

Sat in a bar in Camden and picked up the guitar for the Borussia Hearts Club later on today -- an evening of celebrating Borussia Dortmund in a London pub.

A day of travelling. It all kicked off in Berlin early on Thursday morning, 12 hours in the car. Crossing the borders to the Netherlands, a handful of cars sporting black and yellow scarf, getting lost at a Spaghetti Junction in Eindhoven. Never mind. Tired. Really tired as I look back on the year that took us to Wembley.

We have come a long way, boy. Passing on to Belgium now, at a rest area, the first signs of Dortmund. An armada of trucks with, "Thanks a million for inventing the game we love" written all over it. There is no fairy-tale without a bit of bootlicking. Marketing? Real love? The other picture shows Dortmund players walking the Abbey Road zebra crossing. John Lennon is never far away.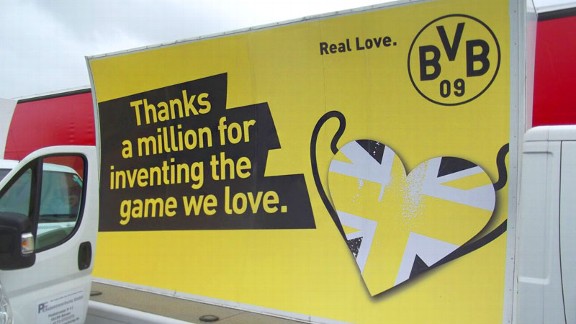 Courtesy Stephan UersfeldThe sign seen on the way to London.
"You're here for the football?" asks the British customs officer in France. "They should have played that in Germany."

No hell below us, above us only water.

Manowar on the stereo as the sky turns black in Folkestone. England sends out a welcome message and so the rain falls as we make our way into London. Some 12 hours after leaving Berlin (never easy) we are finally there, up in Northern London, some four tube stops away from Wembley. To see Borussia, in Wembley.

- Delaney: Can Dortmund spoil Bayern's season?

- Explaining the Dortmund love affair

- BVB: Ground zero to Wembley

The Kosovo-Albanian selling Fish & Chips, talking football, and of how he supports Arsenal and Bayern Munich will never be beaten. So long and thanks for the fish, which was amazing. A pub later that evening. Irish men drinking. "You are here for the game? Dusseldorf will win it." Does he know about us taking Dusseldorf down last week?

Surely not. "Glad you see the back of him, eh?" his friends ask once he has left the bar. "We tried to bury him. He won't die." We hear stories from Germany, sometime during the 70s, we drink, have to try the Guinness and listen to the "Germany will win it!" chatter. We are only four tube stops away from Wembley. To see Borussia, in Wembley only two days!

A lady kisses our pendant, despite being a Manchester United fan. Good luck. And by the way the beer is much cheaper in the bar next door. But there is only sleep. Waking up, only one day to go until the big game. In Wembley. Against Bayern Munich.

Waking up, tracing Dortmund fans from all over the world on their way to London. A Dortmund fan liaison officer cracks up, posts on social networks on how we have been dead, and have come back from the dead as recently as three years ago. "Let's just enjoy and leave our card in Wembley!"

Meanwhile in London, Web and I fight with Oyster card machine and carry black n' yellow bags through town. Bayern fans. Queuing behind us. Quiet. Really quiet. As they look at our bags and scarfs and at the fun we have.

Only a couple of hours until the Borussia Hearts Club in London, until the final weekend finally kicks off. With all the fans coming in. In the meantime, exchanging a Jurgen Klopp cushion for a guitar that will make the Ballspielorchester 09 on stage tonight.

It will be the fourth edition. The first two taking place in Dortmund's famous Subrosa bar to celebrate the Bundesliga titles, the third in a pub in Berlin, ahead of the cup final last year. Today Stand AMF will join us and talk about their magazine, the great Uli Hesse is to give an early preview of his book on Borussia Dortmund fans and there will be music, dancing, Borussia and beers. What a great way to start the final 24 hours. Ehab from Iraq will be joined by Bern from Dublin and Kenny from Edinburgh and Lennart, who has travelled all the way from Brazil without a ticket. Just to be in town. When Dortmund play Munich in Wembley on Saturday night.

And at a London airport, the eagle has landed. Godspeed, you black and yellow footballers!