In the Neymar soap opera, who blinks first?
Sao Paolo, BRAZIL -- Brazilians woke up Thursday to the news that their superstar Neymar has never been so close to making his way to the airport. Four years after taking the nation's imagination by storm, the striker seems poised to join Messi & Co. at the Camp Nou.

The only stumbling block appears to be the amount of money Barcelona have reportedly offered Santos FC. But it is just a matter of time.

Over the past couple of days, negotiations have evolved into an even more elaborate game of chicken than usual. According to Brazilian media reports, Santos have turned down two formal offers in the past two days, the latest one in the region of 25 million euros ($32 million). Regular followers of the "Will Neymar stay or will Neymar go?" saga will know that Barca's valuation falls short of the 65 million euro ($84 million) release clause in the striker's contract and that the Brazilian club has never looked for anything less than 40 million euros ($52 million).

However, the clock is ticking louder than before. Neymar's deal with Santos expires in July 2014 -- right after the World Cup -- and the striker has announced that he won't renew. This leaves Santos somewhat cornered. Refusing to sell now might result in losing Neymar for free in six months, yet their reluctance is completely understandable. In commercial terms, the club that's famous worldwide for giving a certain Edson Arantes do Nascimento (Pele) to the world will soon see revenue and interest decrease to "Before Neymar" levels.

Since the skinny lad with a bad haircut broke on to the first team in 2009, turnover has increased by more than 200 percent, with marketing receipts shooting up by more than 400 percent. Having led the team to five trophies, including the 2011 Libertadores Cup -- something Santos hadn't won since 1962 with Pele -- Neymar contributed to an increase of nearly 40 percent in fee-paying supporters between 2009 and 2012, the biggest total in Brazilian club football.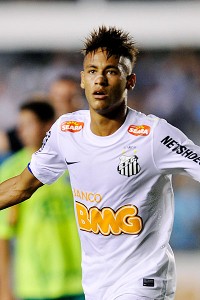 Helio Suenaga/Getty ImagesWith Neymar's current contract set to expire next summer, it's in the interest of all parties to faciliate his European move sooner rather than later.

To make matters sweeter, the club has to fork out only 15 percent of the reported 1.1 million euros that Neymar bags every month in wages; thanks to an elaborate marketing plan, Neymar is more or less bankrolled by a "Sponsorship XI" of 11 brands, including underwear and car batteries, hence why Santos have been able to keep Neymar for so long and fend off Chelsea, Real Madrid and Barca along the way.

Third-part ownership also needs to be factored in. Cannibalizing a player's economic rights is allowed in Brazil; in Neymar's case, he has three shareholders with the club holding 55 percent and two finance groups holding the other 45 percent. That also represents the breakdown of any Catalan monies coming in.

Compared to the Brazilian club, Barca look comfortable in this situation. Their representative in Brazil is reportedly staying at one of Neymar's residences in Santos, a seaside town near São Paulo, while the Catalan club have apparently already secured a commitment from the player with a 10 million euro ($13 million) "golden hello" -- with reports both in Brazil and Spain that the deal includes a fine if Neymar changes his mind.

A stalemate between Santos, Neymar and Barca could just mean that the Spanish club pays much less down the line. The problem is that other clubs might pounce as well. There is rumored interest from Madrid and Munich, especially now that Bayern have Pep Guardiola, whom Neymar is a great fan of. Barca, however, is the club he never shied from admiring publicly, and the Catalans' charm offensive -- for example, using ego massages in the form of Lionel Messi quotes -- hasn't gone unnoticed.

Above all, it seems to have dawned on Neymar that a move could be the best thing to extract him from a bubble where the air is getting a bit stale. Since last year, his form has dipped and his performances for club and country have mostly been lackluster. Some observers -- including his club manager Muricy Ramalho -- have mentioned that getting out of Brazil would be a wise career move. Even the legendary Zico believes that Europe could offer Neymar a crash course in overcoming the marking that has been keeping him so quiet in recent games for the Selecao.

Leaving home would also prevent Neymar from blurring the lines between man and brand. In Brazil, the young star is almost omnipresent in the media, including ads where he dances in boxer shorts and cameos in soap operas and music clips. Some advice from the Jedi master in this field, David Beckham, would prove precious.

Most of all, Europe would give Neymar some breathing space. He's only 21, and the pressure at home is getting under his skin, especially when Brazil's supporters have resorted to booing him in Selecao games.

Ultimately, Neymar and Santos have a decision to make, and somewhat quickly, given the delicate timing of his contract and the interest of the big clubs chasing his signature. How's that for a cliffhanger?

Fernando Duarte is a U.K.-based Brazilian football expert who has followed the Selecao for 10 years and regularly features as a pundit for media outlets in Europe, South America and Asia. He's a Flamengo fan and can be found on Twitter @Fernando_Duarte.