Borussia Dortmund: From ground zero to Wembley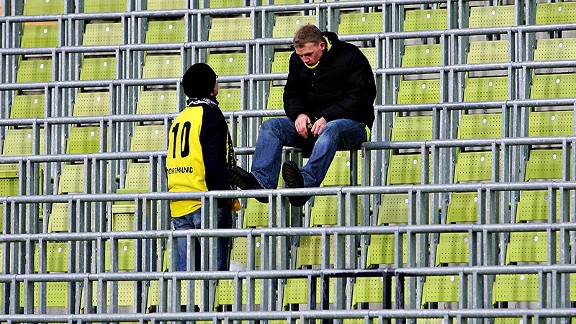 Vladimir Rys/Bongarts/Getty ImagesThe lowest of the lows for Dortmund fans came in 2005 when their beloved club nearly entered administration.
Eight years after Borussia Dortmund's biggest triumph, they hit rock bottom. The 1997 Champions League winners were facing administration. President Gerd Niebaum and general manager Michael Meier had paid the price for the successes during the '90s and their craving for status.

Throughout the '90s, Borussia Dortmund spent money on players, luring the likes of Andreas Moller, Stefan Reuter, Jurgen Kohler, Matthias Sammer, Karl-Heinz Riedle, Julio Cesar and Paulo Sousa to Dortmund. Under coach Ottmar Hitzfeld, Dortmund won back-to-back championships and in 1997 lifted the Champions League trophy. It then went all downhill.

A tired Hitzfeld was kicked upstairs as a mere figurehead into the newly founded sporting director position. In 1998 he subsequently returned to coaching and took over Bayern Munich. Hitzfeld was replaced by Nevio Scala, who hoped "to coach the best team in the world," but got a smug team instead. Scala lasted a season. Injuries added to the misery. Sammer, the 1996 European Footballer of the Year, played his last Bundesliga game on Oct. 4, 1997, finally announcing his retirement in 2000.

The Champions League triumph was followed by a handful of mediocre Bundesliga seasons and several overpriced transfer flops with Victor Ikpeba, Fredi Bobic and Sunday Oliseh serving as the most prominent names. Dortmund finished outside the European ranks in 1998, finished fourth the year after but failed to make it out of their Champions League group. In the aftermath, coach Michael Skibbe was sacked, making way for Bernd Krauss, whose record of eight games without a win is unmatched in Dortmund's history.

Niebaum and Meier did not give up. They appointed Udo Lattek and Sammer as joint coaches and all the while had everything set up to get enlisted on the stock market. They did so in October 2000 and made some 140 million euros. "This is the club's second birthday," president Niebaum said. To celebrate, Dortmund went on a shopping frenzy. They signed Tomas Rosicky, Jan Koller, Marcio Amoroso and Sebastian Kehl, to name a few. To this day, the 25 million euros paid for Amoroso remains the club's highest transfer fee ever. It bought Dortmund the title as they gambled on future successes and built their financial structure on Champions League qualifications for the next few years.

Moreover, the prospect of hosting a 2006 World Cup semifinal fueled Dortmund's policy of "stones and bones," as the duo Niebaum and Meier used to label their philosophy. The capacity of the famous Westfalenstadion was increased to 83,000 (and later reduced to 81,264), and while it got Dortmund the World Cup semifinal, the club was forced to sell their shares for 75 million euros to finance the expansion. A company named Molsiris bought it and leased the stadium back to Dortmund.

In August 2003 they lost the Champions League qualifier against Club Brugges and a few months later the first media reports mentioning Borussia's financial difficulties appeared. In a last desperate attempt to sweep negative stories aside, Niebaum and Meier threatened to sue the journalists breaking the story. They never did. In February 2004 Dortmund had to announce a loss of 29.4 million euros over a period of six months.

In the summer of 2004 Dortmund sold the stadium name and to this day have yet to buy it back. They also put five players in pawn, one of them being Rosicky. The downward spiral spun faster and faster and by October the club announced a loss of 67.7 million euros and reported 118.8 million euros debts. Niebaum was forced out of presidency.

When the second half of that season kicked off Dortmund fans marched through Hannover with "not for sale" banners in front of them, but things were even worse, with newly appointed CEO Aki Watzke admitting the club was close to going into administration. But in March 2005 things slowly began to turn around. Shareholders in the Molsiris stadium fund granted Dortmund a lifeline during a meeting at the Dusseldorf airport. They renounced several millions of interest payments instead of forcing the club into administration. President Reinhard Rauball stood in front the press. "I don't want to be in this situation ever again. Those were the worst hours of my career," a chalky white Rauball said.

A year later Dortmund began the rebuilding of their squad. But it was not all sunshine with hardly any money to spend, and while paying off debts, Dortmund tumbled toward becoming one of the former greats. In 2007 they nearly got relegated and general manager Michael Zorc came under heavy fire from the local media, who tried to install former Dortmund player Michael Rummenigge, the brother of Bayern's Karl-Heinz.

"They had thrown me on to the scrap by then," Zorc said, looking back on the time when Dortmund entered the third phase of rebuilding. "The first chapter was survival, the second restructuring, the third working on a new sporting philosophy," Watzke explained in an interview. The new philosophy built around looking back on the club history and giving the Dortmund fans what they wanted for a long time, a team fighting for its life, regardless of what they were capable of as players. The philosophy did not include Thomas Doll.

By the time Jurgen Klopp joined Dortmund from second-tier team FSV Mainz, Dortmund had entered chapter four, converting the philosophy onto the pitch. From day one on, Klopp conquered the hearts of Dortmund fans by storm. "I am certain we have found a convincing solution for Borussia Dortmund," said Zorc, who was a key to attracting Klopp to Dortmund. And so the fairytale began.

Dortmund finished the next season just outside the Europa League spots, and while at the same time readjusting their squad continued their rise from the dead. They qualified for Europe in 2010, throwing away their first real European campaign in several years for their triumphant return to the top of Bundesliga football.

In the summer of 2011 they lost Nuri Sahin and signed Ilkay Gundogan from 1.FC Nurnberg, who had problems filling the gap Sahin left. But Shinji Kagawa, bought for 300k euros from Japan the season before, returned from a foot injury in impressive fashion and guided Dortmund back to the top of the league. And when Mario Gotze missed the second half of the season, Poland international Kuba arrived at Dortmund, after four years of being considered a promising player. However, they did not make it out of their Champions League group that year.

In 2012-2013 they did. By now most of the debts have been paid off. "The fifth chapter," Watzke said "is sustainability."

Dortmund fans hope it is a chapter that lasts forever.