Domestic rivalry intensifies Champions League stakes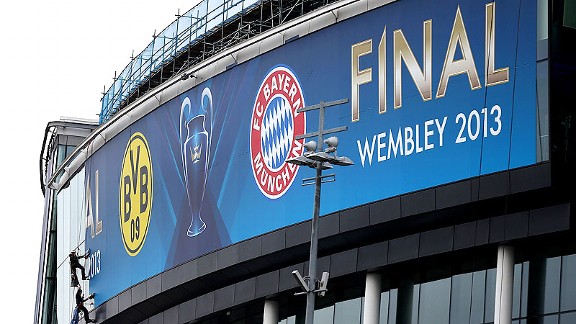 Matthew Lewis/Getty Images For German rivals Dortmund and Bayern, the Champions League final isn't so much about winning as it is about
not losing
.


Only the most masochistic fan would actually want to face a club from their own country in a Champions League final. German football's current rivalry is the latest in which clubs must run a gauntlet where not losing becomes more important than winning. Victory might be sweet, but defeat would be bleak.

Aside from logistics -- higher travel costs to meet demand -- losing becomes an unthinkably stark prospect. Ask fans if they would prefer to lose in a semi or suffer defeat in the final to a domestic rival, the answer would be unequivocal. Perhaps this is the reason that a Champions League final is yet to feature a "Clasico", a Milan derby or even Liverpool against Manchester United. The last of these remained possible at the semi-final stage of both the 2006-07 and 2007-08 seasons but never came to pass, most probably to the relief of fans, organisers and local police.

The Champions League went against trade descriptions when it began letting in runners-up in the changes that followed the 1996-97 season. In England, fans of Newcastle United, who had never really been in that season's title race but sneaked in late ahead of Liverpool and Arsenal to finish second, could be heard singing of their team's participation.

Once the competition was extended beyond mere champions, the possibility of clubs from different countries meeting each other became significantly higher. Previously, defending European champions perhaps could face the champion of their own country. It had happened before, but rarely. Barcelona ended Real Madrid's grip on the European Cup in the 1960-61 season at the quarterfinal stage, only to catastrophically lose to Benfica in the final.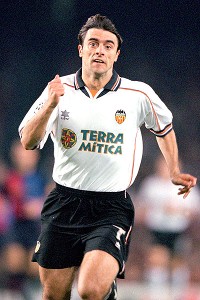 Graham Chadwick/Allsport/Getty ImagesClaudio Lopez had a hand in denying a Clasico final in Paris in 2000, but Valencia was then picked apart by Real Madrid.
Brian Clough's Nottingham Forest knocked out Liverpool, winners in both 1977 and 1978, in the first round of the 1978-79 European Cup. These were times of seedless draws, a random factor that UEFA has now all but abandoned until it possibly cannot avoid it. Until the doors were opened to the also-rans, too, this was the only all-England clash from the old European Cup.

Some blockbuster domestic-goes-continental clashes between two dominant forces were avoided by outrageous fortune. Ajax's dominance of the European Cup began in 1971. Holders Feyenoord were avoided because the Rotterdam club had gone out on away goals to Romania's long-forgotten UTA Arad.

Borussia Moenchengladbach exited to Real Madrid in 1975-76, and Bayern won their third successive European Cup during a time Gladbach were marching to three successive Bundesliga titles. The following year, Bayern lost to Dynamo Kiev in the last eight, when their rivals made the final. On both occasions, the surviving Germans met their compatriots' conquerors in the very next round.

Even when Serie A was the continent's best league from the end of the 1980s until the brink of the new millennium, their teams avoided each other. Inter wrested the Scudetto in 1989, only to lose to Malmo in the first round as AC Milan breezed to a second successive title.

Milan remain the last to achieve that feat. Not even Barcelona have managed it in the Champions League era. A broader church of opposition has brought depth and difficulty. Now, domestic rivals might trip you up, too. When the competition was further expanded before the 1999-2000 season as a response to moves to create a European Super League, the possibility of a one-nation final was further increased.

It happened straight away. And a new phenomenon of a single country having three clubs in the last four happened at the first time of asking, too. Valencia were a Borussia Dortmund of their day, a rising force whose best young players and manager Hector Cuper would eventually be picked off by wealthier concerns.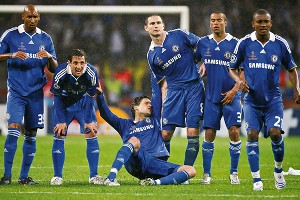 Tom Jenkins/Getty ImagesJohn Terry's name lived in infamy after he missed a penalty shot for Chelsea against United in the 2008 Moscow final.
Valencia's 4-1 defeat of Barcelona in the 1999-2000 first leg of the semifinal meant a Clasico in Paris was denied. Gaizka Mendieta and Claudio Lopez were the match winners. The pair would soon move to Lazio in sky-high deals that had Sergio Cragnotti increasing the price of milk and fruit in Rome to pay for them.

The Stade De France's all-Spanish affair was damp for the neutral. Valencia were taken apart by a Real Madrid team whose experience of winning the competition two years earlier told. This was Raul at his peak, and in tandem with Fernando Morientes, too.

Italy's turn came in 2002-03, and similarly three Serie A clubs appeared in the semis. A Milan derby ended in more Inter disappointment when an Andriy Shevchenko "away goal" in the San Siro gave AC Milan a lead that Inter, despite a late flurry from supposedly 17-year-old Obafemi Martins, never overturned.

Old Trafford, Manchester's final of 2003, between Milan and Juventus is regarded by history as a dull affair, but that does not take into account a fine first hour that showed off Serie A's continuing high quality. From there, defence assumed a controlling role and with nerves playing their part, too, penalties beckoned once extra time arrived. The anxiety continued in the shootout as Trezeguet, Zalayeta and Montero missed for Juve, while Seedorf and Kaladze erred for Milan. Shevchenko, then the continent's best striker, coolly converted the winning penalty.

Moscow 2008 was perhaps the most yet exciting of the one-nation finals. Cristiano Ronaldo's goal, Frank Lampard's winner, two halves which Manchester United and Chelsea dominated one each, and Didier Drogba's sending-off are often forgotten in the light of John Terry's penalty miss in the shootout. For Chelsea, it felt worse to lose to United than a team from another country. "Viva John Terry, could have won the cup, but you f----- it up, viva John Terry," United fans sing whenever their team is playing Chelsea.

Such a prospect will face a player from either Bayern or Borussia. It's not the winning, it's not even the taking part -- it's the not losing that will count.