The personalities set to dominate the CL Final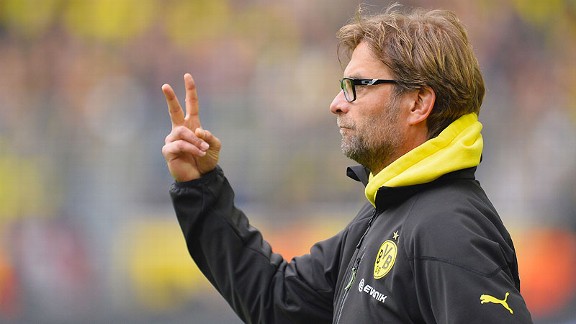 Stuart Franklin/Bongarts/Getty ImagesDortmund manager Juergen Klopp has artfully sidestepped the talk about Mario Goetze's defection to Bayern.
The main storyline, at the least, has been significantly altered.

Because more than any Champions League final in history, the 2013 showpiece seemed set to be singularly defined by the unique drama surrounding one individual. Mario Goetze's transfer from Borussia Dortmund to Bayern Munich not only escalated the rivalry between the two clubs; it encapsulated their different directions and philosophies.

Now, his hamstring injury shifts the emphasis and makes this more like most other Champions League finals. The fixture is the biggest club match in the world, but it still so often comes down to single individuals whose influence ripples out.

With Goetze gone, a few other storylines will come to the fore. Despite the sheer scale of the game, it still can mean so much more to some players than others.

- Goetze out of Champions League final
- Sammer hits back at Klopp comments
- Lahm 100 percent confident of Bayern win

Both of these two German clubs have seen that in the past. In 1997, Paulo Sousa had more reason to relish the moment than most of his teammates even though it was actually his second trophy and Dortmund's first. The Portuguese midfielder had just helped defeat the Juventus team that had lost faith in him the previous summer.

"They didn't believe in my quality any more, thought I couldn't reach the same heights," Sousa said then, after Dortmund's 3-1 win. "That was the wrong decision."

When Bayern Munich finally got it right in the 2001 final against Valencia, Samuel Kuffour could have been forgiven for expressing more joy than the rest. He had infamously pounded the Camp Nou turf in pain after the 1999 defeat to Manchester United. The camera couldn't help but focus on him.

On Saturday, Goetze will be the subject of similar shots -- but he'll be shown in the stands. A few others, instead, may demand the main spotlight.

Juergen Klopp -- It is the ultimate indication of Klopp's charisma that the transfer of Goetze did not completely dominate the buildup to this final. By contrast, with his latest round of interviews, the Dortmund manager refocused the discussion and further illustrated his charming personality. Rather than dwell on Goetze's defection, Klopp used it as an opportunity to restate the case for his club's more romantic approach. It was extremely persuasive. An individual manager hasn't made this kind of initial impact on the psyche of the continent's football since Jose Mourinho back in 2004. Even Pep Guardiola's rise came accompanied by Barcelona and Lionel Messi. Klopp has struck out on his own terms, and even without one of his stars. It is Goetze's very move that means defeat wouldn't affect Klopp's status. On the other hand, victory could launch him to whole a new level.

Jupp Heynckes -- It would be quite the send-off. Heynckes has the tantalising opportunity of marking his departure from Bayern Munich with a first, historic treble for the club, as well as the Champions League trophy they desperately desire above all. The 68-year-old also would become just the 19th coach to win the competition twice. That, however, also would add an element of brutality to Heynckes' farewell. With the German having been apparently reassessing his decision to leave the club as a consequence of Bayern's record-breaking season, the Allianz Arena hierarchy barely gave that a thought, and went ahead and appointed the best available manager in Guardiola. The flip side is that if Bayern fail at Wembley, it will have completely justified the decision. Whereas Guardiola has proven a master of managing the psychology of games such as this, Heynckes would not have been able to break the club's clear mental block about this trophy. Unlike so many in this match, the outgoing Bayern boss isn't playing for his future; he's playing for his legacy.

Robert Lewandowski -- If the semifinal first leg against Real Madrid was the game in which a promising talent properly announced himself on an elite stage, the return showed how far he still has to go. Lewandowski missed almost as many chances in the Bernabeu as the number of goals he scored in Dortmund, putting that very lead in deep danger. It greatly curtailed the hype. Not yet the sure thing that the top players tend to be, Lewandowski needs to confirm his true level. That's all the more important given his career is at a similar crossroads. With Goetze out, much of the focus will turn to the Pole. That's not just in terms of the interest from Bayern, but also the need to now make things happen for Dortmund. A testing evening awaits.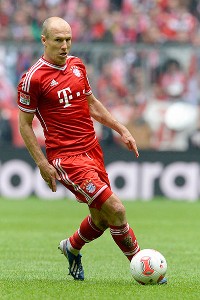 Christof Stache/AFP/Getty ImagesArjen Robben will be looking to atone for his extra-time penalty miss in the 2012 final.
Arjen Robben -- Much like Sammy Kuffour in 2001, Robben may feel he has the most to make up for at Wembley. That, however, isn't just because of the missed extra-time penalty that could well have settled the 2012 final against Chelsea long before the shootout. The dimensions of that very game actually go a lot deeper for Robben. For all of his undeniable talent, he hasn't yet produced a truly defining or decisive display. Performing in a quarterfinal does not quite cut it if the same campaign ends in meek failure. Much the same can admittedly be said for his long-standing attacking partner in Franck Ribery, but the Frenchman doesn't have that level of personal anguish to redress from last year. Robben needs to make this count.

Marco Reus -- Given all that's happened in the past few weeks, it feels as if it's been an awfully long time since Reus suggested a true change in German football by opting for Dortmund rather than Bayern. It was just 2012. Now, a year later, he may have to directly replace the player who made the opposite decision. Even if Reus doesn't occupy Goetze's central role, he will be responsible for a lot of Dortmund's attacking.

Bastian Schweinsteiger and Philipp Lahm -- They may be the standard-bearers for the Bayern team, but it's finally time to raise that bar, too. The duo have not yet won anything bigger than the Bundesliga title. Worse, they have a lot of international runner-up finishes to rectify. Consider their careers with club and country together: a defeat in a European Championship final, two defeats in World Cup semifinals, and two defeats in Champions League finals. More than any other players, they have come to represent what both Germany and Bayern have become. With both now in their late 20s, Schweinsteiger and Lahm need to properly come of age.