Firing Allegri would be Milan's massive mistake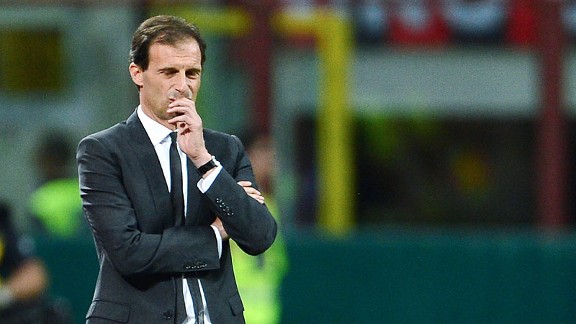 GIUSEPPE CACACE/AFP/Getty ImagesMassimiliano Allegri has done more than enough to remain at Milan.
God works in mysterious ways. So too does Silvio Berlusconi, the man who owns AC Milan (and lots of other stuff, too).

Three years ago, when asked why he chose Massimiliano Allegri to manage the Rossoneri, the reply was that he had the "physique du role" -- basically, he "looked the part."

Some -- including, I'll hold my hand up, yours truly -- were skeptical. But Allegri showed he didn't just "look the part" and that he could do the job, as well. In three years at the San Siro, he guided Milan to first-, second- and, this year, third-place finishes, each time also taking the club into the knockout rounds of the Champions League.

Horncastle: Serie A season in review
Video: Marcotti's look-back
Paul: Drama seals Milan's CL spot

Now, however, his time seems to have come to an end. Multiple sources confirm to me that he will be replaced, though there's no official announcement just yet. Among those tipped to replace him: two former Milan stalwarts in Clarence Seedorf and Marco Van Basten.

We'll get to them in a minute, but it's worth wondering just what the club are thinking here. In his first two seasons, Allegri enjoyed the benefits of a talented team packed with veterans. A classic double-edged sword. On the one hand, he had plenty of experience and guys who "knew how to win" while on the other, he was a newcomer without much of a pedigree -- two mid-table runs at Cagliari, a third division crown with Sassuolo -- but also very much a club outsider: for most of the past three decades, Milan have gone out of their way to appoint former Rossoneri (with a few exceptions, like Arrigo Sacchi and one or two others).

Yet Allegri the inexperienced interloper didn't just win. He managed a potentially explosive dressing room that on paper looked like a powder keg of nut jobs and malcontents: Zlatan Ibrahimovic, Ronaldinho, Robinho, Antonio Cassano, Kevin Prince Boateng. Simply put, it was a masterpiece of man-management, with everyone remaining (largely) on their best behaviour.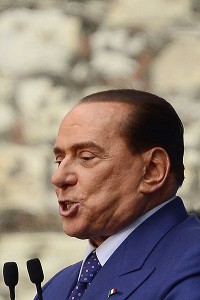 Olivier Morin/AFP/GettyImagesRemoving Allegri after his accomplishments over three seasons would show Silvio Berlusconi's ignorance to the rules of good governance.

He also made some brave decisions, some of which, with hindsight, boomeranged badly. He thought Andrea Pirlo was finished, when evidently he wasn't. But you would struggle to find too many other cases where he got things wantonly wrong.

Then came this past summer and Milan's severe rebuilding job. The bean-counters took a hatchet to the wage bill as the likes of Ibrahimovic, Thiago Silva, Mark van Bommel, Rino Gattuso, Seedorf, Cassano and Alessandro Nesta were shipped out. They were replaced by a grab bag of loans and cheap-and-cheerfuls: Nigel De Jong, Riccardo Montolivo, Giampaolo Pazzini, Francesco Acerbi, Cristian Zapata, Kevin Constant and Bojan Krkic. Apart from Montolivo (and possibly de Jong, though he got hurt in December and missed the rest of the season), there isn't one guy you'd describe as an upgrade over the man he replaced.

The outcome was predictable. In mid-January, Milan were seventh, 14 points off the pace. But then Mario Balotelli arrived and Allegri proved he knew how to handle him: 12 goals in 13 appearances tell their own story. Allegri had already put his faith in youngsters like Stephan El Shaarawy (20 years old and ending the season with 19 goals in all competitions), Mattia De Sciglio (also 20, who'd go on to win his first caps for the Azzurri at full back) and M'Baye Niang (18, who'd provide work rate and quality on the wing).

With Balotelli up front, Milan took off, racking up 41 points in their final 18 games. Had they managed that pace all season, they would have finished neck-and-neck with Juventus.

If the mark of a good manager is to get the best out of his squad, then Allegri has little left to prove. He has shown command of different systems and has coaxed performances out of guys who looked to be on a permanent downward spiral (Mathieu Flamini, Sulley Muntari, Philippe Mexes and Cristian Zapata to name but four) all without a public show of support from the owner. (In January, Berlusconi was asked whether Allegri would be back next year. His answer? "Next question please.")

Perhaps most importantly, he laid down the framework for a team that's younger and hungrier. Get de Jong healthy again, add a central defender and a midfielder and -- presto! -- Milan can challenge again.

But, no. The club is apparently prepared to go in a different direction.

Now, Clarence Seedorf is one of the most intelligent and best-rounded football men I've met in 17 years covering this sport. There's little doubt in my mind that he will excel at whatever he chooses to do once he retires, whether it's coaching, agency work or club administration. But he's not a coach. He's still a player. In fact, he played just last month for Botafogo in the Copa do Brasil and still has another year left on his contract.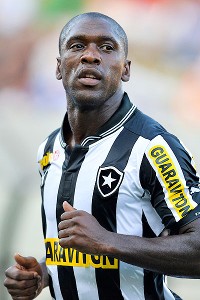 Buda Mendes/LatinContent/Getty ImagesOf those mentioned as Allegri's replacement, Clarence Seedorf would make most sense but he could benefit from gradual integration into this level of management.

Seedorf may turn out to be an instant success, assuming he even wants the job -- one of his representatives has already said he wants to see out his contract with Botafogo. Or you may find that by appointing him, you're chucking him in at the deep end. And if he's not a hit straight away, you will have burned his chance of doing the job properly. On the surface, bringing him on board in some kind coaching/advisory role to help groom him for the job seems to make a heck of a lot more sense.

As for Van Basten, he's a living legend. His managerial arc, however, has been somewhat erratic. His first major gig was with the Dutch national team and he immediately showed he wasn't afraid to make brave decisions, ditching a string of veterans and replacing them with younger and lesser-known players. Holland got out of the group stage at both the 2006 World Cup and Euro 2008 but then went no further.

He took over at Ajax in 2008-09 with much fanfare as the club went on a spending spree, but the season turned out to be a disappointment, ending with a third-place finish and Van Basten's resignation. After that, he spent three years out of management before taking over at Heerenveen this past season; it was another underwhelming campaign, culminating in an eighth-place finish.

Despite his inexperience, one senses that Seedorf might be the better equipped of the two men to navigate the political maelstrom of the Italian game (and Milan specifically). Van Basten may have more miles on the clock, but he's been out of Serie A for nearly 20 years now and even when he was there, he affected a kind of "regal detachment" -- it was fine given how good he was as a player, but might prove more problematic as a coach.

Either way, it doesn't appear as if Milan are following the basic rule of good governance whereby you get rid of a manager when things are irretrievably "broken" within a team and/or you can get someone who is clearly an upgrade. Neither seems to apply in this case.