Darke's 2012-13 Premier League team-by-team verdict
The Premier League was high on drama and plot lines this season, but if it were a wine, some customers might be sending it back to the waiter.

Manchester United were deserving champions, but not even their most devoted fans would argue that Sir Alex Ferguson's final team had a "wow" factor. United clinched the crown through hunger, desire and consistency against rivals that spluttered like old lawn mowers.

But most of all, they won it because in Sir Alex they had a manager whose thirst for success was unquenchable and who was at war with any sign of complacency.

The fact that no English team reached even the quarterfinals of the Champions League was perhaps telling.

Here is my team-by-team verdict:

Manchester United - A fitting farewell for Sir Alex with a 13th title. Not a vintage United side but a driven and consistent team that knew how to win. A new era beckons, and David Moyes has earned his room at the top. Fascinating to see how he deals with an unsettled Wayne Rooney and who might be signed.
Best player: Michael Carrick

Manchester City - A lame defence of the title. Too flat too often. Several of last season's title-winning stars failed to hit the same heights, and the pathetic FA Cup Final and Champions League displays spoke of attitude problems. Possibly Roberto Mancini was harshly sacked, but the silence from players about that decision perhaps speaks volumes.
Best player: Pablo Zabaleta

Chelsea - Rafa Benitez emerged as a man of dignity in the face of an over-the-top Stamford Bridge mutiny. He made a mockery of his critics by winning the Europa League and qualifying Chelsea for the Champions League again. Jose Mourinho actually has a tough act to follow.
Best player: Juan Mata

Arsenal - A spectacular 10-game unbeaten run (conceding just five goals) at the end rescued what at one time looked to be Arsene Wenger's worst season. In fact, making the top four with this limited outfit was one of his best achievements. Now there is money to spend, and Wenger has to get the Gunners back as title contenders.
Best player: Laurent Koscielny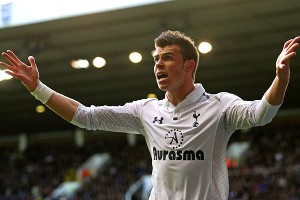 Clive Rose/Getty ImagesGareth Bale's superb season wasn't enough to lift Spurs into the Champions League.
Tottenham Hotspur - A record Premier League points haul of 72 would have been good enough for third a year ago, so Andre Villas-Boas did not do too badly. But the spectacular Gareth Bale did not get enough help when it mattered on the run-in, and the failure to find another striker hurt them badly.
Best player: Gareth Bale, who else?

Everton - Missed out on Europe, but a good side playing attractive football on a limited budget. So sixth was a success. Need to think carefully about who is the right man after David Moyes to keep this club punching above its weight.
Best player: Leighton Baines

Liverpool - Got nine more points than last season but were 12 off the top four and 28 off the title. That tells you how far there is to go. Jury is still out on Brendan Rodgers, but there is an upbeat mood. Need to sign a top-class defender.
Best player: Luis Suarez

West Bromwich Albion - Faded after a fantastic start, but eighth place is a wonderful achievement for manager Steve Clarke in his first season. Albion have shaken off that yo-yo tag and are usually good to watch.
Best player: Gareth McAuley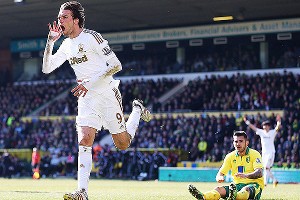 Matthew Lewis/Getty ImagesNo one -- not even Sir Alex -- knew of Michu when he landed at the Liberty Stadium. Yet his goals and creativity were a revelation for Swansea.
Swansea City - Michael Laudrup proved an inspired appointment, delivering the club's first major trophy with a scintillating Wembley League Cup final display. Most watchable team in the division, featuring signing of the season Michu (18 PL goals for $3 million).
Best player: Michu

West Ham United - Surpassed expectations, and the 3-1 win over Chelsea at Upton Park epitomised what a robust handful they could be for visiting teams. Seem to be in a race with Newcastle for Andy Carroll. Sam Allardyce proved again he is a manager who knows this league inside out.
Best player: Mo Diame

Norwich City - After staring at relegation with a week to go, they won their final two games to finish 11th -- one place better than Paul Lambert managed the previous year. A little too defensive for most tastes.
Best players: Sebastian Bassong and Robert Snodgrass in a dead heat

Fulham - Lost Clint Dempsey and Moussa Dembele, so a midtable finish was no disaster. Capable of brilliant cameos but impossible to predict and stopped playing when they got to 40 points. Must do better.
Best (and stroppiest) player: Dimitar Berbatov

Stoke City - Flattered by 13th place. Scored a woeful 34 goals. Fans seem to want a change from the direct physical style that has kept them in this division. That meant Tony Pulis stepped down Tuesday. But be careful what you wish for, Stoke fans.
Best player: Asmir Begovic might be the best keeper in the Premier League.

Southampton - Refreshing, easy on the eyes and with underrated midfielders in Jack Cork and Morgan Schneiderlin. Nigel Adkins was unlucky to be sacked. But Mauricio Pochettino has been an impressive replacement playing a high-pressing style that frightened the life out of Manchester United at Old Trafford.
Best player: Rickie Lambert was joint top English PL scorer with 15, alongside Frank Lampard.

Aston Villa - Looked doomed for a long time because the team was too young and raw. But a 6-1 hammering of Sunderland underlined their late-season flourish, and the future looks brighter.
Best players: American keeper Brad Guzan and Christian Benteke (19 PL goals)

Newcastle United - After fifth place a year ago, a massive disappointment not totally explained by European distractions, injuries and the loss of Demba Ba. Some big decisions to be made this summer to get the balance of the team right.
Best player: Fabricio Coloccini

Sunderland - Lucky to stay up after misfiring most of the season. Their creators just did not create, and Steven Fletcher was the only signing to succeed. Paolo Di Canio got them over the line, but his management "by hand grenade" suggests his reign might combust.
Best player: Keeper Simon Mignolet

Wigan - Their FA Cup win was magical, and most are sorry to see this footballing team go. But the harsh truth is they were hopeless defensively, which is why they are being relegated.
Best player: James McCarthy

Reading - Never looked good enough and made poor transfer market decisions in January buying from the lower divisions.
Best player: Keeper Alex McCarthy, who has won an England call-up.

Queens Park Rangers - Calamitous. Too many "dodge pots" who couldn't, or wouldn't, play for two decent managers in Mark Hughes and Harry Redknapp. Should be ashamed of themselves.
Best player: Ryan Nelsen; his early departure to coach FC Toronto in MLS sealed their fate.