Serie A 2012-13 season review

And so it's over. Another season has drawn to a close. It wasn't a vintage one in Serie A, but that can also be said of the Premier League, La Liga, the Bundesliga and Ligue 1. From spring onward, if not earlier, the title race felt like a foregone conclusion and was wrapped up with three games to play.

In the absence of a consistent challenger for the title, it was often remarked that the biggest threat to Juventus were themselves. The Scudetto was theirs to lose. And considering their mental resilience, quite simply, that was never going to happen. No one could keep pace.

It was remarkable really. Many thought they might struggle in light of Antonio Conte's four-month touchline ban and a more congested fixture list following their return to European competition. Instead they rose to every challenge. They were relentless.

Team of the Year: Juventus

Though they did not go an entire league campaign without defeat like a year ago, their unbeaten run coming to an end at 49 matches in the beginning of November with a loss to Inter, the sense is that Juventus were more dominant than they were last season. Top of the table from the first day to the last, they won more games, notched more points and scored more goals in the retention of their title. Had they managed to beat Sampdoria at the weekend, they would have become the first team since Nereo Rocco's Milan in the 1961-62 season to record at least one win against every team in the league.

Manager of the Year: Vincenzo Montella

Almost relegated a year ago, Fiorentina were six minutes away from qualifying for the Champions League on the final day of the season only for Milan to turn things around against Siena, thanks to late goals from Mario Balotelli and Philippe Mexes, not to mention the refereeing decisions that went their way. Missing out on that should take nothing away from the marvelous job Montella has done. Fiorentina improved by 24 points -- more than any other team in Serie A -- and have played the best football in Italy. The league's second top scorers with only a goal fewer than Napoli, managing that without a player like Edinson Cavani on the team tells its own story. Former coach Cesare Prandelli summed it up this week: "For the quality of their play, Fiorentina deserved to win the Scudetto." Montella is owed a lot of the credit for that. Conte should be commended too and so should Max Allegri for getting Milan to third after those "painful but necessary cuts" last summer.

Player of the Year: Edinson Cavani

Those walking through Naples' city centre last week were in for a curious sight. A cardboard cutout of Cavani was in a cage with a placard placed on top of it. It read: "Swear on your mother that you won't leave" in local dialect. You can understand why Napoli supporters feel that way. In his first season, Cavani broke the club's single-season scoring record, which had stood for 78 years.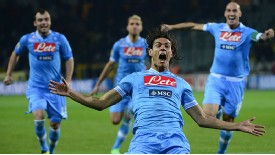 GettyImagesEdinson Cavani: PSG lead the race to sign the striker, but he has other options.
By the end of his third, he's within sight of Diego Maradona's all-time record. Those campaigns have included seven hat tricks. Only Pippo Inzaghi (10), Beppe Signori (9) and Hernan Crespo (8) have struck more. No one, though, in the history of Serie A apart from Cavani has ever managed a tripletta against each of Italy's Big Three: Juventus, Milan and Inter. Atop the scoring charts in Serie A for the first time with 29 goals this season, that achievement is made all the more remarkable considering Cavani experienced a 729-minute goal drought. No wonder they're begging him to stay.

Game of the Year: Torino 3-5 Napoli

Eleven minutes from the end, Torino were 3-2 up. They'd gone behind early after former player Blerim Dzemaili had scored a screamer from outside the box. Paulo Vitor Barreto got them back on level terms, but it didn't stay that way for long even though Marek Hamsik had a penalty saved. Dzemaili slid his way to a second only for Cavani, of all people, to handle the ball in his own area. Jonathas equalised again from the spot, and then, for the first time on the night, Riccardo Meggiorini gave Torino the lead. Napoli weren't to be beaten, though. Three goals in nine minutes turned things back around in their favour. Dzemaili curled a delicious shot with the outside of his foot in from distance to complete an improbable hat trick, and Cavani redeemed himself by scoring a free-kick and a header. It was tough to take for Torino. They were involved in another thriller the following month when, 3-0 down to Fiorentina, they came back to make it 3-3 only to lose 4-3 after Romulo found a winner with four minutes remaining. As matches go, they were great to watch for the neutral, but not so much for fans of the Toro.

Goal of the Season: Panagiotis Kone v Napoli

La Gazzetta dello Sport felt that "One day it should perhaps replace [the iconic image] of Carlo Parola [performing an aesthetically perfect scissor kick] on the Panini sticker packets." Bologna are trailing 2-1 to Napoli in the 85th minute in December. Gyorgy Garics receives a pass out wide on the right. In the meantime, his teammate, the tattooed ripped jeans and big car-loving Kone, makes a run into the box from deep. He times it perfectly, not even breaking stride to connect with a cross from Garics, leaping to execute a wonderful sforbiciata, hit fast and true beyond a helpless Morgan De Sanctis in the Napoli goal. Bologna went on to win 3-2.

Biggest Surprise: Udinese in Europe again

It really shouldn't be a surprise any more, but to some extent it still is. Udinese have qualified for Europe for the third consecutive season, this time the Europa League rather than the Champions League preliminary rounds as in the past two years. That they have done so once more even after selling another clutch of important players, like goalkeeper Samir Handanovic to Inter, Kwadwo Asamoah and Mauricio Isla to Juventus, Pablo Armero to Napoli and German Denis to Atalanta, gets no less remarkable. Their succession planning led by director of sport Fabrizio Larini is exemplary, as is their ability to uncover talent for Francesco Guidolin to develop, a skill at which he excels. No one, it seems, teaches football better than him in Italy. This year, he has brought on the likes of Allan, Luis Muriel and Piotr Zielinski. He's another candidate for Manager of the Year.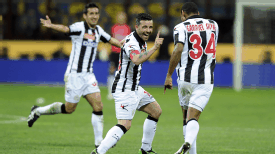 GettyImagesUdinese finished fifth to qualify for Europe for the third consecutive season.
Then there is the evergreen Toto Di Natale, who broke the 20-goal barrier for a fourth consecutive season, a feat matched only by Gabriel Batistuta in the last half century. Finishing the season with a 5-2 victory against Inter at San Siro, their eighth in a row in the league, Udinese never cease to amaze.

Nor do Catania, who after improving on their points total in each of the last four years despite changing their coach after every one did so again, going beyond the 50 mark for the first time in their history under Rolando Maran. Not bad for his debut campaign on a top-flight bench.

Meanwhile, Cagliari have raised eyebrows too. Homeless more often than not and with a president under house arrest for the final third of the season, their form was close to that expected of a team challenging for the Champions League in the second half of the campaign, which was the fruit of the great work done by coach Ivo Pulga and Diego Lopez, who got the best out of a talented group of players. Michael Agazzi, Davide Astori and Marco Sau were all included in the latest Italy squad while fullback Danilo Avelar, midfielder Radja Nainggolan and forward players Victor Ibarbo and Mauricio Pinilla are all much coveted.

Biggest Talking Point: Racism

When Milan midfielder Kevin-Prince Boateng courageously walked off the pitch after a series of monkey chants during a friendly against Pro Patria in January, he blazed a trail in the fight against racism in football. He set a precedent, one that charged debate not only in Italy but across the world. It didn't stop the abuse, though. Boateng came in for more in the warm-up before a game against Juventus in Turin and was targeted along with Balotelli and another teammate by a number of traveling Roma supporters a week ago. But there was no walk off. Why? Cynics claimed it was because Milan's qualification for the Champions League was at stake and that they didn't want to risk a forfeit. The protocol for incidents like that, however, had been clarified, and they vowed to walk off only if no action was taken and the abuse continued. Action was taken on this occasion. The referee postponed the game for 97 seconds and a PA announcement was made, the third of the evening, warning that the game would be abandoned if those making the chants didn't stop. They did stop or rather changed in nature, and the match restarted and finished. Roma were later fined €50,000. Not everyone was satisfied with the punishment.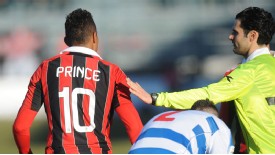 GettyImagesKevin-Prince Boateng leaves the field during a January friendly against Pro Patria after alleged racial abuse
Ideally -- and there's nothing ideal about these situations -- Clarence Seedorf wants to see games postponed, the perpetrators identified and ejected, play resumed and the authorities to then prosecute those involved and issue them with banning orders. The FIGC has instead promised to close sectors of stadia where abuse originates. It maintained it by ordering that Roma's Curva Sud be closed for their next league game at home, also doling out another €50,000 fine after a section of ultras were heard chanting racist abuse aimed at Balotelli in Sunday's game against Napoli. Whether it's the right approach in the short term remains to be seen, but the fight against racism, contrary to what some believe, is one Italian football is taking seriously.

Biggest Disappointment: Inter

To think Inter won 10 consecutive games in all competitions between September and November. To think it included a stunning 3-1 victory in the Derby d'Italia that removed Juventus' aura of invincibility. To think it was hailed as a tactical masterpiece from a young coach held up as a new Special One. Inter were supposed to be contenders. They were a point behind Juventus and had a 12-point advantage on rivals Milan. Who would have thought they would finish 33 points adrift of the former and 18 points behind the latter? Who would have thought they would not qualify for any European competition for the first time in 14 years? Who would have thought they would suffer 16 defeats, the most they've ever had in a 38-game domestic campaign? Compromised by an endless injury crisis and the board's bungling in the transfer market, all of which left Andrea Stramaccioni's inexperience exposed, this really was an annus horribilis for Inter.

Also disappointing were Roma. Much was expected of Zdenek Zeman's return and a team with so many promising youngsters. Alas, the right balance couldn't be struck and they, like Inter, won't be in Europe next season unless they win the Coppa Italia on Sunday against Lazio. They are, however, well-placed for the future.