Stats: Home dominance, RVP add up to United title
The stats that tell the story of the Premier League season:

How the title was won

Alex Ferguson won his first trophy in 1977 and his last in 2013, with that Premier League title. That spans 36 years -- or 29 percent of the codified game's history.

Manchester United won their home games against every team from sixth place down, explaining the paradoxically routine relentlessness which created such an uncatchable lead.

Robin van Persie's 26 goals were directly responsible -- in terms of equalisers or match-winners -- for 26 of United's 88 points. In English history, only Alan Shearer and Van Persie himself -- from 2011-12 -- have provided more.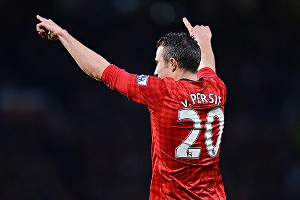 Paul Ellis/AFP/Getty ImagesIn terms of goals that decided produced a result, Robin van Persie's 26 accounted for 26 of United's 88 points.


The Dutch forward also scored key goals against all of Manchester City, Chelsea, Arsenal, Tottenham Hotspur and Everton.

Van Persie's goal in a 2-0 win over Everton on Feb. 10 marked his last goal for six games -- by far his longest drought of the season. That match, however, was the second of a six-game run in which United didn't concede a single goal. After letting in 28 in their first 19 games, the eventual champions only conceded 10 in their second 19. Along similar lines to that season of two halves, United recovered from losing positions nine times in their first 19 games. The second 19, again, only saw one such comeback.

Manchester City scored just 66 goals compared to last season's 93, a drop-off of 29 percent. With the deposed champions only losing one more game than United, it was likely that failure to convert draws into wins which cost them.

Joe Hart committed five errors which directly led to opposition goals, compared to just one in 2011-12.

The Champions League chase

Since Feb. 1, no side have collected more points than Arsenal.

While Fernando Torres only hit seven goals in the league and Demba Ba three, both Juan Mata (11) and Frank Lampard (15) individually scored more than the two strikers combined.

Chelsea won three and drew one of their four games against Arsenal and Tottenham Hotspur.

Roberto Di Matteo had a marginally better points-per-game ratio than Rafa Benitez, 2 compared to 1.96.

Arsenal are only the fourth squad in Premier League history to feature four players who hit 10 goals or more, reflecting how they eventually got over the loss of Van Persie.

This season marked the third time since the foundation of the Premier League that an Arsenal-Tottenham duel for a top-four spot went to the wire, making it the most frequent final-day faceoff since 1992-93. Manchester United and Chelsea have taken the title right to the edge twice, in 2008 and 2010, while Southampton and Coventry were together involved in two different multi-team relegation scraps.

Theo Walcott scored two of the five Premier League goals scored inside the opening minute this season.

Tottenham threw away 23 points from leading positions, more than any other side in the top half. Consequently, they also squandered a six-point lead in the Champions League chase.

Gareth Bale became the first Tottenham Hotspur player to score at least 20 league goals in a single season since Jurgen Klinsmann in 1994-95. His strikes directly provided Tottenham with 16 of their 71 points.

Tottenham have now gone 40 Premier League games without being awarded a penalty. Chelsea were awarded the most this season, with 11.

Stuck in the middle with you

Swansea City scored the first goal of the season and conceded the last.

Swansea's average possession dropped from 58 percent under Brendan Rodgers to 55 percent under Michael Laudrup, but the club claimed an extra point (48 compared to 47) and finished two places higher in the table.

For all the perception of possession without penetration, though, Rodgers' appointment at Liverpool coincided with an improvement in chance conversion at the club from 9 percent in 2011-12 to 13.5 percent this season.

Norwich City scored six goals against Manchester City this season, more than any other team.

Fifty six percent of Stoke's goals were from set-pieces, the highest in the Premier League. Stoke also have the worst shooting accuracy in the division.

Staying up

Newcastle played more long passes than any other team in the Premier League, despite a number of perceived technicians in their team.

Aston Villa matured as the season went on, which is just as well given that 26 of the 31 youngest lineups were named by Paul Lambert.

Aston Villa claimed 41 percent of their points in the last 26 percent of their season -- or 17 in their final 10, compared to 24 in their previous 28.

While the stat is skewed by the brief time he has spent in the job, Paolo Di Canio ultimately secured more points per game (1.14) than Martin O'Neill (0.9).

Sunderland also picked up three red cards in seven games under Di Canio, having seen none during O'Neill's team.

Going down

Wigan conceded the first goal of the game in 25 of their 38 fixtures -- a daunting 66 percent. Little wonder they gave themselves so much to do.

Wigan claimed just five points from the seven games leading up to their relegation, compared to 15 from the seven leading up to their confirmed survival in 2011-12.

Reading's Alex McCarthy has been forced into a save every 17 minutes on average, more often than any other goalkeeper.

QPR scored just 13 goals in 19 home games, the fifth lowest since 1992-93.

After the momentum-shifting 3-2 away defeat to Aston Villa, Harry Redknapp's QPR managed to pick up only two points from their last eight games.

*Information from Opta was used in this article