Productive Gekas sheds label as Human Relegator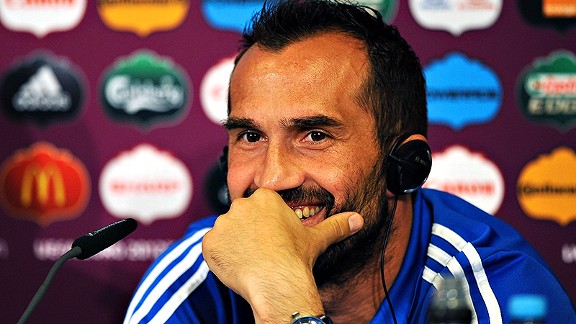 Getty ImagesTheofanis Gekas has reason to smile after ending a three-year streak of being on relegated teams in Germany and Turkey despite turning in solid individual performances.
Can a good player bring bad luck? From looking on Theofanis Gekas' impact in the last years, one might easily think that is possible.

The veteran striker, once nicknamed "the Greek God" by Bochum fans when he was the Bundesliga's top scorer in 2006=07, found the net at will when given the opportunity in the past three seasons (2009-12). Unfortunately for his clubs, it didn't really help, as each team was relegated.

As a matter of fact, until last week, Portsmouth were the last team that had Gekas on their books in May but didn't go down. That was 2009, when Pompey were still a mid-table Premier League outfit, which sounds pretty weird nowadays. Who knows, maybe they stayed up that season because Gekas didn't play too much.

Tony Adams, who signed him on loan from Leverkusen, was promptly sacked, and without him Gekas was on the pitch for one minute during his entire spell in England. Those were definitely the most frustrating months of his career.

But after leaving Portsmouth, the better he played, the less luck his teams had.

It all started in January 2010, when Leverkusen loaned their unwanted Greek to rock-bottom Hertha Berlin, who desperately needed a striker after scoring just 13 goals and getting six points in the first half of the season. Gekas immediately turned things around.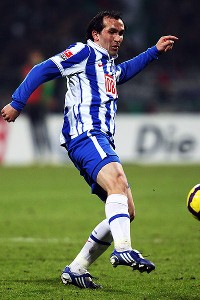 Martin Rose/Bongarts/Getty ImagesGekas, shown playing for Hertha Berlin, scored 15 goals in the first half of the 2010-11 season with Eintracht Frankfurt. But he only had one the rest of the season, and Gekas' team was relegated for the second year in a row.
He scored and was the best player on the pitch when Hertha thrashed Hannover 3-0 away in his debut. The emergency signing ended the season with six goals, including a hat trick at Wolfsburg, while the German Old Lady improved to 24 points. Naturally, it wasn't enough and they were relegated long before the season was over.

In the summer of 2010, Gekas joined Eintracht Frankfurt, with Leverkusen getting paid about 1 million euros. The start of Gekas' adventure was nothing short of astonishing. Gekas scored 15 goals before the winter break, the last in a 1-0 win over leaders Borussia Dortmund. Needless to say, he was the league's top scorer at that moment, seemingly on the way to improve on his Bochum total of 21 goals in a season. Frankfurt were sitting in seventh place, hopeful of qualifying for the Europa League at least.

Those hopes were extremely premature. The team and its star -- who only had one goal the rest of the way -- suffered a very sharp loss of form after the break. The crisis was so deep that Frankfurt scored just seven goals in 17 matches, less than half what Gekas alone scored in the first 17 games. Bringing in veteran coach Christoph Daum only made matters much worse, and Eintracht were rightfully relegated. For Gekas, it was the second time in a row.

Gekas' unfortunate streak hit three last year. After getting bored in the second division in Germany, Gekas sensationally moved to Samsunspor in January, and the arrival of a Greek player to Turkey made quite a few headlines before the ball was even kicked.

Just like Hertha two years previously, goals were hard to come by for a team that found the net just 12 times prior to signing Gekas for €300,000. He produced some wonderful performances, including a hat trick of historic proportions in a 3-1 win over Fenerbahce. Overall, the striker scored eight goals in 11 games before suffering an injury in March and ending the season prematurely. That cooked Samsunspor's goose, and they were relegated as well. Three out of three for Gekas!

"The love I felt from the Turkish people surprised me," he said, and quite a few bigger Süper Lig teams attempted to sign him in the summer, especially Trabzonspor, who lost Burak Yilmaz to Galatasaray.

Eventually, Gekas moved to Levante, where he endured a repeat of the Portsmouth treatment and was released from his contract in November. Realizing the mistake, Gekas sought a return to Turkey, amid doubts regarding his fitness. That's when Akhisar Belediye stepped in.

It looked like a crazy gamble. The team, promoted to Turkey's top division for the first time in its history, was at the bottom at Christmas, having scored just 12 goals. Yes, you are right -- exactly the total Samsunspor had at the same stage last season. With relegation specialist Gekas now on board, who could expect anything else other than demotion? After all, Gekas always scores plenty of goals and always brings bad luck, doesn't he?

Well, the jinx was finally broken. After Akhisar confirmed their survival on the season's final matchday last weekend, everyone at the club felt that Gekas, 32, was a godsend. The statistics were extraordinary even by his own high standards. He scored 12 goals in 15 games and contributed more points to the team total than all other players combined.

For starters, there was the brace in a 2-0 win at Istanbul BB and a late winner against Sivasspor. In April, Gekas scored another winner against Trabzonspor, followed by the winning goal at Kasimpasa, the favourite team of Turkish prime minister Recep Tayyip Erdogan, then added two sublime strikes in a 4-1 thrashing of Besiktas.

A week ago, his 89th-minute strike brought a 1-0 win over Mersin Idman Yurdu, and Akhisar knew they should be safe, confirming it with a 2-0 victory at Orduspor on Saturday. When the season ended, Gekas' goal ratio was roughly the same as during that dream season at Bochum. He is, quite simply, the Greek God in Turkey.

Akhisar president Hüseyin Eryüksel was ecstatic: "Signing Gekas was the turning point of our season. There were rumours that he is unfit, but we checked it out with the doctors, and we were right. Now Besiktas and Trabzonspor want to sign him."

The players were even happier – at this YouTube link you can hear the song they sang to their hero in the dressing room on Saturday. They dearly hope Gekas will still be at the club next season, but chances of that are not too high.

The new club shouldn't worry. It turns out that signing Gekas is not always a ticket to relegation after all.