ESPNFC's top moments of the season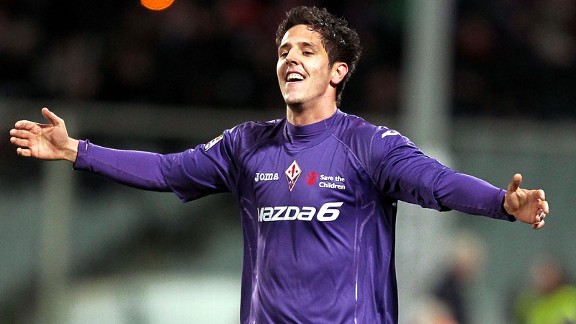 Gabriele Maltinti/Getty ImagesSteven Jovetic and Fiorentina were one of the stories of the season, in particular their confident rout of Inter.
With the 2012-13 season coming to a close across Europe, we asked our contributors and correspondents to offer up their picks for the most memorable, remarkable, eye-opening and heart-warming moments of the year.

James Horncastle: It's been a joy to watch the renaissance at Fiorentina this season. A new director of sport, a new coach and more than 20 new players have brought about a complete transformation at the club. After so much change, the conclusion drawn was that a period of adjustment would be necessary. Fans would have to be patient. Yet it has proved quite the contrary as Fiorentina have laid bare the lie of the transition year. Why should it take a season for changes to have their impact? Why not immediately?

And this brings me to my moment of the 2012-13 campaign. On Feb. 17, Fiorentina played Inter, a club whose claim of also being in transition for the past couple of seasons has added to its myth. Busting that myth were their opponents that night, as they have done all season. Fiorentina dominated particularly through their midfield of Borja Valero, Alberto Aquilani and David Pizarro. They had 63 percent possession in a 4-1 win. As the game wore on at the Artemio Franchi, fans in the Curva Fiesole began singing arguably the chant of the year in Serie A. "La palla é quella gialla." ("The ball is that yellow [thing].")

Inter were being mocked. They couldn't get near the ball and were being played off the park by a Fiorentina side who, a year after seriously flirting with relegation and ultimately finishing a miserable 13th, ended the season in fourth place, 24 points better than last season's mark. Transition, eh?

Roger Bennett: My real moment of the season came when the final whistle sounded at the end of League Cup semifinal and a nervy League Two's Bradford City had clung on to outlast Aston Villa. Bradford had previously slain a hapless Arsenal. The joy their players and fans evinced was proof that in a game ever more predetermined by balance sheets, the impossible could still be glimpsed, even if only fleetingly.

The same feeling underpinned my Premier League moment of the year when Everton -- traditionally slow starters -- opened their campaign with a shocking 1-0 victory over an uninspired Manchester United. Everton didn't just win the game -- they smote their opponents. With Leighton Baines and Steven Pienaar on the left, Leon Osman and Tony Hibbert on the right, the team hunted in packs. Marouane Fellaini, who scored the only goal, was imperious all night long. As one listener to our show noted, "Not since Dolly Parton had anyone achieved so much with their chest."

Knowing all we do now about Sir Alex Ferguson and David Moyes, that opening game was loaded with foreshadowing, but at the time United's mediocrity and Everton's cohesive ebullience combined to conjure the most precious feeling in sports. After I had spent the summer break pining for the season to start, football was back and everything felt within the realm of possibility.

Gabriele Marcotti: It was Matchday One in the Champions League as Chelsea hosted Juventus. I got to watch the game in the Directors' Box (no, Roman Abramovich wasn't there ... he sits elsewhere). Paul Pogba, impossibly tall and lanky, was two rows in front of me. Andrea Agnelli, Pavel Nedved and the rest of Juve's high command across the aisle.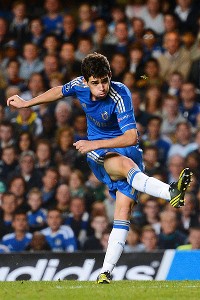 Mike Hewitt/Getty ImagesOscar's virtuosic goals vs. Juventus in the Champions League were a sweet justification as to why the young Brazilian was so coveted.

Oscar was making his first start for Chelsea. Until then, he'd looked elegant and graceful but also lightweight and a bit flighty. After half an hour he opened the scoring, a long-range effort with a huge deflection off Leo Bonucci. Cheers from the Chelsea fans around me, murmurs and curses at misfortune from the Juve contingent. "That's a lot of money to pay for someone's good luck," I heard someone say.

I know more than a minute passed but it felt as if his second goal, the moment that stands out for me, came straight away. Chelsea go vertical, he glides in front of Bonucci, with Andrea Pirlo just behind, and conjures up a first touch of sheer brilliance. The ball goes back from the direction it came, on one side of Pirlo with Oscar skipping around the other. He then collects the ball and rifles it into Gigi Buffon's top corner from well outside the box. Two touches, two movements, one moment of brilliance.

Champions League, say hello to Oscar. I think this could be the start of a beautiful friendship. Agnelli stared straight ahead, open-mouthed. Pogba got up, almost instinctively. He looked as if he was actually going to applaud. Nobody would have blamed him if he had.

John Brewin: The FA Cup had been derided as a backwater competition with its final being played at an unfamiliar kickoff time. This season's showpiece rolled back tradition. A tale of David versus Goliath, it finished in heart-stopping fashion as a sluggish giant was slain by the hard work, bloody mindedness and plain old good football of Wigan Athletic.

The Latics, owned by a local boy made good and, as we know now, doomed to the Championship, simply outplayed a team on which half a billion pounds has been spent. As a player in 1960, Dave Whelan had been victim to what was once known as "the Wembley hoodoo." Fifty-three years later, his club have written the most exciting storyline in decades. Manchester City may have been slothful but many feared they might scab a win to deny the dream result, yet Ben Watson's injury-time header stopped them from doing so. It was a moment of explosive excitement and reminded us why this competition was once so loved and can be again. Well done, Wigan. Even though their season ended in relegation, they had put a smile on football's face.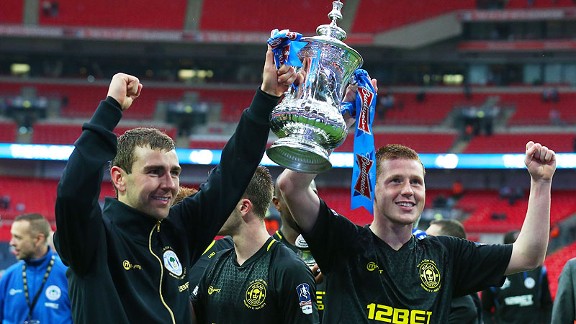 Alex Livesey/Getty ImagesJust as the FA Cup was in danger of losing its luster under the weight of corporate obligation, Wigan shocked mega-rich Man City in the final.
Andy Brassell: The final moments of the Championship playoff semifinal between Watford and Leicester. Anthony Knockaert won a penalty which could have provided Leicester with a winner in the sixth minute of injury time. The Frenchman took it himself but Manuel Almunia blocked the kick, then smothered Knockaert's follow-up, and Watford broke.

Fifteen seconds later, Troy Deeney smashed home to provoke joy all around Vicarage Road, the mother of all pitch invasions and your correspondent buried under a delirious sea of Watford-supporting journalists. Gianfranco Zola was back at Wembley in the most dramatic way possible.

Ian Holyman: It's tempting to go with David Beckham's instinctive, panicked "Me hair! Me hair!" sweep over his barnet as he crashed to the Parc des Princes pitch after being fouled by Marseille's Jordan Ayew, but as good as that was, it didn't beat Toulouse's 4-3 defeat at home to Nice in early April.

A first-minute opener for Nice was followed by two quick strikes for the hosts, and the momentum swayed to and fro throughout to make sea sickness tablets a must. The drama, enhanced by two red cards, comfortably matched anything the Premier League can produce. Wissam ben Yedder's 90th-minute equaliser (to make it 3-3) looked to have ended the fun only for Kevin Anin to sweep home brilliantly from the edge of the box three minutes into added time. An utterly unforgettable match, all the more so because such ding-dongers are rare in Ligue 1.

Dermot Corrigan: Sergio Ramos giving the Bernabeu brief hope of another European remontada was pretty memorable. As was Tito Vilanova and Eric Abidal embracing on the Camp Nou sideline as they returned after again beating cancer. But the best moment in Spanish football this season was Joaquin Sanchez almost lifting the roof off La Rosaleda with the winning goal for Malaga against Milan in November's Champions League group game.

There was something unique about Malaga versus Milan -- a CL debut team versus seven-time competition winners -- and the home crowd was giddy with excitement at being part of such a historic occasion. The mood dipped a bit when Joaquin hammered a first-half penalty over the bar, but the place erupted when he made amends by steering in the second-half winner.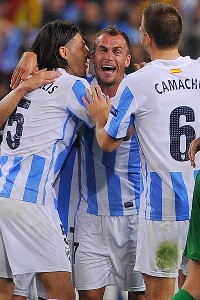 Gonzalo Arroyo Moreno/Getty ImagesMalaga's plucky Champions League group stage win over Milan was a glimpse of what this embattled side could achieve.

While at the Bernabeu or Camp Nou there can be grumbles even when their team wins, everyone at La Rosaleda seemed so happy to be there, knowing this was a night to be enjoyed as it might never happen again. Even though Manuel Pellegrini, Isco and maybe even Joaquin himself will likely leave soon, Los Boquerones' fans will always have Milan.

Richard Jolly: In the city that football forgot on a December night so cold that a thick frost developed on the inside of the car windscreen, the most improbable story of the season gathered pace. When Thomas Vermaelen rolled the final penalty of a quarterfinal shootout against the post, it was ostensibly a tale of Arsenal failure.

Yet it was just as much about the remarkable progress of Bradford. By then beating Aston Villa, they became the first fourth-tier team to reach an English cup final in half a century and had a deserving cast of characters -- from the cancer survivor Matt Duke in goal to the former supermarket shelf-stacker James Hanson in attack. In the end, they didn't win the Capital One Cup, but few underdogs have made such a stunning, heartwarming impact.

Stephan Uersfeld: Four minutes to go and no place to hide that day in early April. Malaga are 2-1 up at Dortmund's Westfalenstadion with only added time left and Borussia set to crash out of the Champions League. Over on the North stands their fans are celebrating what they believe will be their biggest success in club history. As the added time begins, Dortmund stadium announcer Norbert Dickel shouts "Injury time -- four minutes" and so it begins ...

Marco Reus pulls one back, but the draw is still not enough. The Westfalenstadion roar resembles of a starting A380 when Robert Lewandowski swings in the ball from the left. Somehow it ends up with Julian Schieber. The stadium falls silent. He touches the ball but it is Felipe Santana who puts it over the line from a meter or so. The engines start again, the stadium explodes -- louder than I have ever heard a stadium explode. In the stands we fall over, heart and kiss everyone. The pitch is invaded with Dortmund players and officials. Within 69 seconds, Borussia Dortmund have turned it around. The TV pictures later would prove that Santana had scored from an offside position.

Football. How can you not love the game?

Ian Edwards: Robin van Persie has been the scourge of Manchester City all season. The fact that his goals would have been their goals if Roberto Mancini had gotten his way last summer only increases the angst. There were plenty among the Dutch striker's collection this season that burned the Italian, but none more so than the goal that tipped a dramatic Manchester derby in Sir Alex Ferguson's favour and ended City's two-year home unbeaten run.

For sheer sense of occasion, van Persie's curling free kick in the 90th minute was one of the pivotal moments of the season and the first real marker that United intended to reclaim their Premier League crown. Amid the coin throwing, Rio Ferdinand's trickle of blood, Samir Nasri's cowardly and comical flinch in the wall and Joe Hart versus the pitch invader, van Persie's swish of his left boot stands tall. City knew it then and they know it now.

Mike Whalley: The image is one that has come to symbolise a city united in seeking justice: Two mascots, a young girl in Everton blue and a small boy in Liverpool red, hand-in-hand on the Goodison Park pitch. This was a part of Everton's tribute to the victims of the Hillsborough disaster ahead of their home game against Newcastle on Sept. 17, just five days after an independent report had cleared Liverpool fans of any blame for the tragedy in which 96 people died.

It was Everton chairman Bill Kenwright's decision for The Hollies' 1969 hit "He Ain't Heavy, He's My Brother" to be heard over the public address system as the players assembled in the centre circle before kickoff. The message was one of solidarity and the nation understood it loud and clear -- a charity re-recording of the song topped the UK singles chart on Christmas Day. The fight for justice continues, but on that autumnal Monday night at Goodison, it felt as though a huge step had been taken to righting the wrongs of the past.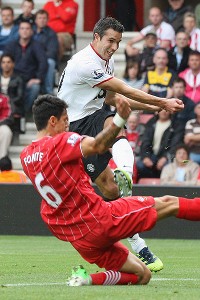 Matthew Peters/Man Utd/Getty ImagesRobin van Persie would provide a season full of amazing moments though his game-changing turn vs. Southampton in September set the tone.
Miguel Delaney: The 2012-13 season has seen later goals, better-quality goals and more important goals. Van Persie himself, in fact, has provided superior examples of each. He hit the title-racing-tilting strike away to Manchester City, the volley against Aston Villa and the penalty at Anfield.

Yet there was something about his effort versus Southampton that brought all of those elements together to really set the season on course. Up until then, van Persie's signing was -- remarkably -- still open to a certain amount of debate. That only escalated in the 69th minute when with Southampton 2-1 ahead, the Dutchman missed a penalty. The lazy manner in which he attempted to chip it also pointed to a wasteful indulgence rather than the kind of exquisite efficiency he would soon exemplify.

By the end, though, we had full confirmation of the latter. In the 87th minute, he poked home an equaliser through sheer opportunism. In the 92nd, he claimed a rousing winner with a plundering header. If it was typically late in the game itself, it was sufficiently early in the season both to prevent problems developing for United and for van Persie to pronounce himself as their singularly most important player. Instead of losing two of their first three, his side had won two of their first three.

After it, the away crowd was singing to the tune of "Seven Nation Army." From there, van Persie would score 25 goals. By the end, Alex Ferguson would claim that 20th title and bow out in glorious fashion.

Kevin Palmer: It may seem a little curious to pick out an off-field incident as the highlight of another incident-packed season, but those of us who have spent the past 16 years attending Arsene Wenger's weekly press briefings were stunned by his performance on Monday, Feb. 18, at the club's London Colney training base.

Seething with anger at a report in The Sun that suggested he would extend his stay at the club despite an FA Cup defeat against Blackburn a few days earlier, the normally accommodating Wenger lashed out at reporters as he appeared to be cracking under increasing pressure ahead of a Champions League clash with Bayern Munich.

The Sun were banned from attending press briefings with Wenger for several weeks following the incident as Wenger confirmed that the stresses of managing at the highest levels can test the sanity of even the most seasoned professional.

Michael Cox: I was in Florence for Fiorentina's best display of the season: a 4-1 thrashing of Inter. The score line doesn't do justice to their rampant performance: David Pizarro dominated the midfield, Alberto Aquilani picked up two assists (including one with a backheel) and Borja Valero demonstrated why he was one of the signings of the season with a great all-around display.

Stevan Jovetic scored twice, but his first strike -- a stunning 25-yarder that had dip, swerve and power simultaneously -- is my favourite memory for the season primarily because I was seated directly behind the shot. It was one of those brilliant strikes where you instantly know the ball is destined for the top corner, and there's something strangely comforting about the knowledge that no television camera angle can beat your original view of the goal.

James Tyler: My moment of the season didn't involve goals, saves, penalty shootouts or any of the usual drama. Rather, it was one man's decision to exit the field of play that resonated most.

Kevin-Prince Boateng's decision to bring an end to a midseason friendly between Milan and Pro Patria was the tipping point in soccer's long battle with racism, one that finally prompted FIFA and UEFA to give it the attention and earnest effort that it has long deserved. While we're still some way from seeing definitive and comprehensive change, it would always take one seminal incident to set things in motion. With this in mind, Boateng's gesture should ripple far beyond the 2012-13 season.