Ferguson, United prove their critics wrong
It ended with just another football match and a team selection that glanced to a future in which Manchester United must do without Sir Alex Ferguson.

The club existed before him, of course, but Ferguson has made it what it is today and must live up to in future. His final season in charge ended with a title won as relentlessly as any that preceded it, yet without the quality of his finest triumphs. Perhaps diminishing returns are the price of repeated success; the excitement of those first flushes is replaced by the necessity of meeting expectations and avoiding failure. Relief replaces joy as the overriding emotion in victory. Ferguson's final title was a triumph of typical bloody-mindedness, an undiminished ability to see what others cannot.

The lap of honour has lasted almost a month, gathering pace once the news of the manager's retirement escaped. The Hawthorns provided a final glimpse of the great man as a football manager.

Signing a striker? What about midfield?

Perhaps the signs of Ferguson's eventual abdication were there when Robin van Persie arrived. The Dutchman's transfer didn't follow the pattern that Ferguson has followed since the Glazer family took over the club in 2005. Since then, United had always signed players of potential and rarely those at their peak. But van Persie was a marquee purchase of a type Ferguson had not pulled off since signing Juan Sebastian Veron for 28.1 million pounds in the summer of 2001.

- Okwonga: Thrilling end to Fergie's reign
- Jolly: The games that swung the title

Anyway, didn't United have a perfectly good strike force anyway? Midfield had a hole that needed filling. A geriatric Paul Scholes was surely too old to carry the burden again; Ferguson had not signed a premium midfielder since the summer of 2007 when he signed both the ill-fated Owen Hargreaves and the well-fed Anderson. Ferguson, as so often in the past, showed why he knew best, better than all the rest.

His diagnosis of the failure of 2011-12 was that goal difference had cost United. The rest of the team could be fixed -- or patched up -- readily enough but more goal-scoring power was required. Van Persie had to hit the ground running and avoid injury too. He achieved both. United were front-runners almost from the start.

Lockdown

Van Persie's goals got United into pole position but the hot streak was always going to fade at some point. He is not Lionel Messi. United could not keep winning by the odd goal. Key victories before the turn of the year against Chelsea, Manchester City and Arsenal were won with scorelines of 3-2, 3-2 and 2-1, games in which United had blazed into a lead and then held on.

United's season followed that pattern. Having taken a significant points lead, they then held it through a rearguard action. Six clean sheets in a row took them into a Manchester derby on April 8 that they could already afford to lose, though possibly their best defensive effort came against an in-form Tottenham at a snowbound White Hart Lane in January. Spurs scored in the last minute, but Rio Ferdinand in particular was superb.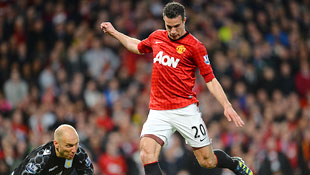 PAUL ELLIS/AFP/Getty ImagesRobin van Persie was an unusual purchase given Ferguson's transfer record but the Dutch striker justified his move in full with several crucial goals.
Defending became the key facet to the team's success. Nemanja Vidic's December return helped but by then Ferdinand was playing his best since 2008. Jonny Evans again confirmed his ability to become a first-choice United defender -- and one who can pick an incisive pass too. Phil Jones' appearances in the centre of the defence only came when the title was secured but Ferguson was by then able to rotate his back four -- a supposed no-no in the modern squad game -- and still get results.

A future Ferguson can only observe

Perhaps Ferguson had overindulged when he stated in the moments following victory over Aston Villa that "he will be one of the best players we have ever had." However, Jones' hulking frame hides huge potential. Players of limited talent cannot play with distinction in three positions. He and Evans might form a central defensive partnership for a decade yet.

Unless he is tempted back to Spain by one of La Liga's two giants, then David De Gea will be behind them. The blizzard of headlines that greeted the unfortunate punch of an icy ball at Spurs to concede an equaliser demanded he should be sold with expedience. Yet De Gea has barely made a mistake since. No keeper in the Premier League is as good at shot-stopping, and he has learned to be braver too. The months that goalkeeping coach Eric Steele spent scouting him in Spain have paid off. Fellow professionals agree; De Gea was voted Goalkeeper of the Year by the PFA.

David Moyes has some overhauling to do but he does have considerable potential to work with: Rafael's impetuous nature has been curbed; Tom Cleverley has completed a first full season of involvement in the first team; Danny Welbeck is a reliable player who needs a scoring touch to become a crucial player; Wilfried Zaha, who will never play for a Ferguson team, has been signed to improve the quality of United's wingers, the poorest performing department of his last team.

Oh, Oh, Oh, It's Carrick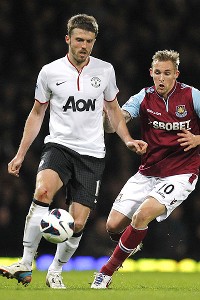 IAN KINGTON/AFP/Getty ImagesOften overlooked due to his unfussy style, Michael Carrick put fans' fears over a sub-par midfield to rest with his consistency and composure.
The doomsayers who tore themselves in knots about a lack of midfield class forgot that United already had a player who could dictate a game as well as anyone in the Premier League.

Michael Carrick's best performances used to come when those around him were playing well. His passing made the engine purr even more sweetly but that was a different, more expansive, Manchester United. This season's version was stop-start, often hitting flat spots in matches. Carrick, out of the shadow of Paul Scholes (who has always been an admirer of his eventual successor), has become a player who can dig his team out of trouble. Without a regular partner once Cleverley's initial burst faded, Carrick's influence remained strong. Naturally quiet and shy, maturity has brought authority and added confidence in his own ability.

After six years at the club, his terrace anthem has finally become a hit. It pays tribute in the most glowing of terms by comparing him favourably to a United legend. "Hard to believe it's not Scholes," sang the Red Army at Loftus Road for an entire half. Carrick, a very modern midfielder who has won five league titles, had finally been fully accepted.

The rivals

Ferguson often talked of this being his best United squad but always stopped short of saying it was his best team. The Treble winners of 1999 had 16 or so interchangeable players -- the same was true of the Double winners in 1994 and 1996. This team, rotated to the distraction of those who think they know United's best XI, ground its way to success but was aided and abetted by the poor challenge of the other contenders.

Arsenal's title challenge was dead once they lost to Chelsea -- on Sept. 29. Chelsea's was lost once they followed up their Oct. 28 defeat to United with the meltdown that cost Roberto Di Matteo his job. Manchester City were the strongest contenders and should have been too. Their squad possesses a greater depth of resources but its spirit was shallow from the early weeks of the season and their defence was doomed by a defeat at Southampton Feb. 19. The next day, United beat Moyes' Everton 2-0 to go 12 points clear.

Roberto Mancini winged his way through the season, rarely missing an embittered opportunity to mention his unrequited lunge for van Persie with all the tact of a blown-out teenager at a youth club. His team often played as if they didn't fancy them any more either. Having established their lead, Ferguson's United were never put under sufficient pressure. They never had to face down a crunch game that might test their resolve.

The last time

There were intimations of mortality when United lost to Real Madrid in the Champions League. Ferguson's avoidance of press duties was taken by some as a sensible move. He risked a ban if he unleashed his most vicious Glaswegian invective against referee Cuneyt Cakir.

In fact, this was a rare sight of Ferguson at his most vulnerable. His life's work has been successful because of an unrelenting ability to turn defeat into a force for victory. Nani's red card robbed him of the opportunity to try again for European glory. "I don't think the manager is in any fit state," said Mike Phelan portentously. Since when did Ferguson duck the chance to rail against authority? This was something different. This was the last chance and he knew it. We might have realised it too.

That same conversion of desolation into victory was the force behind Ferguson's valedictory domestic title. Just after 6 p.m. on May 13, 2012, he and his players drank in the poisonous news that City had recovered their step to snatch the title from their grasp. The mind was made up that his United would go again; retirement could wait for one more year.

United won this title with something to spare but often played with a handbrake on. It was a risk-averse march to the title. Ferguson must only go out on a high. This was not 13th time lucky. It was Ferguson getting the job done as only he could. Now, it feels strange to write of him in the past tense.

David, it's over to you. No pressure.