Ronaldo to the rescue against City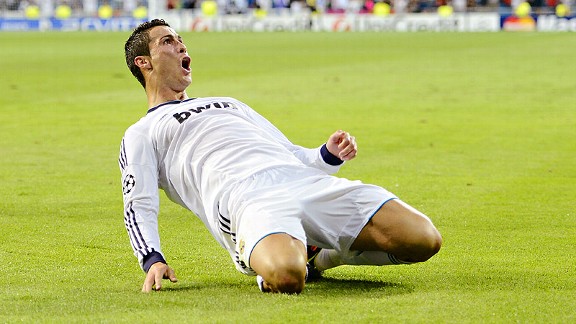 GettyImages / Pierre-Philippe/AFP/Getty Images
The word "crisis" has rarely held less meaning than when applied to Real Madrid and Manchester City in recent weeks. Given their respective struggles to come out swinging this season, we've seen plenty of panic from both sets of supporters, neither used to such forced humility.

Yet, Tuesday's Champions League clash at the Bernabeu gave both teams plenty of opportunities to reset themselves, with Real Madrid nipping the victory right at the death. Indeed, after an absolutely insane final 20 minutes, it's the duo of Jose Mourinho and Cristiano Ronaldo that was able to shed that which burdened.

One could feel their twin relief through the primal, uncoordinated, knee-slide goal celebrations across the slick turf. Catharsis expressed in physical form after Ronaldo's 90th-minute game winner, a swirling 20-yard shot that dipped cruelly on Joe Hart at the last second and skidded under his armpit. Of course, Vincent Kompany should never have allowed the shot, seeming to duck out of its way and leave his usually superhuman goalkeeper with no time to react, but no one remembers the loser.

The 3-2 win was arguable reward for a determined Real Madrid performance. Yes, inconsistency and wastefulness around goal still haunted Mourinho's team, but that blame falls on Jose's curious starting lineup: three holding midfielders (including Chelsea reject, Michael Essien) expected to support a front three of Ronaldo, Angel Di Maria and Gonzalo Higuain. As such, the trio of attackers just kept firing on Hart from range, hoping to catch one just right. (They rarely did.)

Little use, either, for Sergio Ramos or Mesut Ozil, the former ably deputized by Raphael Varane in a quiet, tidy display.

Meanwhile, Roberto Mancini's plan was obvious from the pregame warm-ups, a modified park-the-bus tactic that hung Samir Nasri and David Silva out to dry. Neither man impressed, or rather, was able to impress given the lack of support. (Nasri limped off with a hamstring strain, a merciful end to his misery after 36 minutes.) Marooned up front, Carlos Tevez also struggled to threaten.

With City trenched deep and willing to let the home side dictate -- 35 shots and 12 on target with 55 percent of the ball for Mourinho's men -- it was classic European road soccer. Hold the shape in defense and pray for a chance to counterattack.

And that's exactly how it played out. Though such negative, reductive play is rarely rewarded, it was City that took the lead. Yaya Toure, the one City player who broke Real's midfield hegemony, surged upfield and played sub Edin Dzeko in for a simple finish on the counterattack.

You'll rarely see a goal more against the run of play, such was the simplicity and directness with which Toure's run broke the Madrid backline. In a tight game in which playmakers were forced to graft for space rather than calmly exploit it, the 68th-minute goal cracked the home side's veneer of control.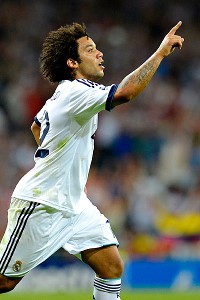 GettyImages / Felix Ordonez/ReutersMarcelo scored the first of Real's three goals, in the 76th minute.
And what followed was 20 minutes of pandemonium ripped right from a video game. All sense of shape and sensibility was abandoned; Higuain was replaced by Karim Benzema, a more economical striker with the ball at his feet. Essien and Sami Khedira gave way for Luka Modric and Mesut Ozil to give Real's midfield the necessary cut and thrust.

Madrid's equalizer was brutish and equally simple; Marcelo, who'd had many ominous shots cutting in from the left flank, finally struck one well enough to beat Hart via a heavy deflection.

City's second go-ahead was equally all too easy. An innocuous free kick well wide on the right flank was curled in deep by Alexander Kolarov, and Iker Casillas was sufficiently tricked by the flight and bounce of the ball to let it bobble over him.

Yet again, Mancini's bus proved susceptible a second time -- Di Maria found Benzema lurking at the edge of the box, and young City defender Matija Nastasic gave the Frenchman too much room to collect, spin and fire from the edge of the box. Stage set perfectly for Ronaldo's injury-time heroics.

Despite the fortunate (though deserved) win, Real Madrid has yet to show its superiority in 2012-13, all too often harassed into silly mistakes. Mourinho will covet his three points and feel that his star-studded ship has been righted, but until his side routinely exhibits last season's dominance, it still feels like a puzzle unsolved.

Mancini, meanwhile, has much more to answer to. Though it's just one group game of six in the Group D For Death, his squad looks far too fragile to handle the rigors of the high-pressure Prem and slow burn of the Champions League. Young Nastasic can improve on schoolboy errors, but how much more quality can he wring from Maicon? The veteran fullback looked so shorn of confidence, you'd have thought he was having Gareth Bale flashbacks.

That Ronaldo tormented Maicon, his replacement Pablo Zabaleta and even Kompany with such ease should surely relegate his curious sadness to being a B story in Madrid's roller-coaster season. Neither Real nor Man City truly understand the concept of crisis, though their punch-drunk sparring showed a desperation in both that will give heart to future opponents.

But we can worry about that another day. Maybe it's just an early-season swoon after a long summer. Maybe it's just the fact that we're still in mid-September with the chance for redemption every weekend.

Whatever it is, focus on the cool knee slides instead. Mourinho's grass-stained suit is worth a thousand words.