Money-bags Monaco back in Ligue 1 to challenge PSG... or are they?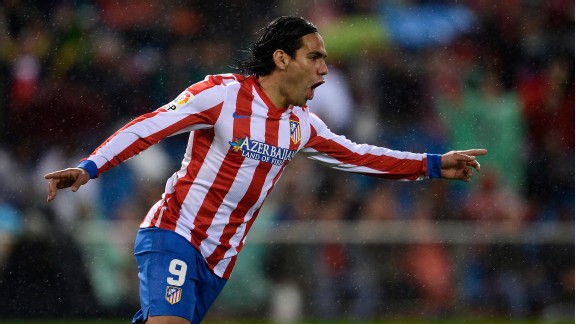 GettyImagesRadamel Falcao: A potential €60 million signing for Monaco
AS Monaco clinched the Ligue 2 title on Friday night with a 2-1 home win over struggling former top-flight rivals Le Mans, but the Principality outfit that return to Ligue 1 is massively changed from the side that dramatically exited it two years ago. Since their final day relegation in 2011, the club has revolutionised and only four players that went down with them remain in their current squad.

Now under the ownership of Russian billionaire Dmitry Rybolovlev, Les Monegasques are targeting an immediate return to Champions League football under current coach Claudio Ranieri, in time for the 2014-15 season.

"Now my objective is the Champions League," said the well-travelled Italian after securing the title. "Why not right away? For that, we'll need to build a competitive team."

"There are some very good sides in Ligue 1 and now is the best time for us to start building. We have big plans for the future."

Indeed they do have some big plans, and the biggest is the potential signing of Atletico Madrid's Colombian goalscoring sensation Radamel Falcao. The 27-year-old has reportedly held talks with the ambitious club over a potential €60million (his buy-out clause in Madrid) move, and Croatian goalkeeper Danijel Subasic went as far as saying that "the club have told us it is 90% done" earlier in the week.

Monaco have also been linked with enterprising moves for Manchester City's Carlos Tevez, Porto's gifted schemer Joao Moutinho and Malaga's Champions League sensation Isco to name just a few. Not to mention that a previous move for then-Manchester City coach Roberto Mancini could materialise once again with the Italian now on the market.

There is one big problem that could potentially derail all of this though; a nasty wrangle with the French Football Federation and the French Football League (LFP) over Monaco's privileged tax position. Currently the club runs its administrative dealings out of the Principality, which means that, as part of a 19th century agreement between Monaco and France, foreign players and officials at the club do not pay income tax and pay considerably less than the rest of their French rivals for domestic players. The LFP want all clubs to be run out of France come the end of the 2013-14 season, a move that FC Monaco, based in the Principality bordering France, have interpreted as being aimed directly at them.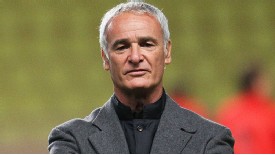 GettyImagesClaudio Ranieri's squad has been bolstered by several big-money signings
Following a meeting between FFF president Noel Le Graet and Monaco's Russian billionaire owner Rybolovlev earlier in May, the club revealed that they had been slapped with a €200 million compensation charge to resolve the matter. Monaco had originally proposed the same sum "over a timeframe and in a manner that is to be determined by both", but the FFF demanded it as compensation to the club's fellow Ligue 1 sides.

However, the French government has recently proposed an income tax rate of 75% on workers making over €1 million and if it goes through, the situation would be even worse for Monaco's French rivals. Club and owner Rybolovlev has argued that there was no proposal for all clubs in Ligue 1 and 2 to have their headquarters in France when he bought the club and Monaco's privileged position should therefore continue.

Indeed Le Graet recently told L'Equipe: "It is difficult to imagine not accepting Monaco in our league, but it also seems necessary, from our point of view and following discussions with Monaco, that the club, given its advantages, eases the situation of the other clubs."

"Some presidents are taking a hard line as they're threatening to not go and play at Monaco," he warned. "History shows Monaco have always played in the French league. We find ourselves in an exceptional situation. It's up to the club to make the situation easier for the other clubs."

Monaco are in fact one of the most richly decorated clubs in French football history having won the Ligue 1 title seven times, four more than this season's champions Paris Saint-Germain, and have a further six domestic cups to their name. They are expected to continue this tradition upon their return to the top-flight and provide some stiff competition for current juggernaut PSG, who are untouchable at present. Provided that these tax laws stay in place, it is hard to see them not doing so.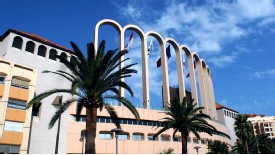 PA PhotosMonaco have been told they need to move their headquarters away from the glamorous Stade Louis II in the principality
That is all despite having no real fan base to speak of. Les Monegasques play their matches at the picturesque Stade Louis II, the UEFA Super Cup venue, which has a capacity of 18,523. However, the club don't even come close to filling this number of seats for domestic matches or even European ones, and around 4,500 is an average attendance at a Monaco match. So the prospect of seeing a number of the world's top football talents on show in the Principality in front of sparsely populated crowds is an odd thought.

Whatever happens in just over one week's time, when reconciliatory talks are expected to be held between Monaco and the FFF, Ligue 1 is a better place for their return. A club steeped in tradition within the domestic game despite their lack of fans, Le Championnat will continue to thrive if they are able to become France's second football superpower. Judging by the exploits of this season's top scorer Ibrahima Toure, who scored his 18th goal of the season before being sent off against Le Mans, captain and youth product Valere Germain, who has notched 13 goals this campaign, and €16 million Argentine teenage sensation Lucas Ocampos, bought for a previously unheard of fee in Ligue 2, the club are already well-equipped to challenge in the top tier.

Joining them, and adding to the sense of tradition, are second-placed Nantes and third-placed Guingamp, both of whom return to the top-flight after lengthy absences. Les Canaris, eight-time league winners and three-time Coupe de France champions, are back for the first time in four seasons having last been relegated in 2009. Guingamp, though less successful than neighbours Nantes with just one Coupe de France triumph (over Breton rivals Rennes) in 2009 and a 1996/1997 UEFA Intertoto Cup victory to their name, have spent seven seasons in Ligue 1 in the past and will be welcomed back.

Next season in Ligue 1 promises to be very interesting indeed. With PSG's first title triumph in 19 years making it six different winners in the past six years in France, who'd bet against Monaco running them close to make it a seventh?