Atletico's joy in Real's back yard
MADRID -- To be an Atletico Madrid fan has to be one of the most difficult tasks for a football supporter. It's a big club with huge support and a proud and famous history to enjoy, but they've suffered mightily in recent years at the hands of their richer and better connected neighbours up the road.

It has been 17 years since Atletico last celebrated a Copa del Rey win; though they were the team to support in 1996 as they completed the double, they've since been completely overshadowed by a moneyed Real Madrid. The fact is that before tonight, Atletico hadn't managed to beat Real for more than 13 years -- Oct. 30, 1999, to be exact. Twenty-five matches later and they've finally done it -- and in remarkable fashion.

Hunter: Simeone's grit trumps pouty Madrid
Mourinho: Atletico was 'lucky'
Press Pass: Masters in Madrid

Recent improvement has brought a certain level of triumph to Atletico -- a Europa League here, a European Super Cup victory there -- but it all meant nothing as long as the dreaded curse of those up the road was in effect.

The most recent defeat less than a month ago all but guaranteed that the white half of the Spanish capital would once again celebrate finishing higher up the league, but that won't matter now because Atletico finally beat them -- not only victory, but in a Cup Final and in the enemy's backyard.

A Joao Miranda header in the first half of injury time was enough to clinch it and while Atletico rode their luck at moments, no impartial observer could claim they did not deserve their moment of glory after 13 fruitless years.

That fact that revenge came in the Santiago Bernabeu makes it even sweeter -- the much-discussed psychological "home advantage" didn't seem to matter as at least half the stadium swayed to the shouts of "Atleti!" before, during and after this pulsating Cup final. Like Deportivo in 2002, Atletico had come to the Bernabeu to spoil the party and it felt like they were destined to so for much of the evening.

From an hour before kickoff when the team bus was ushered past their passionate fans who were busy turning this normally sedate stadium into a cauldron of noise, it appeared they could win it.

When Diego Costa equalised Ronaldo's early header on 35 minutes they knew they could do it and when Jose Mourinho deserted his side, sent to the stands with 23 minutes of normal time left on the clock, it felt certain that the pendulum had swung and a long-awaited victory was within their grasp.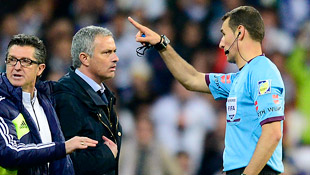 Javier Soriano/AFP/Getty ImagesJose Mourinho cracked first amid the obvious El Derbi tensions, one of many moments that gave Atletico the confidence to push on and win.

Coach Diego Simeone has now made it three wins from three finals in less than 18 months at the club -- that he hasn't been named yet in this summer's managerial merry-go-round given this record is surprising to say the least. Simeone's side looked physically stronger and more motivated for the win, growing steadily in stature from the moment the equaliser went in.

At the start of the second period Felipe Luis almost grabbed a goal when put clear through on the left and then Miranda had a half-chance from a free kick but couldn't make contact. He'd later make up for it.

Sensing imminent danger, Real Madrid fans cranked up the volume at their end, a move that only coerced the Atleti fans to get louder -- "Atleti, Atleti!" went up the shout -- as they could smell blood. Ronaldo hit the post for the third time for his side. Arda Turan was beginning to look like a match winner for Atletico, but so was Karim Benzema. Things were fast-paced and end-to-end. Every ball was fiercely contested and the referee's decisions produced delirium at one end of the ground or the other.

With 20 minutes to go there was nothing between the sides and a slip, a mistake or a piece of genius could have been the difference between heartache or heart attack. But it was Mourinho who was the first to crack, leaving his bench for perhaps the first time in the evening to dispute a decision; afterwards he would not say what happened but it ended in him being sent to the dressing room for the fourth time in his Real Madrid career.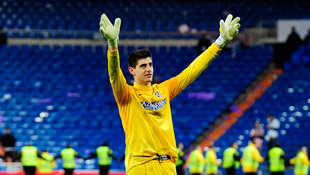 Javier Soriano/AFP/Getty ImagesYoung Thibaut Courtois was a hero between the posts for Atletico Madrid.

Atletico continued to pass the ball, chase it down and tackle Real all over the pitch while Simeone was left to prowl around his technical area on his own, constantly urging his players on.

With five minutes to go the call went up across the Fondo Norte -- the miracle was on.

In added time Atletico won three corners and any stray header could have won it, but when the full time whistle blew it was that shout again of "Atleti!" that rang out.

In extra time, the trend continued. Diego Costa was put through and shot tamely at Diego Lopez before declining the invitation to finish the rebound. Michael Essien then made a last-gasp tackle to deny Mario Suarez and send the ball for a corner. Suarez raced to the right to take it and after it was headed out to Koke while most players were caught advancing out of the box, Miranda timed his run perfectly to meet the cross for the winning goal.

The noise did not stop from that moment on. Thibaut Courtois made a fantastic save from sub Gonzalo Higuain in front of those fans before the second half-time break of the evening came, meaning Atletico had 15 minutes left to survive. The game was up for Real and everyone knew it -- to my left was silence and gnashing of teeth. To my right, huge jubilation.

All that was left were the final acts of bad losers: a Cristiano Ronaldo elbow on Gabi, Courtois on the ground apparently felled by an object thrown from the Madrid fans behind his goal. What had been an amazing spectacle started to take a turn for the worse. A common Spanish-language curse rang round half the stadium and Atleti's revenge was complete.

When the game did eventually resume, sub Angel Di Maria was booked for claiming a penalty that wasn't given. "Asi gana Madrid" ("That's how Madrid win") shouted the Atletico fans, except tonight, for once, it was not the good-looking Madrid that won it.

No, it was Atletico's turn. How much they enjoyed it at the final whistle -- and will continue to do in the months and years to come.