For once, Brazil has strength in defense
In the past few weeks, pundits have debated if the three of them can play together and how to combine their qualities for the good of the Selecao. But none of these jigsaw pieces was called Neymar or Lucas Moura.

Instead, one of the hot topics involves the best way to deploy star center backs Thiago Silva, David Luiz and Dante in the same team. The dilemma represents a golden moment for Brazilian defenders, unfairly maligned for years as the reason for Brazil's disappointments.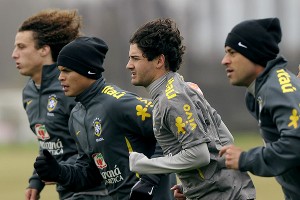 Juan Mabromata/AFP/Getty ImagesDavid Luiz, left, and Thiago Silva, second from left, raked in big contracts in Europe as the demand for Brazilian defenders grew.
The Silva-Luiz-Dante trio is far from an isolated case, either. Over the past two decades, Brazilian defenders became more and more coveted by European sides -- the best examples being Aldair at Fabio Capello's Roma and Marcio Santos' stint at Louis Van Gaal's Ajax. More recently, Lucio won the Champions League as part of Jose Mourinho's Inter Milan with a master class of discipline against Chelsea, Barcelona and Bayern Munich.

Still, Brazilian defenders are a minority when it comes to the hundreds of players exported annually -- the latest FIFA Global Transfer Market report cites 189 backs out of 618 players compared to 251 midfielders and 309 forwards -- but their cred has never been higher. Thiago became the world's most expensive defender when PSG forked out 42 million euros ($54.2 million) to sign him from AC Milan, while the 25 million euros ($32.2 million) Chelsea paid to Benfica for David Luiz in 2011 still ranks as one of the most expensive transfers involving center backs.

As for Dante, he reportedly cost only 5 million euros ($6.45 million) to Bayern Munich because his contract with Borussia Monchengladbach was close to the end and the price offered was much better than losing the player for free later on.

The trio has also impressed observers back in Brazil, with widespread calls for manager Luiz Felipe Scolari to deploy a 3-5-2 formation or even use Luiz as a holding midfielder, as Rafa Benitez has often done at Chelsea this season.

Some could argue that the defenders became more coveted due to the scarcity of exciting attacking players in Europe in recent seasons -- particularly when it comes to reliable strikers. While it's true that Neymar will command more headlines -- either by scoring goals or changing hairstyles -- it speaks volumes that Barcelona, for example, pursued both Luiz and Thiago Silva before tangling with Santos for the young forward's services.

This interest hasn't gone unnoticed by the players themselves, either.

"It's flattering to see the work of Brazilian defenders more recognized," Thiago Silva said in a recent interview. "Football has changed a lot in the last few years and people have understood a bit more the way we play football back home. We have always produced great defenders, but a lot of them never got a chance to play abroad because people seemed to think our defenders would not be good enough or tactically disciplined, which is ludicrous."

Brazilian defenders have always been -- and might always be -- overshadowed by their attacking teammates. Sometimes unfairly: The wonderful 1958 World Cup-winning team had Pele, Garrincha and Didi but had a center back pair in Bellini and Djalma Dias that shipped only four goals in six matches in a time where only 16 teams contested the tournament. On the other hand, defensive naivete caused the class of 1982 to sink as the nervous duo, Oscar and Luizinho, managed only one clean sheet in four games (against "mighty" New Zealand, no less) before being hit by Italy and a Paolo Rossi hat trick in the knockout rounds.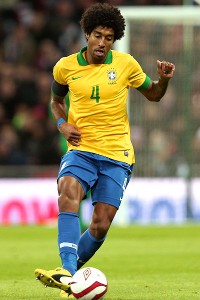 Clive Brunskill/Getty ImagesDante cites Brazilian football's value for the pass as the reason why European teams are seeking the country's defenders.
Being more tactically advanced than South American soccer, Europe was much more prone to lure players for positions where finesse and improvisation could be more tolerated, hence the poaching of Brazilian offensive talent. It is possible that David Luiz would have struggled to find a place outside Portugal 20 years ago. Yet the modern game has changed and in the fight to find players who have grace and composure on the ball, the need for a different type of defender has emerged.

"Every big team in Europe now focuses on possession and moving the ball around and Brazilian defenders are very suitable for this kind of game because our school of football values the pass," Bayern's Dante said. "We are also much more comfortable going forward, another requirement of the style of game that is being played now by teams like Bayern and Barcelona, for example."

Despite criticism about his somewhat cavalier positioning at the back, Luiz has quickly evolved from a Sideshow Bob look-alike to a dogged defender able to play below full strength in last season's Champions League final, yet still keep the dangerous Mario Gomez at play.

"I studied seven hours of videos from his games. I knew I could not give him any space, despite the fact my leg started aching really early in that game against Bayern. By that time, Chelsea already knew that just because I enjoy going forward it did not prevent me from doing what I was paid for," recalled the Brazilian.

The exploits of Thiago Silva, Dante and David Luiz can't be denied, nor can the fact that defense might be the best thing about the Selecao at the moment. And with their success, pop goes another stereotype about Brazilian soccer.

Fernando Duarte is a U.K.-based Brazilian football expert who has followed the Selecao for 10 years and regularly features as a pundit for media outlets in Europe, South America and Asia. He's a Flamengo fan and can be found on Twitter: @Fernando_Duarte.