David Beckham: A national treasure on and off the field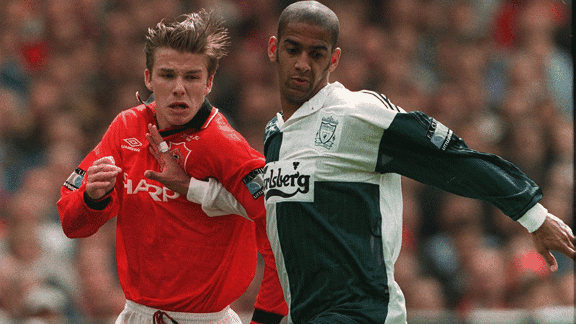 PA PhotosDavid Beckham in action for Manchester United in the 1996 FA Cup final
When I was first afforded the chance to interview a 21-year-old David Beckham back in 1996, the superstar who would later emerge was still lurking inside a boyish figure who was excited at the prospect of playing in his first FA Cup final.

My role writing the official programme for Manchester United's Wembley showpiece with Liverpool presented me with a chance to conduct one of the first major interviews Beckham had granted, and his nervousness was evident as he offered me his hand ahead of our chat.

- Johnson: Au revoir Beckham
- Macintosh: This David was a Goliath
- Payne: Footballer, superstar, United legend

It was Gary Neville who plucked his cockney friend David out of a crowded United changing room at their old training ground after I was given permission by manager Alex Ferguson to interview his starlet, and it quickly became clear that the kid who stood before me was as innocent as they came.

Telling me that his father would be delighted to see his name in the FA Cup final programme, a quietly spoken Beckham offered up a somewhat nervous conversation about his first year playing for his beloved Manchester United.

Did I think then that I had spent a few moments with a footballer who would change the face of the game as we know it in the 17 years that would follow? Probably not, but there was always a sense that Becks was going to be a bit special.

While Ryan Giggs was United's pinup celebrity wonder at the time, Beckham offered the potential to usurp him as the new face of the Premier League. Once he started his relationship with Victoria Adams, his celebrity status exploded to dangerous levels.

I was contributing articles to the now-defunct 90 Minutes magazine when we were granted an interview with the rising force of the pop world known as the Spice Girls. The idea was to dress the feisty quintet up in football kits and ask them to talk about their favourite players, but young Vicky didn't know anything about the game and needed help.

After showing her photos of footballers who might catch her eye, she picked out Beckham from a deck of cards. In that moment, one of the great showbiz romances of the age was born.

Adams appeared on the cover of the magazine in a Manchester United shirt. A few weeks later, a meeting was duly arranged between the duo who would become known around the world as "Posh and Becks."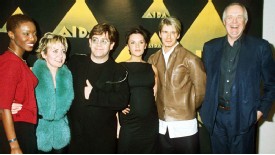 GettyImagesDavid Beckham began dating the Spice Girls' Victoria Adams in 1997, with Sir Alex Ferguson never approving of his celebrity lifestyle
Despite that distraction, Beckham's status as an icon never detracted from his professional determination to thrive on the pitch. His celebrity often disguised the reality that this is a sportsman whose achievements on the field make the wealth and fame he has claimed off it pale into insignificance.

With Manchester United, he claimed six Premier League titles, two FA Cups and played a key role in the fabled Treble-winning season that culminated in a Champions League triumph in 1999.

After a breakdown in Beckham's relationship with Ferguson, his career refused to wane as he impressed at Real Madrid and won the Primera Division title in his final season with the club, banishing the preconceived notion in Spain that he was an advertising hoarding signed by the Spanish giants as a marketing ploy.

His move to the L.A. Galaxy in 2007 and vow to raise the profile of Major League Soccer was greeted with a familiar tirade of cynicism from his critics, yet Beckham left Los Angeles last year having achieved much of what he set out to do in America. Not for the first time and certainly not the last, brand Beckham had worked its magic in a difficult marketplace.

His brief spell at Paris Saint-Germain in recent months was little more than a footnote to a club career that deserves to be acclaimed as one of the finest any England footballer has pieced together, and that is before you even begin to consider his remarkable international career.

In an era when playing for your country has apparently become something of a nuisance for many a star, Beckham was the epitome of the proud Englishman on each and every one of the 115 occasions he pulled on a shirt with Three Lions emblazoned on its breast.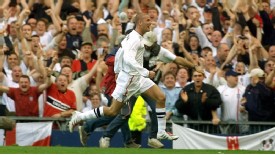 GettyImagesDavid Beckham's stunning late free-kick against Greece in 2001 secured England's place at the 2002 World Cup
His memorable last-gasp goal and performance against Greece that secured England's passage to the 2002 World Cup may be his finest hour on the international stage, but there were many occasions when this indefatigable footballer did his best to carry a faltering team to glory.

Yes, there was a sending off in the 1998 World Cup that cost England in their second-round match against Argentina, but Beckham more than made up for his youthful indiscretion with a series of performances that confirmed his drive to succeed as representing his country remained a burning passion until he kicked his final ball in anger for England.

My meetings with Beckham in the years since that initial face-to-face confirmed beyond question that this is a role model and ambassador for a nation, someone who should be cherished rather than lambasted. Yet there has long been a negative agenda surrounding this icon in the country he has done more to promote than any other sportsman of his generation.

Jealousy may be an explanation for some of that scorn, as Beckham has provided few reasons to attract disdain in a career that deserves to be etched into history as one of the greatest of this or any other era. People liked to believe this was a sportsman made in a media age, but those who played alongside him would beg to differ.

Making the most of your talents is all any sportsman can aim for in his career, and on that score, Beckham deserves top marks. He has also been a fine role model for his millions of admirers around the world. In an era when so many of his fellow sportsmen fall short in that category, this national treasure should be cherished as one of the all-time greats.