Cruel, cruel game - what now for Benfica?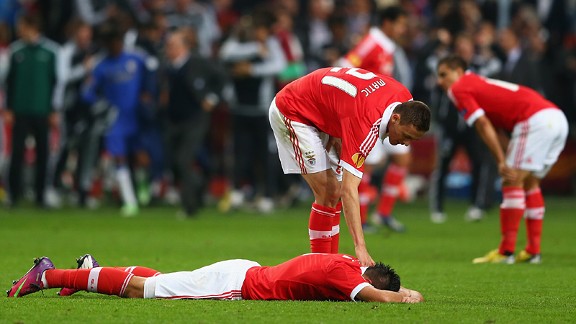 GettyImagesNemanja Matic of Benfica consoles a dejected Oscar Cardozo after defeat in the Europa League Final against Chelsea in Amsterdam
Forget Guttmann's curse. When Benfica fans wipe away their tears they will no doubt reflect on the curse of the 92nd minute. On Saturday the Eagles all but lost the Portuguese championship they had looked set to win for months, when FC Porto's Kelvin scored in the second minute of injury time. On Wednesday night, in the Europa League final against Chelsea, after displaying plenty of typically stylish football and outplaying the pre-match favourites for large sections of the game, Branislav Ivanovic's header dictated another brutally cruel 2-1 defeat. Once again, 92 minutes were on the clock.

The manner of the defeats may make it difficult for even fans of crosstown rivals Sporting, or supporters of their northern nemesis FC Porto, not to feel a tinge of sympathy. Scrub that. Only seconds after the final whistle had blown, comments from Sporting fans posted on Twitter went along the lines of "Happy as can be. That's for all the taunting you have given us over eight years" (with industrial language duly removed). The gist of most tweets from Porto fans was of much mirth and merriment.

- Delaney: Rafa's style the key to Europa triumph
- Brewin: Benitez eventually calls the tune
- Europa League final gallery
- Benitez proud of Europa success
- Lampard hints at new deal after Europa win
- Video: Benfica 1-2 Chelsea (UK, Ire & Caribbean)

Not that jibes from rival fans will feel particularly hurtful to Benfica right now. Nuno Matos is the leading commentator on Portugal's national state radio station Antena 1, and he painted a poignant picture as he looked over Benfica's distraught players strewn across the Amsterdam Arena pitch at the end of the game. "Benfica's players seem to be on another planet, they're numbed, gazing into the air, with a vacant look on their faces," he said.

Indeed, numbness was probably the overriding emotion at that instant; in stark contrast to David Luiz and Ramires who, in full control of their faculties, showed tremendous sportsmanship and character by being the first to console their former teammates and coach, before allowing themselves to join the Chelsea celebrations.

So the big question now is a simple one: How do Benfica react to this? Two recent examples may provide an answer.

As alluded to above, in the 2004-05 season, Sporting, sitting pretty at the top of the table, were on the verge of clinching the double of the Portuguese championship and UEFA Cup. Defeat at Benfica put paid to domestic title hopes, and their world came well and truly crashing down five days later when CSKA Moscow came from behind to beat them in the UEFA Cup final played in the club's own Alvalade stadium. Many in Portugal believe Sporting have never recovered from such a calamitous week. The eight years since have yielded no championships and a widening gap between themselves and the top two, culminating in the worst season in their history this year.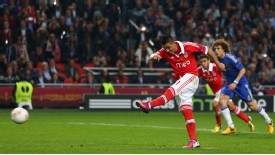 PA PhotosOscar Cardozo fires home the equaliser from the penalty spot for Benfica
But another, more recent example offers solace. Last season Bayern Munich contrived to lose their domestic championship to Borussia Dortmund, apparently because they had their eyes only on glory in the Champions League, the final of which would be played in their own stadium. They made the final, only to lose. Could they bounce back? The answer could not be a more emphatic yes.

Such has been Bayern's dominance at home and abroad this season that many people are already calling them one of the greatest sides of all time, especially after their ruthless demolition of Barcelona, the team who had laid claim to that epithet over the last few seasons. Out of despair came the resolve to build anew and come back even stronger.

Which way will Benfica go? The answer may well lie in the next important decision made by club president Luis Filipe Vieira. Judging by the aftermath of the Porto defeat, the knee-jerk reaction of fans and pundits will be to clamour for Jorge Jesus' head. The president would do well to ignore the calls.

The near misses have understandably led to anger, yet people should not forget where Benfica were before Jesus took over. In the previous decade and a half, Benfica had won one Portuguese championship. In most of those dark years they did not even mount a serious challenge. In Europe they were little better than a laughingstock.

Since Jesus took over, Benfica may have won only one title out of four, but the Lisbon club have gone shoulder to shoulder and looked the equal of Porto for most of that time. The intensification of the bitter rivalry between the two clubs is an indication that the team that has dominated Portuguese football over the past 25 years now views Benfica as a serious competitor.

In Europe, Jesus has guided Benfica to two quarterfinals, one semifinal and one final, and the club has regained long lost respect and prestige throughout the continent.

Benfica are in a bad place tonight. But to be in a good place tomorrow they would be wise to build upon what they have achieved in these last four years. Avoid ripping things up and starting from scratch. And, if possible, two minutes of injury time.